---
---
Congrats to Kim B and Urbanista, who each won a copy of One True Thing (One Thing #2) by Piper Vaughn and M.J. O'Shea! One True Thing is being released today by Dreamspinner Press.
---
---
Many thanks to an anonymous donor for providing an ebook copy of Tigerland (Tigers & Devils #2) for a lucky commenter to win! Plus, if the winner doesn't already own the first book, Tigers & Devils (2nd ed), it will be included as part of the prize!
After an eventful and sometimes uncomfortably public courtship, Simon Murray and Declan Tyler settled into a comfortable life together. Now retired from the AFL, Declan works as a football commentator; Simon develops programs with queer content for a community television station.

Despite their public professional lives, Simon and Declan manage to keep their private life out of the spotlight. Their major concerns revolve around supporting their friends through infertility and relationship problems – until Greg Heyward, Declan's ex-partner, outs himself in a transparent bid for attention.

Though Simon and Declan are furious with Greg and his media antics, they can't agree on what to do about it. Declan insists they should maintain a dignified silence, but both he and Simon keep getting drawn into Heyward's games. Simon and Declan will once again have to ride out the media storm before they can return their attention to what really matters: each other.

Excerpt (scroll down and expand)
The most important things in Simon Murray's life are football, friends, and film – in that order. His friends despair of him ever meeting someone, but despite his loneliness, Simon is cautious about looking for more. Then his best friends drag him to a party, where he barges into a football conversation and ends up defending the honour of star forward Declan Tyler – unaware that the athlete is present. In that first awkward meeting, neither man has any idea they will change each other's lives forever.

Like his entire family, Simon revels in living in Melbourne, the home of Australian Rules football and mecca for serious fans. There, players are treated like gods – until they do something to fall out of public favour. This year, the public is taking Declan to task for suffering injuries outside his control, so Simon's support is a bright spot.

But as Simon and Declan fumble toward a relationship, keeping Declan's homosexuality a secret from well-meaning friends and an increasingly suspicious media becomes difficult. Nothing can stay hidden forever. Soon Declan will have to choose between the career he loves and the man he wants, and Simon has never been known to make things easy – for himself or for others.

Excerpt (scroll down and expand)
Contest Rules
To enter, leave a comment stating that you are entering the contest. Contest closes 7 pm CST, Monday, November 5.
By entering the contest, you're confirming that you are at least 18 years old.
If you haven't commented before, your comment will not be visible until after I moderate it. Please do not leave a second comment because your first doesn't show up! The blog gnomes will decide your comments are spam and then only ritual dust bunny sacrifice will salvage your entry…
If your comment is actually an advertisement or if your CommentLuv link turns it into an advertisement, your comment will be deleted. (Most of you do not need to worry – this refers to some pretty clever comment spam.)
Winners will be selected by random number.
You must leave a valid email address in the "Email" portion of the comment form.
Please make sure that your spam filter allows email from stumblingoverchaos.com!
If a winner doesn't respond to my congratulations email within 48 hours, I will select another winner.
If you win, please respect the author's intellectual property and don't make copies of the ebook for anyone else.
This contest is open worldwide!
---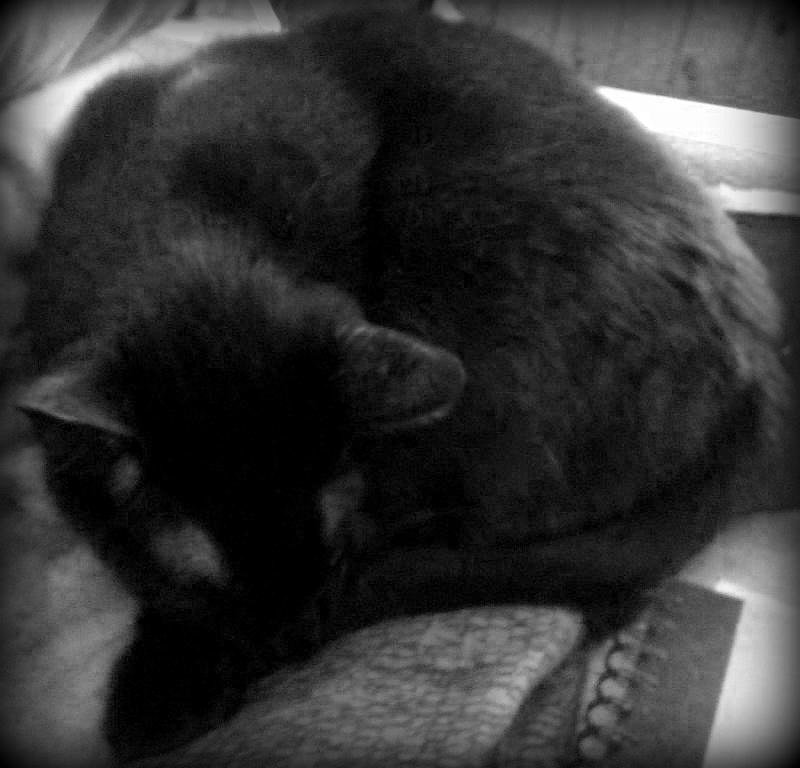 *purr snore purr snore purr snore* -Chaos
I'm home! The cats seemed very pleased to see me. 🙂