---
---
Congrats to Marie* and Nin, who each won Crucible of Fate (Change of Heart #4) by Mary Calmes! Crucible of Fate is being released today by Dreamspinner Press.
---
---
Many thanks to Kim Dare and Ava March for each donating an ebook copy of the forthcoming kinky holiday romance anthology, Oh, Come All Ye Kinky, for two lucky commenters to win! O Come All Ye Kinky will be released by Riptide Publishing on December 3.
20% of all proceeds from O Come All Ye Kinky will be donated to the Domestic Violence Project of the National Leather Association-International.

Christmas is a time of love and joy, and the New Year is a time of renewal. But they are also times of stress and strife, family drama, pressure and heartache – a potent mix of high expectations and conflicted emotions. Add in power exchange relationships, kinky gift swaps, and unconventional love in a sometimes unforgiving world, and you have a formula for a sizzling anthology of stories that tug at your heart.

From Ava March's forbidden Regency love among men, to Katie Porter's scorching hot contemporary tale of two women discovering holiday happiness, everyone will find a favorite here. Pervertible toys abound: Lambda Literary Award finalist L.A. Witt's candy cane, Jane Davitt's wrapping paper and tape, and Alexa Snow's Christmas candles all please and delight. Newcomer Elyan Smith and fan favorite Kim Dare both celebrate New Year's Eve with romantic flair and kinky fireworks, while bestselling author Joey W. Hill's poignant story of love lost and regained will lead you home.

Whatever your desires, we invite you to explore new fantasies and old with these eight kinky tales of holiday happy endings.

Ava March, "'Twas the Night"
Percival Owen yearns for the nights when he can kneel before his lover, even though no self-respecting gentleman willingly submits to another. Michael wants his first Christmas with Percy to be perfect, but is frustrated by Percy's inability to ask for what he wants. The gift Michael offers Percy – and that Percy offers in return – is the best Percy could ever hope to receive: his will to submit.

Jane Davitt, "Tree Topper"
Martin's new to the scene, and his sub Stan has recently stopped taking him seriously. Their tree has floggers, clamps, and cuffs underneath it, but will they ever be used? Frustrated and confused, Martin knows it will take more than a star to guide him on his way to becoming the Dom Stan needs – but their path to happiness might be shorter than he thinks.

L.A. Witt, "Candy Caning"
Nate is dreading the annual Christmas visit with his family, during which they will ignore or insult his partner and Dominant. Stephen tries hard to take Nate's mind off the trip with the promise – and threat – of a three-foot-long candy cane. It's a race to see if Nate's resolve or the candy cane will shatter first.

Alexa Snow, "Ring Out the Old and In the New"
Recovering from a mugging on the London Underground, Evan has barely left the house in weeks. His partner and Dom, Russell, finally manages to drag him outside on Christmas Eve, but it's the surprise that Russell has waiting for him back home that helps Evan get past his trauma and remember what's important: being on his knees for the man he loves.

Elyan Smith, "Open Return"
Fifteen years ago, Zach left the small Midwestern town he grew up in, confused and scared and determined to figure out who he was. Now transformed, he's drawn back by the memory and promise of the dominant couple he left behind. Laura and Scott are still together, and as the year draws to a close, they explore old feelings and new ones as they discover they've all been waiting for Zach to come home.

Kim Dare, "His Very Last Chance"
Drew screwed up. So when his master, Kingsley, summons him on New Year's Eve, he knows he deserves the punishment in store for him. Everything changed for Kingsley when he overheard Drew running his mouth to his friends on Boxing Day. Now, there's only one way he can possibly ring in the New Year: starting over fresh, either with an ending or a new beginning.

Katie Porter, "Fireworks"
Rachel's job is taking her to Tokyo, which means leaving behind her lover and submissive, Emma. When she summons Emma for one last hurrah on New Year's Eve, Emma answers, hoping desperately to be able to break through her ma'am's emotional barriers and find the spark of love among the glittering fireworks.

Joey W. Hill, "Submissive Angel"
After Robert found Ange bleeding in an alley, he employed the man in his vintage toy store as an act of charity. However, this Christmas, the eccentric young dancer will offer his thanks – and himself – to teach a brokenhearted Master how to open his heart to love again.
Contest Rules
To enter, leave a comment stating that you are entering the contest. Contest closes 7 pm CST, Friday, November 30.
By entering the contest, you're confirming that you are at least 18 years old.
If you haven't commented before, your comment will not be visible until after I moderate it. Please do not leave a second comment because your first doesn't show up! The blog gnomes will decide your comments are spam and then only ritual dust bunny sacrifice will salvage your entry…
If your comment is actually an advertisement or if your CommentLuv link turns it into an advertisement, your comment will be deleted. (Most of you do not need to worry – this refers to some pretty clever comment spam.)
Winners will be selected by random number.
You must leave a valid email address in the "Email" portion of the comment form.
Please make sure that your spam filter allows email from stumblingoverchaos.com!
If a winner doesn't respond to my congratulations email within 48 hours, I will select another winner.
If you win, please respect the author's intellectual property and don't make copies of the ebook for anyone else.
This contest is open worldwide!
---
A Mayhem picture from 2010!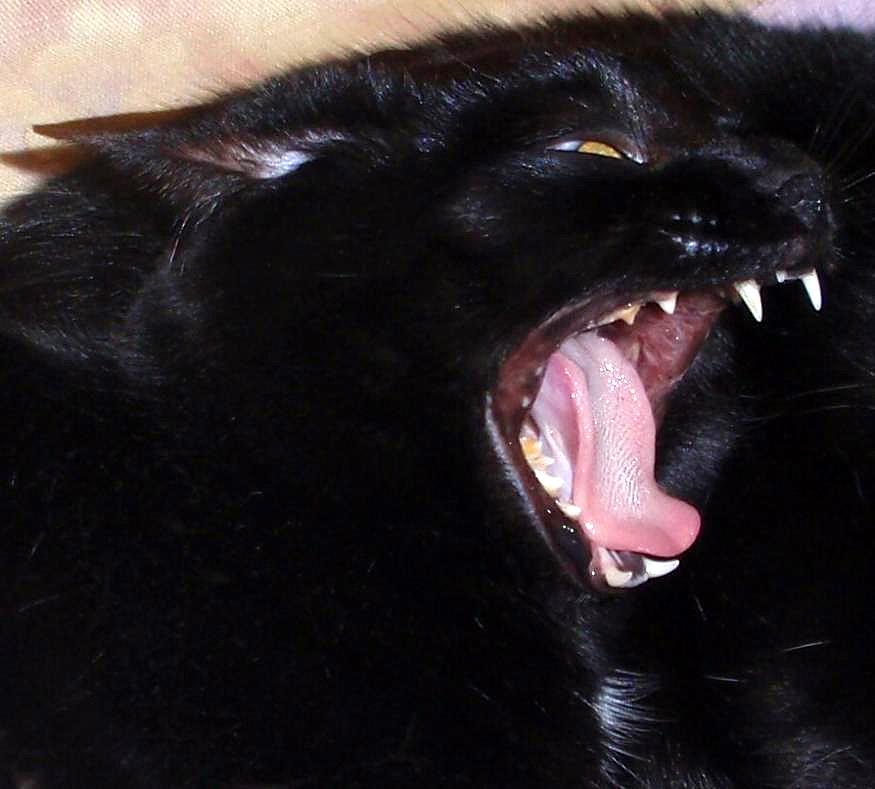 "Mom!!!! The big kitty's bothering me!!!!" -Mayhem