Contests
Bookity
Ebookity
Think, Learn, Do, Make
Cookity
Crafty
Cool
Cool or Wha…?
Wha…?
LOL
Teh Cute
Reading Update

Frat Boy and Toppy by Anne Tenino. ebook. Very good, very steamy, and very sweet m/m romance about a college jock and frat boy who's been in denial for years that he's gay, but finally can't deny it any longer when he realizes he has a crush on his history TA.

False Start by Janey Chapel. ebook short. Very good m/m romance about two guys who were secretly together for one year during college. One graduated and ran away from even the thought of being gay and the other… didn't.

One Man's Treasure (Bellingham Mysteries #4) by Nicole Kimberling. ebook. Very good m/m mystery/romance in which Peter tries to figure out why the guy who collapsed in front of him at the farmer's market died.

First You Fall (Kevin Connor #1) by Scott Sherman. ebook. Very good gay mystery about a rent boy who does some investigating of his own when his friend dies under suspicious circumstances and the police rule it a suicide.

Second You Sin (Kevin Connor #2) by Scott Sherman. ebook. Very good gay mystery in which Kevin tries to figure out why some other rent boys have been killed or injured. This one ends on a heckuva relationship cliffhanger – I hope the next book is out soon!

Mine by Mary Calmes. ebook. Very good m/m romance about a guy who works as a mob runner and who's the only thing keeping his highstrung boyfriend grounded, until everything in their world changes overnight.

Payback (True Colors #3) by Clare London. ebook short. Steamy short m/m scene in which Zeke arrives at Miles' office for a meeting but gets a bit of a surprise instead.

Changing Pitches by Steve Kluger. Very good novel about a major league baseball pitcher who, at 36, is heading the last place team in the league as he slowly realizes he needs to make some changes in his personal and professional lives.

Assumption of Desire by Elizabeth Brooks. ebook short. Very good short m/m romance about an auditor who hooks up with a totally-not-his-style twink while he's in town for two weeks. A few years later, he finds himself back in the same town…

Obedient Slave (Sun, Sea & Submission #2) by Kim Dare. ebook. Steamy kinky m/m romance about a guy who works at a gay resort. He doesn't realize that someone is supposed to serve as his "slave" for a week when he gets promoted…

Office Hours by Rena Butler. ebook. Good m/m romance about an adjunct composition instructor who's suspicious when the cute senior who sleeps through class turns in an excellent paper…

Sink or Swim by Lissa Kasey & Xara X. Xanakas. free ebook. Good short m/m romance about two guys moving to Australia to work as a dive instructor and a masseuse at a private resort. As they travel, one of them worries about their relationship and how things will be after they arrive.

China House by Vincent Lardo. ebook. Ok gay gothic mystery about a small group of people staying for a week in China House, which has been empty for 20 years… except for a ghost? I didn't particularly care for any of the characters and could've definitely lived without the incestuous overtones in the story.

Cuffs and More by Dakota Dawn. ebook short. So-so short kinky m/m scene between a shy bdsm store owner and the dom he has a crush on. Unfortunately, neither of the guys felt believable to me.

Five Star Review by Lara Brukz. ebook. Meh m/m romance about an m/m author and a reviewer who become friends online and then have the chance to meet. Unfortunately, this was stilted, cliched, awkward, and just painful to read at times.
---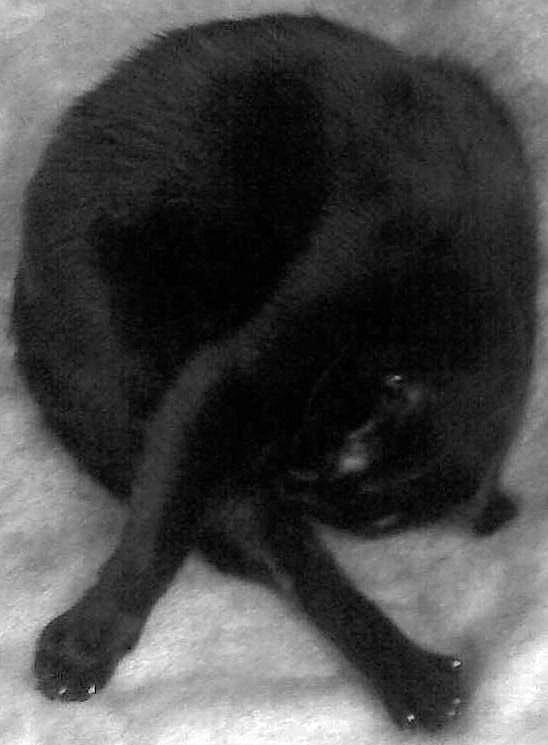 "…zzzzzzzzzzzzzzzz…" -Chaos