---
---
Don't forget to enter the contest for Media Naranja (Other Half) (Petit Morts #16) by Clare London & Jordan Castillo Price! Contest closes 7 pm CST, November 28.
Go enter the contest for Boats in the Night by Josephine Myles! Contest closes 7 pm CST, November 28.
Definitely enter the contest for Private Eye (Liaisons #1) by SE Culpepper! Contest closes 7 pm CST, November 28.
---
Congrats to Cori and Lilli, who each won copies of Honored Vow (Change of Heart #3) by Mary Calmes! Honored Vow will be released by Dreamspinner Press on November 21.
Congrats to Kelly, who won Texas Winter (The Heart of Texas #2) by RJ Scott! Texas Winter will be released by Silver Publishing on November 19.
---
Thank you for all the birthday wishes yesterday! 🙂 I took yesterday and today off from work and did absolutely nothing. Tonight, Jeanne and I are going to see The Mountain Goats play at the Fitzgerald Theater – Neil Gaiman is part the event, too.
---
---
Contests
Bookity
So last week's AJ Llewellyn drama led to a larger discussion of transphobia and transgender issues. For me, this post by Aleksandr Voinov tied everything together.
Ebookity
Do, Think, Make, Learn
Thanksgivity
Cookity
Crafty
Cool
Cool or Wha…?
Wha…?
LOL
Teh Cute
Reading Update

Stay the Night by Scarlett Parrish. ebook. Very good m/m romance about Kit, an awkward and antisocial computer programmer who is extremely attracted to his new housemate, but manages to push him away at every turn. Kit reminded me all too much of myself…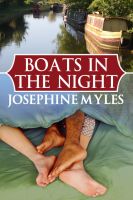 Boats in the Night by Josephine Myles. ebook. Very good m/m romance about a guy who's not really doing so well since his boyfriend left him a month ago. He's dealing with a hangover when he hears a bunch of noise at the base of his garden and discovers a broken-down narrowboat, with a most fascinating owner…

True Colors by Clare London. ebook. reread. (Totally reusing my original reviewette here!) This turned out to be a very good and intense m/m romance after a sort of shaky start – I almost put the book away because there were so many different people introduced in the first few pages and I couldn't figure out who was important and who was peripheral. But in the end? Totally redeemed, because Clare London deftly tied in those seemingly extraneous introductory bits.

Where You Least Expect It by M. Durango. ebook. Very good m/m romance about a straight guy whose unlikely friendship with a cyclist he almost ran over has him very confused about his sexuality.

Closet (Todd Mills #1) by RD Zimmerman. ebook. Very good m/m mystery about a prominent and closeted tv reporter whose boyfriend is murdered… and he's being set up to take the fall. As a bonus, it's set in Minneapolis in 1995. 🙂

Reclamation (Dominion #2) by Lissa Kasey. ebook. Very good m/m paranormal romance in which Sei's seeing a Dominion-ordered psychiatrist to help him work through the events of the last book, but he seems to be getting worse instead of better. I would definitely have enjoyed this book more if I hadn't read the prologue – it made me too anxious to really settle into the story.

Consequences (Dominion #2.1) by Lissa Kasey. free ebook short. Good short m/m paranormal romance about Gabe messing with Sei a bit after Sei gets caught out while shifted.

Touching Wood by Kim Dare. ebook short. Steamy kinky short m/m scene about a dominant and submissive reconnecting with each other in their playroom.

Wight Mischief by JL Merrow. ebook. Good m/m romance about a guy who goes to the Isle of Wight to research ghosts with the self-absorbed journalist friend he's fancied himself in love with for years… a fancy he reevaluates as he keeps running into a sexy and reclusive author with a creepy, domineering guardian.
Drive Safe by Sean Kennedy. free ebook short. Cute short m/m romance about a guy driving home through the outback who stops to help a drag queen whose car has broken down.
Congratulations Lucky Winner by LB Gregg. free ebook short. Madcap short m/m story about a hotel manager charged with storing two very unusual awards that are to be given out at conventions in the hotel.

Speed Dating the Slow Way by Chris Owen. ebook short. Steamy short m/m romance about two guys who become briefly reacquainted during a charity speed dating event, then reconnect some time later.

Pulled Long (Long Shots #3) by Christine d'Abo. ebook arc. Pretty good m/m romance about Ian, a coffee shop owner who's been fascinated by and flirting with a handsome customer for months… until he found out the customer was in the process of getting divorced. As he didn't want to be some straight guy's rebound, he backed off. I was annoyed by the whole martyr thing that Ian had going on – that's a trait that drives me nuts. If that doesn't bother you as much as it does me, you might enjoy this more than did I.

Between You and Me by Willa Okati. ebook. So-so m/m romance about two guys who've been best friends since college and now, in their mid-thirties, are starting to realize why neither of them have found "the one". This just never came together for me – the language was convoluted and the whole beach in the rain scenario… *shakes head*

Stroke the Demon by Eden Cole. ebook. Meh kinky m/m paranormal menage about an orphaned 18-year old who discovers that the mysterious benefactors who've been paying for his school and living expenses are demons, and that he was basically bred to be their sex toy. This was one of those stories that had way too much sex for the tiny amount of plot.

Love Revisited: Nash & Paul (Nash & Paul #2) by HC Brown. ebook short. I read this out of sick fascination to see if it was as bad as the first book. It was. Maybe worse. It's hard to quantify levels of badness at this level.

Saving Tate by Will Banks. ebook short. This m/m short was just bad, from using the phrase "gay lifestyle" to the clumsy writing to the excess of poorly executed plot crammed into too-few pages. Not recommended at all.
---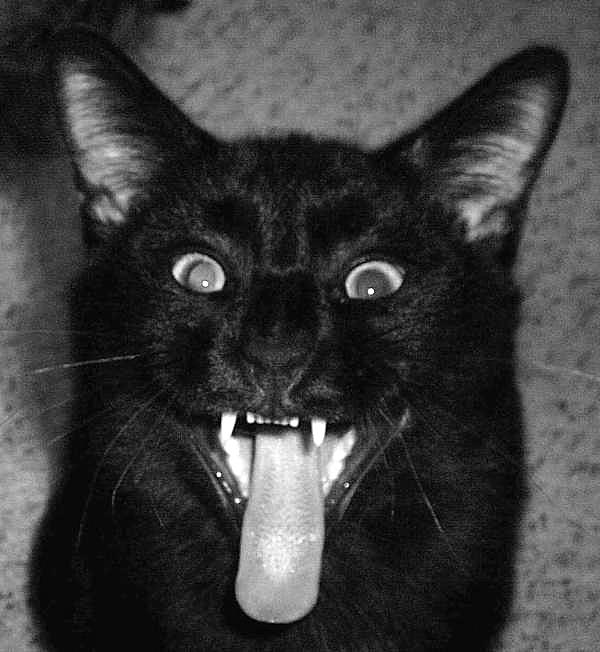 A classic picture of Chaos from early 2004! How would you caption it? 🙂