Contests
Bookity
Ebookity
Learn, Make, Do, Think
Linkity Peeps
Huh
LOL
Teh Cute
Reading Update

Gay Friendly (G-A-Y, Book 9) by Kim Dare. ebook short. Very good sweet m/m romance about an innocent young man staying at a gay friendly hotel who isn't at all prepared for how "friendly" (and groping) the other guests are. Fortunately for him, an older, more dominant guest takes pity on him and offers his protection… but does the young man actually want more than just that safety? (If you don't see a bookcover for this one, it means Total-E-Bound is down.)

Handcuffs and Glory Holes (Rawlings Men, Book 2) by Kim Dare. ebook short. Very good sweet'n'kinky short m/m romance about a mistreated sub who's used to being pimped out and doesn't dare believe that things can be different.

Gaymes by Jenna Byrnes, Gwendolyn Cease, Kim Dare, Carol Lynne, Jude Mason, Devon Rhodes, & Lisabet Sarai. ebook collection. Overall enjoyable collection of m/m romances, each focused around a game of some sort, such as Highland games, pool, Scabble, and flag football. Five of the six stories were good or better and one story was kinda meh.

Samhain Enchanted Evening by M. King. free ebook short. Ok freebie short m/m romance about a guy whose life feels very dull to him these days and he doesn't see that changing at the Halloween party he has to attend.

Thirteen Maidens by M. King. ebook short. Good m/m romance short about two guys who are taking a week to visit standing stones, including the mysterious standing stones known as the Thirteen Maidens.

The Dream Thief by M. King. ebook short. Good fantasy m/m short about a guy who has incredibly realistic feeling dreams of a dream lover that start when he's a teenager and gain power through the years.

Spam! It's What's for Christmas by Lenore Black. ebook short. Very good short m/m holiday romance about a guy who was fired and then dumped by his boyfriend. He hasn't had any luck finding a new job while he pines for his boyfriend… until he answers a modeling ad. *ahem*

Because It's True by Willa Okati. ebook. So-so m/m romance about a guy who's given up on dating since his last boyfriend ditched him while they were traveling to Canada to get married. This never came together for me – the guys never seemed like actual guys and the book could easily have been half as long as it was. Also, I wanted to slap characters. Frequently. But hey, I like the cover! 🙂
From the Midsummer's Nightmare Daily Dose…

Charlies Chuckles by Clare London. ebook short. Very good short paranormal m/m romance about two guys who live in the same building, but have never spoken until a morning of small disasters sends them careening into each other.

I Can See Right Through You by Zahra Owens. ebook. Good paranormal m/m romance about a writer who's staying in his aunt's old house after she had to move to a care facility. He discovers that the house has a ghost… a ghost he comes to care about deeply.

Oubliette by G.S. Wiley. ebook short. So-so historical paranormal m/m short about an Englishman who was captured by Spaniards after his ship was wrecked.

Careful What You Wish For by Elizabeth Copland. ebook short. Ok short paranormal m/m romance about a guy who's had a crush on his oblivious roommate for a long time.

What's Past Is Presence by Lori C. Hawkins. ebook short. Meh short m/m romance about a couple who discover that their house may be haunted… or is it? A large part of the meh on this one was the choppy, simplistic language.
---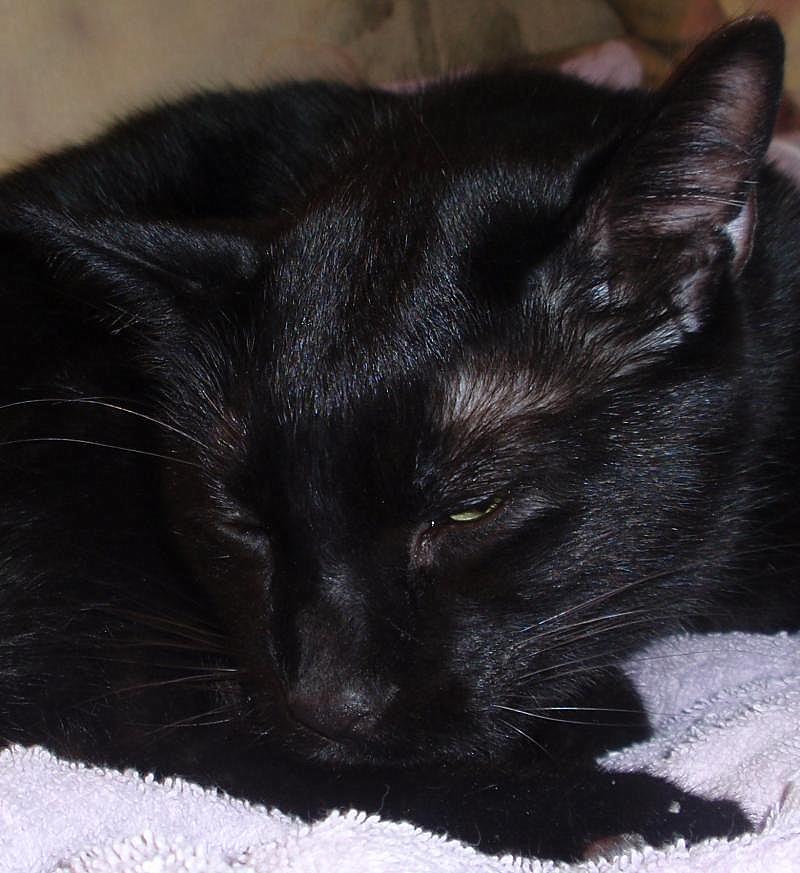 "Napping. Or trying to at least. Go away. All of you." -Chaos