Many thanks to JM Cartwright for donating an ebook copy of her recently released m/m romance, Brainy and the Beast, for a lucky commenter to win!
Robotics researcher Henry Travis uses his brain for just about everything, but once he meets Nick Shelton over the hood of his 1960 Mercedes 300, he's at a loss. How does he control his attraction to this brash, sexy mechanic?

Nick owns his own classic car garage, and he is more than willing to hit it with the brainy, seriously hot, Henry. What he doesn't need is the aggro that comes with feelings. But since his 14-year old nephew, Grant, has come to live with him, he's been dealing with aggravation every day. And now his dad lives with him, too. A dad who doesn't mind commenting on Nick's lame parenting skills.

With Henry turning his crank in a big way, and Nick enjoying not being in charge for a change, things heat up pretty fast. They're actually dating, with dinner and everything, before he knows it. And the after-dinner drinks at Henry's gorgeous house have Nick wiping the sweat from his brow.

But Henry and Grant don't get along; Nick isn't sure he wants a relationship at all, and Nick's dad, Big Mike, has an opinion on everything.

How's a guy to have fun on the weekends – even during the week, for crying out loud – with all the family baggage hanging around?
Excerpt (scroll down and select tab)
Other Books
About JM
I've been a mix of a thinker and a doer for pretty much my whole life. The doer part is usually in charge. But I believe it's the thinker that adds the spice, the panache and the zest.

My stories come from both sides – the doer helps me get the damned things done while the thinker lets me express my creative, artistic side. My day job of running a small business appreciates both parts and I've learned to be more patient, more thoughtful as I go through the day-to-day tasks and interact with people. I've also learned to appreciate a lot more things about my life since I started seriously writing, and I've had an entire world opened up to me from the day I was brave enough to click send and submit my manuscript.

I sold A Change Of Tune (which was actually the third book in the Change series that I wrote) first. I felt it was the strongest, which at the time I think was fairly accurate. By working with an incredible editor (Kate, I adore you) the other two got stronger, held a little more depth. I believe that each book I pen reflects my growth as a writer and I'm grateful to those in the business who are helping me, teaching me, letting me virtually hang around and absorb smartness.

The community of writers is an interesting place. Like all industries, it has its quirks, its absolutely riveting drama and its uplifting, triumphant events. I'm really glad to be accepted into it and I hope to broaden the readership for LGBT books with my small offerings.

I grew up in and live in America's Second City. It's an exciting place to be and offers lots of professional challenges and opportunities. I do have a hankering for the mountains, though. I love tall trees, water, green spaces and critters. I'm lucky enough to live surrounded by some of that, and my gardens are my pride and joy.

I hope you'll let me know what you think of my writing, so feel free to drop me a line. Please consider joining my mailing list and I'll keep you updated on what's happening in my neck of the woods.

You can find out more about JM and her books at her webpage, blog, Facebook, and Twitter.
Contest Rules
To enter, leave a comment stating that you are entering the contest. Contest closes 7 pm CDT, Monday, May 6.
By entering the contest, you're confirming that you are at least 18 years old.
If you haven't commented before, your comment will not be visible until after I moderate it. Please do not leave a second comment because your first doesn't show up! The blog gnomes will decide your comments are spam and then only ritual dust bunny sacrifice will salvage your entry…
If your comment is actually an advertisement or if your CommentLuv link turns it into an advertisement, your comment will be deleted. (Most of you do not need to worry – this refers to some pretty clever comment spam.)
Winners will be selected by random number.
You must leave a valid email address in the "Email" portion of the comment form.
Please make sure that your spam filter allows email from stumblingoverchaos.com!
If a winner doesn't respond to my congratulations email within 48 hours, I will select another winner.
If you win, please respect the author's intellectual property and don't make copies of the ebook for anyone else.
This contest is open worldwide!
---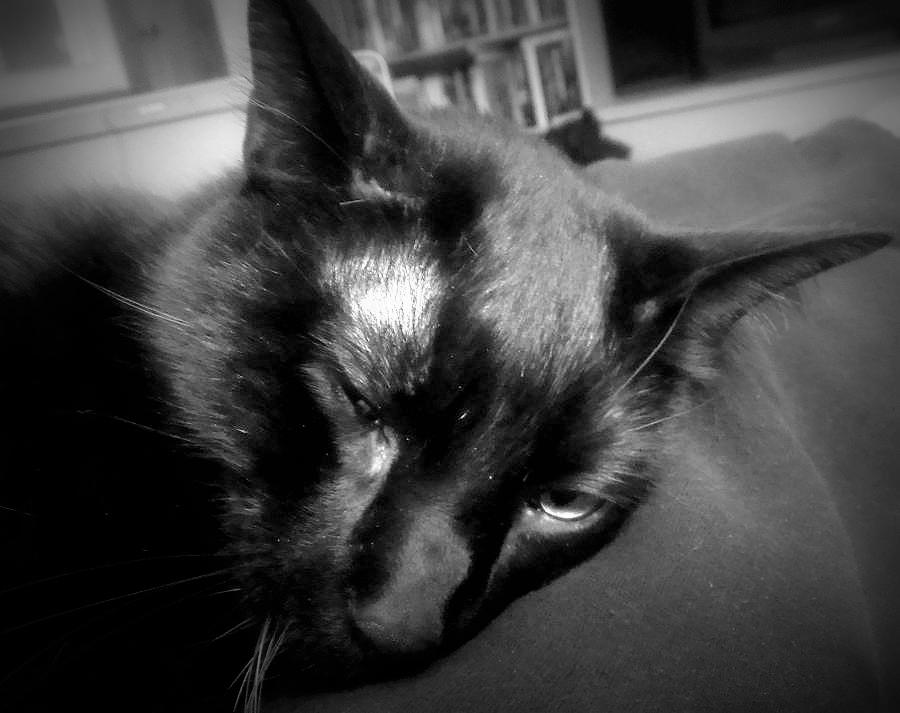 "Quit moving and taking my picture, Mom! You're interfering with my lap nap experience." -Chaos