Many thanks to Andrew Grey for donating an ebook copy of his forthcoming m/m romantic suspense, Taken (Stranded #2), for a lucky commenter to win! Taken will be released by Dreamspinner Press on October 28.
On the day he and Roman Capanelli were to be married, Malik Stevens wakes up in a small room with very little light. Time must be passing, because a door opens from time to time and food is left for him – that's his only connection to the outside world. Roman is a choreographer on Broadway, and he's waiting for Malik at the park with all their friends, ready to start their marriage ceremony. When Malik doesn't show up, Roman is nearly heartbroken thinking he's been left at the altar. But soon he understands that Malik hasn't stood him up, he's been taken.

Desperate and determined, Roman begins searching for clues to aid the police. Then, when Malik escapes, the couple continues the search until they ferret out the culprit, and in the process open up a box of secrets. An orphan who grew up in a foster home, Malik knows his father was a serial killer and his mother died of grief and shame after his father was convicted. Now it seems some of his parents' skeletons still hang in the family closet. But was Malik's kidnapping meant to uncover those secrets or to hide them forever?
Other Books
About Andrew
Andrew grew up in western Michigan with a father who loved to tell stories and a mother who loved to read them. Since then he has lived throughout the country and traveled throughout the world. He has a master's degree from the University of Wisconsin-Milwaukee and works in information systems for a large corporation. Andrew's hobbies include collecting antiques, gardening, and leaving his dirty dishes anywhere but in the sink (particularly when writing). He considers himself blessed with an accepting family, fantastic friends, and the world's most supportive and loving partner. Andrew currently lives in beautiful, historic Carlisle, Pennsylvania. You can find out more about Andrew and his books at his website and his blog.
Contest Rules
To enter, leave a comment stating that you are entering the contest. Contest closes 7 pm CDT, Friday, October 25.
By entering the contest, you're confirming that you are at least 18 years old.
If you haven't commented before, your comment will not be visible until after I moderate it. Please do not leave a second comment because your first doesn't show up! The blog gnomes will decide your comments are spam and then only ritual dust bunny sacrifice will salvage your entry…
If your comment is actually an advertisement or if your CommentLuv link turns it into an advertisement, your comment will be deleted. (Most of you do not need to worry – this refers to some pretty clever comment spam.)
Winners will be selected by random number.
You must leave a valid email address in the "Email" portion of the comment form.
Please make sure that your spam filter allows email from stumblingoverchaos.com!
If a winner doesn't respond to my congratulations email within 48 hours, I will select another winner.
If you win, please respect the author's intellectual property and don't make copies of the ebook for anyone else.
This contest is open worldwide!
---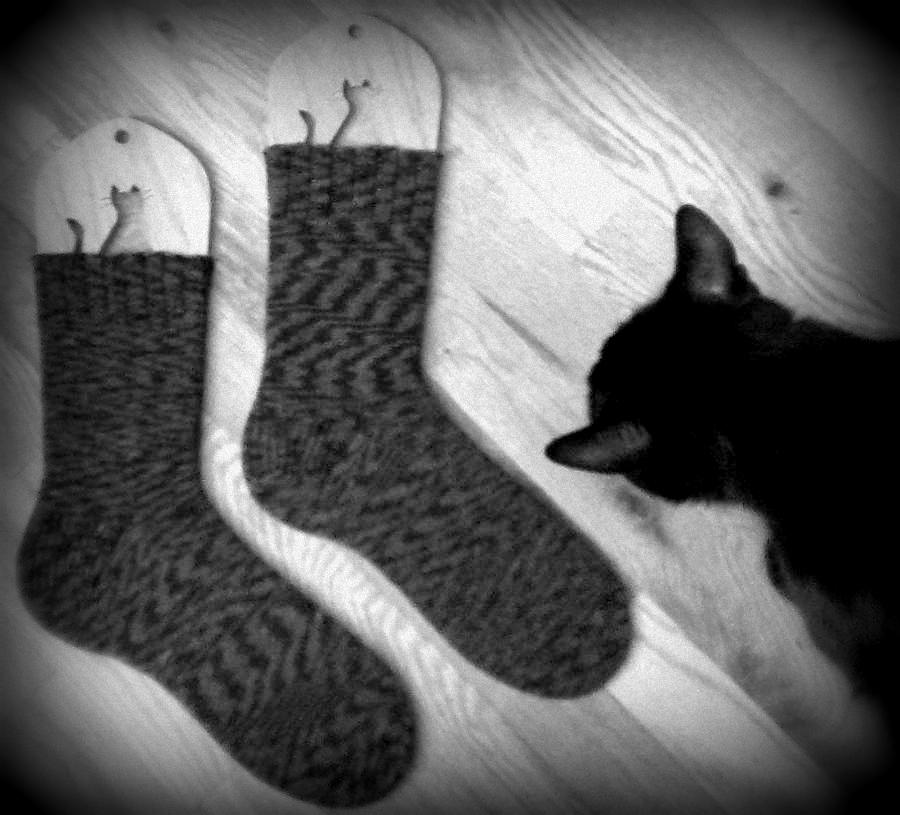 "What the heck are these things?!" -Chaos
Apparently it's just been that long since I completed a knitting project… These are my SIL's Christmas socks… for Christmas 2012… completed last week. D'oh!