Many thanks to Heidi Cullinan for donating ebook copies of her kinky m/m romance series, Special Delivery (Special Delivery [2nd ed], Double Blind [2nd ed], and Tough Love [forthcoming]), for a lucky commenter to win! Special Delivery and Double Blind are already available; Tough Love will be released by Samhain Publishing on April 8.
When your deepest, darkest fantasy shows up, get on board.

Sam Keller knows he'll never find the excitement he craves in Middleton, Iowa – not while he's busting his ass in nursing school and paying rent by slaving away in a pharmacy stockroom. Then Sam meets Mitch Tedsoe, an independent, long-haul trucker who makes a delivery to a shop across the alley. Innocent flirting quickly leads to a fling, and when Mitch offers to take him on a road trip west, Sam jumps at the chance for adventure. Mitch is sexy, funny and friendly, but once they embark on their journey, something changes. One minute he's the star of Sam's every x-rated fantasy, the next he's almost too much a perfect gentleman. And when they hit the Las Vegas city limit, Sam has a name to pin on Mitch's malady: Randy.

For better or for worse, Sam grapples with the meaning of friendship, letting go, growing up – even the meaning of love – because no matter how far he travels, eventually all roads lead home.

Warning: This story contains trucker fantasies, threesomes and kinky consensual sex.

This book has been previously published and has been revised from its original release.

Excerpt (scroll down and select tab)
Know when to show your hand…and when to hedge your bets.

Randy Jansen can't stand to just sit by and watch as a mysterious man throws money away on the roulette wheel, especially since Randy's got his own bet going as to the reason this guy is making every play like it's his last day on earth. The man's dark desperation hits Randy right in the gut. Half of him warns that getting involved is a sucker's bet, and the other half scrambles for a reason – any reason – to save the man's soul.

Ethan Ellison has no idea what he's going to do with himself once his last dollar is gone – until Randy whirls into his life with a heart-stealing smile and a poker player's gaze that sees too much.

Randy draws Ethan into a series of wagers that leads to a scorching kiss by midnight, but he isn't the only one with an interest in Ethan's vulnerability. Soon they're both taking risks that not only play fast and loose with the law, but with the biggest prize of all: their hearts.

Warning: This story contains high-stakes poker, gangsters with a weakness for kittens, foursomes, and kinky consensual sex.

This book has been previously published and has been revised from its original release.

Excerpt (scroll down and select tab)
It takes a strong man to be this fabulous.

Crescencio "Chenco" Ortiz pulled himself up by his garter straps after his father's will yanked the financial rug from under his spank-me pumps. He doesn't need anyone, yet when Steve Vance steps into his life, the prospect of having a sexy leather daddy on tap begins to take on a certain appeal.

There's a hitch when he learns Steve is friends with Mitch Tedsoe – the half-brother Chenco never knew except through his father's twisted lies. Despite his reservations, soon Chenco is living his dreams, including a performing gig in Vegas. Now if only he could get Steve to see him as more than just a boy in need of saving.

Steve's attraction to Chenco is overshadowed by too many demons, ones he knows his would-be lover is too young to slay. Yet as he gets to know the bright, determined young man whose drag act redefines fierce, Steve's inner sadist trembles with need. He begins to realize Chenco's relentless tough love might be the only thing that will finally set him free.

Warning: This story contains glamorous drag queens, exhibitionist secondary characters, and no-holds-barred BDSM play, including watersports. Readers advised they may well leave this novel feeling uncharacteristically fierce.

Excerpt (scroll down and select tab)
Other Books
About Heidi
Heidi Cullinan has always loved a good love story, provided it has a happy ending. She enjoys writing across many genres but loves above all to write happy, romantic endings for LGBT characters because there just aren't enough of those stories out there. When Heidi isn't writing, she enjoys cooking, reading, knitting, listening to music, and watching television with her family. Heidi also volunteers frequently for her state's LGBT rights group, One Iowa, and is proud to be from the first Midwestern state to legalize same-sex marriage.

You can visit Heidi at her website and at her blog.
Contest Rules
To enter, leave a comment stating that you are entering the contest. Contest closes 7 pm CDT, Monday, April 8.
By entering the contest, you're confirming that you are at least 18 years old.
If you haven't commented before, your comment will not be visible until after I moderate it. Please do not leave a second comment because your first doesn't show up! The blog gnomes will decide your comments are spam and then only ritual dust bunny sacrifice will salvage your entry…
If your comment is actually an advertisement or if your CommentLuv link turns it into an advertisement, your comment will be deleted. (Most of you do not need to worry – this refers to some pretty clever comment spam.)
Winners will be selected by random number.
You must leave a valid email address in the "Email" portion of the comment form.
Please make sure that your spam filter allows email from stumblingoverchaos.com!
If a winner doesn't respond to my congratulations email within 48 hours, I will select another winner.
If you win, please respect the author's intellectual property and don't make copies of the ebook for anyone else.
This contest is open worldwide!
---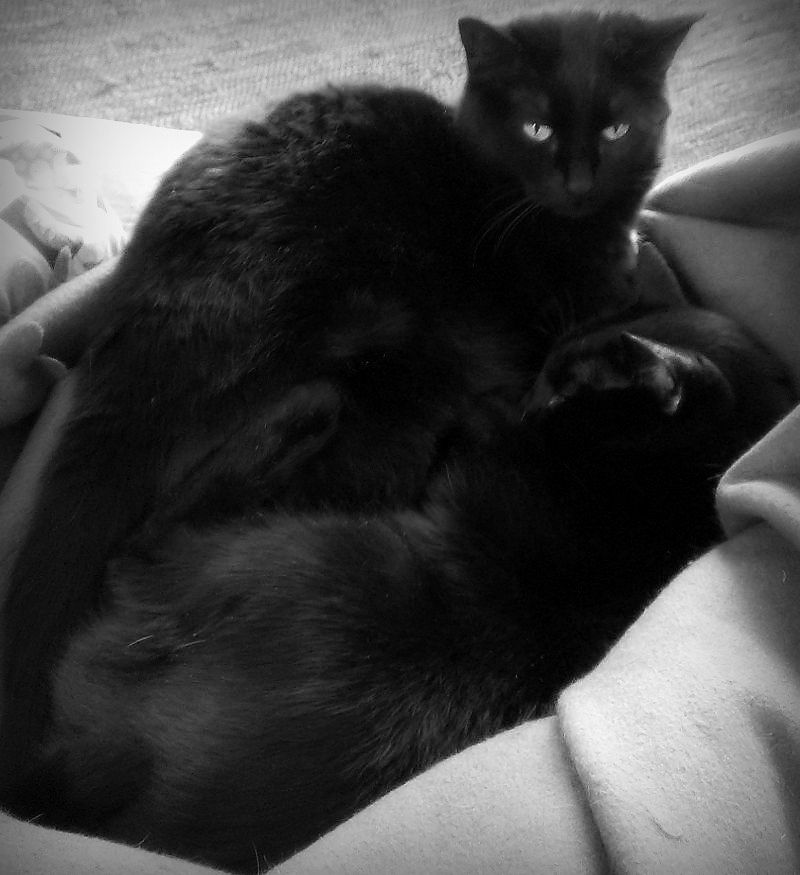 *purring* -Mayhem
"…..zzzzzzzzzzzzzzzzzzzzzzzzz….." -Chaos