Many thanks to Mickie B Ashling for donating an ebook copy of her forthcoming m/m historical romance, Yesterday, for a lucky commenter to win! Yesterday will be released by Dreamspinner Press on January 22.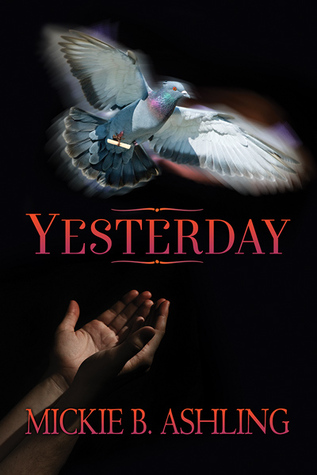 In June of 1978 Grady Ormond, eighteen-year-old son of diplomat Peter Ormond, accompanies his father to his new posting as US Ambassador to Pakistan. Neighboring Iran is on the brink of a civil war, with the monarchy in danger of being overthrown.

Grady will be leaving for New York City in late August to study cinematography and has been warned to keep his homosexual orientation tightly under wraps while on vacation. Repercussions in the predominantly Islamic region could be severe.

On their first night in Karachi, his father hosts a cocktail party to meet the local dignitaries. Grady is introduced to His Highness Prince Kamran Izadi, nephew of the shah of Iran. Twenty-three-year-old Kamran has recently returned from the UK, where he spent eleven years, first as a student, and then as a financial analyst.

The attraction is immediate – unforeseen and dangerously powerful – but neither one dares to make a move. Odds are so stacked against them it's futile to even entertain a friendship, but they do, and their world tilts precariously.

With his country in turmoil and Grady about to leave for college, Kamran makes a decision that will change their lives forever.
Excerpt (scroll down and select "Expand")
Other Books
About Mickie
Mickie B. Ashling is the alter-ego of a multifaceted woman raised by a single mother who preferred reading over other forms of entertainment. She found a kindred spirit in her oldest child and encouraged her with a steady supply of dog-eared paperbacks. Romance was the preferred genre, and historical romances topped her favorites list.

By the time Mickie discovered her own talent for writing, real life had intruded, and the business of earning a living and raising four sons took priority. With the advent of e-publishing and the inevitable emptying nest, dreams were resurrected, and the storyteller was reborn.

She stumbled into the world of men who love men in 2002 and continues to draw inspiration from their ongoing struggle to find equality and happiness in this oftentimes skewed and intolerant world. Her award-winning novels have been called "gut wrenching, daring, and thought provoking." She admits to being an angst queen and making her men work damn hard for their happy endings.

Mickie loves to travel and has lived in the Philippines, Spain, and the Middle East but currently resides in a suburb outside Chicago. You can find out more about Mickie at her website.
Contest Rules
To enter, leave a comment stating that you are entering the contest. Contest closes 7 pm CST, Thursday, January 21.
By entering the contest, you're confirming that you are at least 18 years old.
If you haven't commented before, your comment will not be visible until after I moderate it. Please do not leave a second comment because your first doesn't show up! The blog gnomes will decide your comments are spam and then only ritual dust bunny sacrifice will salvage your entry…
If your comment is actually an advertisement or if your CommentLuv link turns it into an advertisement, your comment will be deleted. (Most of you do not need to worry – this refers to some pretty clever comment spam.)
Winners will be selected by random number.
You must leave a valid email address in the "Email" portion of the comment form.
Please make sure that your spam filter allows email from stumblingoverchaos.com!
If a winner doesn't respond to my congratulations email within 48 hours, I will select another winner.
If you win, please respect the author's intellectual property and don't make copies of the ebook for anyone else.
This contest is open worldwide!
---
"Please, go on about your little problems. I'm fascinated." -Mayhem