---
---
Congrats to Sammy2006, Yvette, and Heather K, who won Simple Gifts (Cornwall Novellas #2) by LB Gregg!
Congrats to Morgana, who won My True Love Gave to Me by Ava March, which is now available from by Carina Press. It's also available in the Men Under the Mistletoe anthology.
Congrats to Dianna, who won Winter Warmers by Josephine Myles, JL Merrow, Clare London, Chrissy Munder, and Lou Harper!
---
---
Contests
Bookity
Ebookity
Think, Make, Do, Learn
Holidity
Cookity
Crafty
Cool
Cool or Wha…?
Wha…?
LOL
Teh Cute
Reading Update

Bad Boyfriend (Bad in Baltimore #2) by KA Mitchell. ebook. Excellent kinky m/m romance about a teacher who's dumped by his closeted boyfriend of ten years, then picks up a hot younger guy at a bar to take along to the baptism of his ex's baby.

While Under the Influence (Perfect Timing #8) by Kim Dare. ebook. Very good kinky m/m romance about a guy who's in denial about being gay. He foolishly mentions it to his cousin when he's drunk, thus setting in motion her plan for him to find out definitively whether he is or isn't.

Paper Planes by M. Jules Aedin. ebook. Very good m/m romance about a photographer whose partner died in a plane crash a year ago and who isn't really moving past that until after he becomes friend with an older pilot. I particularly liked that this book didn't go in for quick fixes – recovering from a significant loss takes time – and that one of the main characters had a disability. Perfect main characters get boring!

Search Me (Cover Me #3) by LA Witt. ebook short. Good short m/m romance following up on Andrew and Nick from Cover Me, who we saw were having problems in Trust Me. I got a little sniffly when things didn't look too promising for the guys…

The Winter Courtship Rituals of Fur-Bearing Critters by Amy lane. ebook. Very cute holiday m/m romance about a grumbly Colorado alpaca rancher who takes a liking to the cute younger guy who moves in next door.

Let It Snow by Devon Rhodes. ebook short. Good short kinky holiday m/m romance about a professional house sitter who's feeling lonely and a little sorry for himself on Christmas Eve as he falls asleep making a wish…

What Can Be by Mary Calmes. ebook. Good holiday m/m romance about a guy who hasn't seen his father or brothers for 13 years, since his mom took him and left. Since then, he's avoided getting close to people… except he has and now he's running away from that.

Happiness for Beginners by Zahra Owens. ebook short. Good short holiday m/m romance about two guys, one gay and one presumably straight, who used to play a gay couple on a tv show but haven't seen each other for ten years. And then the straight one shows up at the other guy's front door out of the blue…

Winter Rescue by Dawn Kimberly Johnson. ebook short. Good short holiday m/m romance about a guy trying to make it home for the holidays after not seeing his family for a few years, but he ends up in the ditch during a bitterly cold and snowy night and almost doesn't make it home…

A Walk in the Dark by Kate McMurray. ebook short. Good short holiday m/m romance about a guy with a crush on his roommate's boyfriend. This needed to be just a bit longer to be a satisfying read.

Prey Time by Sue Brown. ebook short. Steamy m/m/m encounter between a guy in a bar and a couple he picks up… or do they pick him up?

Cherry Pie by Samantha Kane. ebook. Pretty good m/m romance about a wealthy guy who recently moved to a small town in North Carolina from San Diego. One morning, he discovers the son of his house's former (deceased) owner sitting outside. Alas, I never got fully invested in the main characters as a couple.

No One Should Be Alone by Tinnean. ebook. Ok holiday m/m romance about two operatives in a top-secret government agency who hook up. This one just didn't work for me – not only could I simply not get into the story, it was told in alternating first-person with insufficiently distinct voices, so I kept getting confused.

Feels Like Home by Rowan McAllister. ebook. Sweet m/m holiday romance about two guys who end up spending a couple of days together because of a snowstorm. Editing inconsistencies kept annoying me and pulling me out of the story. (Really, that spare tire that got run over by a Hummer H2 at the beginning of the story? You're not going to be putting it on and driving on it later in the story…)

Bringing Home the Ice Prince by Jana Downs. ebook short. Meh short m/m holiday romance written in the sort of flowery, over-the-top style that annoys me no end.
---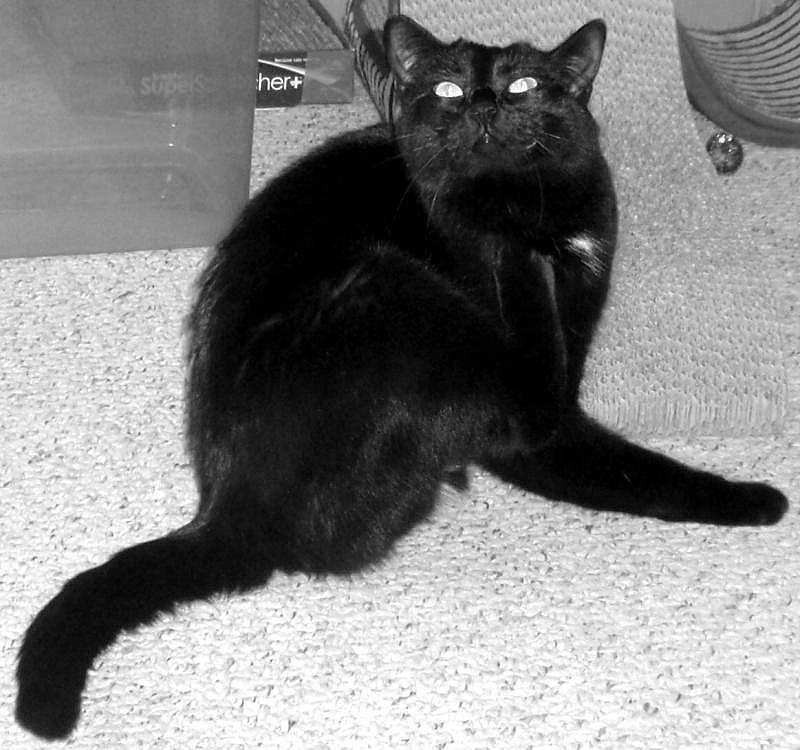 "Can't… quite… hit… the… itchy… spot…" – Mayhem