---
---
Congrats to Carla A, who won her choice of A Guitarist in the Fae Queen's Court (Fae Connections #1) by Amber Kell or the Unconventional At Best anthology!
Congrats to Andrea, who won Dead Shot by JL Merrow! Dead Shot will be released August 26 by JMS Books.
---
Over the next five to six weeks, I'm going to be buried in a big work project, so I won't be commenting on blog posts as much as I usually do. My never-very-under-control inbox is now completely out-of-control. And we'll just see how well linkity goes… 🙂
---
---
Contests
Bookity
Ebookity
Think, Learn, Do, Make
Cookity
Gluten-Free
Drinkity
Crafty
Cool
Cool or Wha…?
Wha…?
LOL
Teh Cute
Reading Update

Point of No Return by NR Walker. ebook. Very good m/m romantic suspense about a closeted cop who's attracted to the new boxing coach at the gym, who turns out to be equally closeted. How handy! 🙂 As they become closer, will they be able to survive the dangers involved in a cop's job? I'll definitely look for more from this author in the future.
No News Is Good News (Florida #3.5) by KA Mitchell. free ebook short. Good kinky short m/m encounter between Aaron and Joey from Collision Course that ends right as But My Boyfriend Is starts.

But My Boyfriend Is (Florida #4) by KA Mitchell. ebook. Very good m/m romance about a deeply closeted guy with a lot of guilt about his straight identical twin being gay bashed. Can he keep lying to himself about the attraction he feels to the guy who stepped into the fray and saved his twin's life? This started out a bit rough for me, as I wasn't feeling much sympathy for the closeted twin until about halfway through the book. Anyone want to bet that the next book's about Tate? 😉 Later: The more I think about it, the more I feel like I got cheated out of a couple of chapters that should've been between the last two chapters, or the last chapter and the "I'm really an epilogue, but I'm called the final chapter" chapter… 🙁

Bad Boyfriend (Bad in Baltimore #2) by KA Mitchell. ebook. reread. I needed a reminder of how good KA Mitchell can be… Excellent kinky m/m romance about a teacher who's dumped by his closeted boyfriend of ten years, then picks up a hot younger guy at a bar to take along to the baptism of his ex's baby. Things just sort of spiral from there. 🙂
Drunk Text by seventhswan. free online. Very good m/m romance about a straight college student who wakes up hungover one morning covered in finger paint with a text on his phone that suggests he had sex with a guy the night before… Reread. I enjoyed this just as much as the first time I read it in February.

The Square Peg by Jane Davitt & Alexa Snow. ebook. Good kinky m/m romance (with more potential than was realized) about an accountant who inherits a share in a bar from his estranged father and gets off to a rough start with the other owner.

Finding Forever (Sutter's Bay #4) by Shawn Lane. ebook. Sweet m/m romance about Galaxy's younger brother Leo, who meets a closeted guy with an abusive, homophobic father. Unfortunately, this felt rushed and incomplete, or maybe not fully developed. The amount of story definitely needed more pages.

Theory of Attraction by Cleon Lee. ebook. arc. Sweet m/m romance about a hunky teaching assistant who becomes fascinated with one of the other more geeky teaching assistants. Alas, the object of his interest rebuffs him and flees at every opportunity. Unfortunately, the choppy style (not enough sentence opening variety) started to wear on me after a while, but that's something that may improve with more writing experience.

Little Squirrels Can Climb Tall Trees by Michael Murphy. ebook. Extremely uneven but ultimately meh m/m romance set in NYC about a short and excessively exuberant guy who woos a much taller and rather naive doctor from Oklahoma. The biggest problems I had with the book were the ludicrous number of exclamation points and the tendency to go into excessive detail during scenes that didn't seem to belong in the book, then skim quickly over things that merited more detail.

Deadly Secrets (Dark Kings of Eternity #1) by Savannah Hartley. ebook. The saddest thing about this book is that there's the hint of an interesting story buried deep, but even though this ended on a cliffhanger, I'm not inspired to read more.
---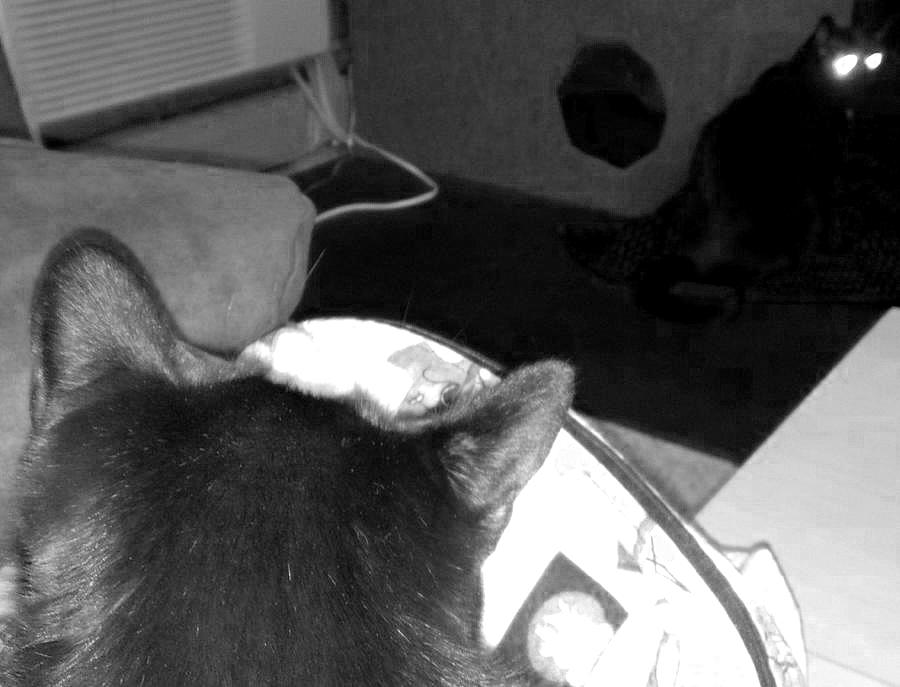 "Your training is coming along well, young Mayhem." -Chaos