Many thank to S.L. Armstrong and K. Piet of Storm Moon Press for donating an ebook copy of their recently released paranormal m/m romance, The Other Side of Night: Bastian & Riley, for a lucky commenter to win as part of the Storm Moon Press 2011 Blog Tour!
Vampires walk among us. For centuries, they have adapted, learning to pass undetected in our world. They no longer fear the day, only the sting of direct sunlight. They are students, bankers, lawyers, and even actors. But when the sun goes down, they are all united by their eternal thirst. We do not see them from our safe and comfortable side of the night. But sometimes, one of us is drawn away from the light and we cross into their world. Into the other side of night.

Sebastian Rossi's second year at the University of Tennessee began much differently than his first. He rushes to and from his classes, covered head to toe in thick clothing. Parties are a thing of the past, and dating hasn't been high on his list of priorities. No, high on his needs is blood. Lots of it. Adjusting to the changes no one even told him would happen following one great night of partying and sex has been hell for Bastian, but he's managing.

Riley Lynch's dream is to be a veterinarian. He works hard to pay his tuition, reads in every spare moment, and tries to forget the nightmare of his sophomore year. Summer has washed away all the bad, leaving him refreshed and eager for his junior year at UT. Life is finally looking up for him, and he has no intention of sliding back down into the depression that had consumed him during his last relationship.

A chance meeting brings their two worlds into alignment and passion sparks between them. When Riley learns of the changes Bastian is going through, he has a choice to make: walk away or embrace the night.
Excerpt (scroll down and select "Sample Excerpt")
About S.L. Armstrong

S.L. Armstrong has been writing for as long as she can remember. Art and reading have played a large part in her life since young childhood, but around fourteen, writing became her passion. When she discovered M/M romance, and how it was now a legitimate branch of romance writing, she knew her course. S.L. plans to release F/F, M/M, M/F, and multiple partner books as she continues her writing career. M/M romance is where her heart lies, no matter what else she may write or read, and it's where she keeps returning to. There is something about two men passionately in love that just makes her heart melt, and she has no intention of giving that up anytime soon.

S.L. Armstrong lives in Florida with her husband, two dogs, and seven cats. She hates the heat and longs for a northern, snowy climate. She writes with K. Piet on a number of projects, but she also writes her own solitary titles as well. S.L. Armstrong owns Storm Moon Press LLC along with her husband and K. Piet, and she is proud of all they accomplish with the micro press.

You can learn more about S.L. on her website, blog, and Twitter.
About K. Piet
K. Piet was born in California and raised in Flagstaff, Arizona with her older sister and two cats. A college graduate of Kinesiology, K. is a licensed massage therapist and specializes in therapeutic bodywork for those involved in artistic sports such as gymnastics and figure skating, circus performance, and professional dance.

After working with S. L. Armstrong on a number of small writing projects in college and coming to see the act of writing as a learned skill, K. found a new zeal for the challenge and now writes as a sideline career. Though she didn't get her literary jump-start until college, she can no longer imagine her life without writing.

K. currently lives in Florida, but she dreams of a time when she can move back to the pine forests, far away from the heat and humidity. K. is also a proud co-owner of Storm Moon Press LLC, a micro press specializing in GLBT and alternative lifestyle erotica and erotic romance.

You can learn more about K. on her website, blog, and Twitter.
Contest Rules
To enter, leave a comment stating that you are entering the contest. Contest closes 7 pm CDT, Friday, October 14. (More or less – I'll be on vacation, so if you can still leave a comment on this post, you can still enter the contest.)
By entering the contest, you're confirming that you are at least 18 years old.
If you haven't commented before, your comment will not be visible until after I moderate it. Please do not leave a second comment because your first doesn't show up! The blog gnomes will decide your comments are spam and then only ritual dust bunny sacrifice will salvage your entry…
If your comment is actually an advertisement or if your CommentLuv link turns it into an advertisement, your comment will be deleted. (Most of you do not need to worry – this refers to some pretty clever comment spam.)
Winners will be selected by random number.
You must leave a valid email address in the "Email" portion of the comment form.
Please make sure that your spam filter allows email from stumblingoverchaos.com!
If a winner doesn't respond to my congratulations email within 48 hours, I will select another winner.
If you win, please respect the author's intellectual property and don't make copies of the ebook for anyone else.
This contest is open worldwide!
---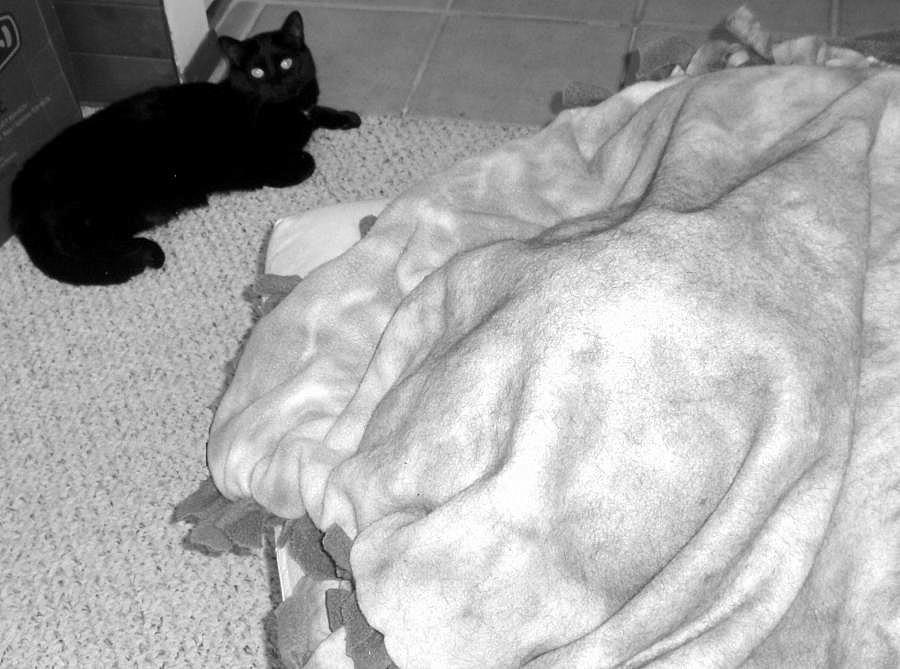 "Mom, I'm bored!!!" -Mayhem
There are two cats in this picture. Can you find both of them?