---
---
Since I never heard back from the first winner, Jaime Samms is the new winner of Ambush (True Colors #2) by Clare London!
Congrats to Dorome, who won The Rare Event by PD Singer! The Rare Event is being released today by Dreamspinner Press.
Congrats to Cole, who won For the Living by L.A. Witt! For the Living will be released on April 1 by Amber Allure.
Congrats to Erica Pike, who won Queen's Man by K.D. Sarge! Queen's Man will be released by Turtleduck Press on April 1.
---
---
Contests
Bookity
Ebookity
Think, Learn, Make, Do
Cookity
Crafty
Dangerity
Cool
Cool or Wha…?
Wha…?
LOL
Teh Cute
Reading Update

A Ring and a Promise by Devon Rhodes. ebook short. Very good short m/m romance about two guys in the military who start a friends with benefits relationship as cadets… but what will happen after they're commissioned and sent in different directions? I got a little sniffly on this one.
Cold Turkey by Zebbie. free online. Very good m/m romance about two guys who dance around their attraction to each other, but are too stubborn and proud to admit to any such weaknesses. Be aware that this just barely has an HFN ending.
No Other Life Than This by podga. free online. Very good m/m romance about a fifty-ish guy who's resistant when his best friend wants to set him up with a date for said best friend's third wedding. This could've used a bit of groveling and explaining near the end, but it managed to work without that.
A Year Full of Days by seventhswan. free online. Very good m/m romance that follows up with Nate from The Side Effects of Forgetting, who isn't doing very well at all watching Kellan date Will.
I Know What I'm Doing by AzanianHeat. free online. Very good m/m romance about a guy on holiday who unexpectedly runs into the straight guy he once made out with in university five years prior… the straight guy who fled, but hasn't been able to forget their encounter. Set in South Africa, which was a refreshing change of pace.

Gambling on Maybe (The GlitterBomb #1) by Fae Sutherland. ebook short. reread. Very good short m/m romance about a delightfully flamboyant guy who decides he needs to add some sparkle to a closeted cop's life. My only complaint was that I wanted more!

Games Boys Play (The GlitterBomb #2) by Fae Sutherland. ebook short. Cute short m/m romance following up on "the gayest of the gay boys" Zach and "Officer Hotness". As others have mentioned, it was just too short – these two could've filled a novel. 🙂
Coming Out With the Truth by zolia_lily. free online. Good m/m romance about a writer who moves to a small town after he's dumped by his boyfriend for a woman, then gets involved with someone deeply closeted.
The Good Old Boy by Carson Shepherd. free online. Good m/m romance about a guy who returns to the small town he grew up in (and fled years ago) after he loses his job, gets dumped by his boyfriend, and breaks his arm.
I Read a Lot by lill_street_writer. free online. Sweet m/m romance about an intense guy who mostly reads during his free time, not really needing to be around others until he meets an intriguing bookstore clerk. This story had some missing words and letters that were an ongoing, lowgrade annoyance.
Life Between Day and Night by podga. free online. Good, but very short, m/m romance about dancing around the edges of attraction, not wanting to ruin a friendship.
All That Matters by podga. free online. Good short m/m romance about two closeted colleagues, one of whom is married, who work for an international corporation and travel a lot.
Chicks Just Get in the Way by Carson Shepherd. free online. Steamy short m/m/m scene that takes place when things don't go at all as the scheming friend planned. Be aware that there's dubious consent in this one.

Happy World by Kiernan Kelly & Tory Temple. ebook. Good m/m romance about a guy who works at Happy World (basically Disney World) and rigidly follows the rules until a free-spirited trainee disrupts his routine and gets under his skin.

Dharma Cafe by Jessica Freely. ebook. Good paranormal m/m romance about sorcerers and demons and food magic and dreams that you should possibly not read if french fries are your favorite food. The writing was very simplistic, but I got sucked into the story anyway.

Po' Boys by Lydia Nix, Kiernan Kelly, TC Blue, Julia Talbot, & BA Tortuga. ebook. Ok collection of m/m romance stories (one paranormal) set mostly in New Orleans. I mostly kept reading because I was feeling too lazy to not keep reading…
Fire by DWSimon. free online. Meh short m/m romance about a closeted firefighter who never sleeps with the same guy twice. There was plenty of poorly written sex, instalove, and the arson subplot wasn't resolved.
---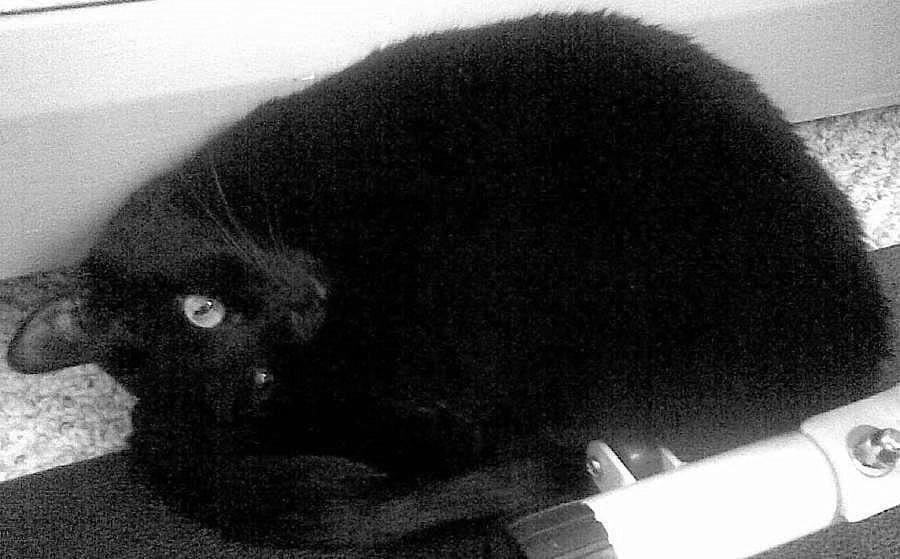 "This spot was a lot more pleasant when the heat was on…" -Mayhem