---
---
Congrats to Chris B, who won Where He Belongs (Belonging) by Rachel Haimowitz (courtesy of Storm Moon Press)!
Congrats to Seanna Lea, who won Shattered Secrets (Shadow of the Wolf #1) by RJ Scott and Diane Adams! Shattered Secrets will be released by Silver Publishing on August 27.
Congrats to wildflower3d, who won For the Attention Of (Pushing the Envelope #1) by Kim Dare! For the Attention Of will be released by Amber Allure on August 28.
---
---
Contests
Bookity
Ebookity
Think, Make, Do, Learn
Cookity
Crafty
Cool
Cool or Wha…?
Wha…??
LOL
Teh Cute
Reading Update

Not One Word (Stand Alone Shorts #1) by Kim Dare. ebook short. I'm definitely biased, because a photo I took at Twin Cities Pride 2011 was the inspiration for this story. 🙂 But this was an enjoyably steamy, kinky short m/m story about a jogger who stops to make sure a mime in the park is ok… I hope the real life mime had as enjoyable an evening as did the mime in this story!

Landfall by Lori Toland. ebook short. Very good short m/m romance about a hospice nurse who rides with some firefighters (including the one he's been crushing on) during a hurricane so he can reach an at-home patient.

Finding Eden (Eden #2) by Kele Moon. ebook. Good kinky m/m romance that left me feeling conflicted. I really liked the evolution of Paul and Danny's friendship as it developed into something infinitely darker and more complex. However, I was frustrated by the story seeming to end in midstream. I see that Beyond Eden takes place a number of years later, and perhaps it addresses what happens after this story ends… but I don't want to read an mmf story. I want Paul and Danny to sort things out themselves!

Heartsong (Fae #2) by SW Vaughn. ebook. Very good paranormal m/m romance about a prostitute who accepts a month-long contract, but has no idea that the man he'll be staying with is a Fae prince (unsurprising, since he hadn't realized the Fae existed). If only he found the Fae prince as compelling as the prince's much abused bodyguard…

Unforgiven (Fae #3) by SW Vaughn. ebook. Very good paranormal m/m romance about the Fae prince from the previous book, who's returned to the human realm on his own and very out of his element… dangerously so.

Swapped by Christopher West. ebook short. Fun short paranormal m/m romance about a gay guy whose straight wizard buddy needs to switch bodies with him for 24 hours. How odd to be inside the body he's been crushing on for years…

On the List (Changing Plans #3) by LA Witt. ebook short. Good short m/m romance that starts with Derek and Elliott just days away from their wedding… and then Derek's family manages to shake Derek to the core.

Sometimes It's Fate by Angela S. Stone. ebook. Good m/m romance about two members of the RCMP (Mounties) whose friendship slowly develops into something else. I think this book had the potential to be much, much better than it was – better editing would have helped tighten it up and would have resolved problems with punctuation and the like.

Wanna Do Bad Things With You by Shelley Munro. ebook. Good m/m romance about two rugby players on the Auckland team (one gay and out, one closeted) who get secretly involved with each other. I enjoy Shelley Munro's stories, but always end up feeling as if a deeper edit could've smoothed out the roughness.

Cafe de l'Amour by JM Snyder. ebook short. Sweet short m/m romance about a barista and a guy who comes into the coffee shop and flirts with him every day.

Love's Evolution by Ally Blue. ebook. Ok m/m romance about two guys who meet and feel a deep connection with each other. The book is a series of short stories about their relationship over the course of several years. I wasn't a fan of the book's structure, and I found one character's constant use of "my darling" and "my love" to be cloying and annoying.

Hard Candy (Love's Evolution #1.1) by Ally Blue. free ebook short. Steamy short m/m romance that's basically just a sex scene involving chocolate.

Life, Love and Lemon Cookies (Love's Evolution #2) by Ally Blue. ebook short. Good short m/m romance in which Chris is suddenly out of work after 15 years and not doing very well at all with the situation.

Protect and Serve by Eden Cole. ebook short. Ok short m/m romance about a cop and a district attorney, whose adversarial relationship conceals their mutual attraction.

Fighting Chance (Chances #2) by Viki Lyn. ebook. Ok paranormal m/m romance that picks up where Last Chance left off, with vampire Johan having the chance to live if he stays in the custody of slayer Corbin and takes a newly developed serum that might turn him human again. Corbin chafes at the responsibility, which prevents him from taking his revenge on the vampire who killed his father. While I liked the storyline, the writing often seemed rough and overdone, which I found very frustrating.

Artie, the Good Witch by Scarlet Hyacinth. ebook. Ok paranormal m/m romance about an innocent young witch who narrowly escapes an evil wizard with his virtue intact… and then further drama ensues. And ensues. And ensues. *sigh*
---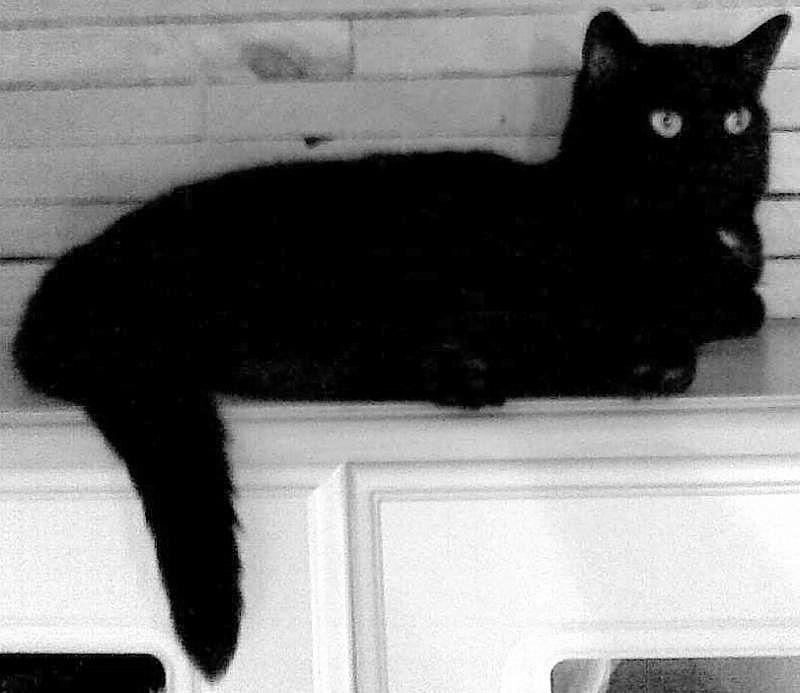 *sigh* "You'd think I'd be able to get away from the picture taking up on top of the cabinets." -Mayhem