Tonight – a very rare and special, once in 20 years blue moon! Looks like we'll have cloudy skies here in Minneapolis, but maybe you will be luckier… Happy New Year!
Don't forget to leave a comment on the contest post by 7 pm CST, January 6 for your chance to win a copy of Wren Boudreau's new m/m romantic suspense, Ice Cream on the Side!
Janna's giving away an ebook copy of Bronwyn Green's steamy romance, Cuffed and Dangerous – leave a comment by midnight, January 7, for your chance to win.
Don't forget to stop by Sweet Vernal Zephyr for her near daily updates on new book contests.
Donna (Fantasy Dreamer) shows us that it's a big week for urban fantasy and paranormal romance releases. And SciFiGuy covers both in his weekend update, along with all sorts of other fun things. Don't miss his overview of the January paranormal, urban fantasy, and scifi releases, either.
This is a great time of year to get reading ideas as people post their favorite books of 2009 lists. I'm sure we'll see many more of these over the next few weeks. I might even put one together.
Keira's got some great book links over at Love Romance Passion. So does Dear Author, including a link to free ebooks at All Romance eBooks.
Certain ebook readers make it very easy to track your reading habits – how much does your reading privacy matter to you?
Shrink Pic looks like a really useful Windows program to resize pictures on the fly.
HP ink costs more than blood?! This graph makes oil look like quite the bargain, doesn't it?
How did I not know that the magnetic north pole now is shifting nearly 37 miles a year?!
Gizmodo has another handy flowchart of inappropriate times to use your smartphone. Plus a little Snuggie humour…
Unsurprisingly, one of these calendars is on its way to me right now.
Evidence continues to mount that Chaos isn't simply a minion, but is actually Basement Cat.
Those wacky engineers are at it again – this time they're playing laser tag with cats.
I think we all need an antivirus kitten, don't you?
Cute burn warning! (I know you'll all click anyway…)
Reading Update

Deep Kiss of Winter by Kresley Cole and Gena Showalter. Kresley Cole's story is part of her Immortals After Dark series, featuring vampire Murdoch Wroth and Ice Queen (literally) Danii. Since this story ties up all sorts of open storylines, it's a must read if you follow IAD. This was also my favorite of the two stories. Gena Showalter's story is part of her Alien Huntress story, and it too ties up some open storylines. While it was pretty good, I didn't feel as invested in this one.

Tigers and Devils by Sean Kennedy. ebook. Excellent and highly recommended m/m romance about an Aussie Rules football player, a film festival director, and the complexities of getting involved with someone famous and closeted. If you've put off reading m/m romance because you've heard it's all sex, sex, sex, Tigers and Devils would be a very good introduction to the genre – it's touching and heartfelt: at times I was laughing out loud; at times I was sniffling. I did have some trouble with the Aussie phrases – famed Aussie m/m blogger Kris (and nearly neighbor of Sean Kennedy) directed me to several sites that helped with the lingo barrier.

Thaw and
The Stroke of Midnight by Jordan Castillo Price. free ebook shorts. Two sweet holiday PsyCop shorts – one from Vic's perspective, the other from Jacob's.

Patient Eyes by Andy Eisenberg. ebook. Good m/m romance about a college freshman who is nearly starving until one of his housemates gets him involved in gay-for-pay pr0n. While I really liked the first 2/3 of this book (I figured I'd be gushing about it without reserve here), I found the last 1/3 disappointing – several critical scenes were skipped, then glossed over in brief flashbacks. There also was a sort of extraneous plot element (hello, stray stalker) that just didn't feel fully integrated into the story.

Unrequited by Abigail Roux. ebook. Ok m/m romance about multiple unrequited love situations.

Caught Running by Madeleine Urban and Abigail Roux. ebook. Very good m/m romance about the star high school jock and the nerd, now back and teaching at that same high school ten years later.

Cut and Run by Madeleine Urban and Abigail Roux. ebook. This m/m romantic suspense about two wildly different FBI agents had a lot of potential, but it just didn't quite work because it dragged on. Since I know that Urban and Roux can write some great stuff together, it was particularly disappointing.

Pyromancer by Amanda Young. ebook. After mentioning that Young's m/m books haven't seemed to really grab me, Tam convinced me to try Pyromancer, which is about a man who can control fire, but only to a certain extent. He can also be incredibly dangerous to the people around him. While I did like this more than the non-paranormals, I ultimately didn't get completely drawn into this one either.

Burn Card by Laura Baumbach. ebook. So so m/m romance about a crime scene investigator and a guy who owns a security company. I did wonder whether this was part of a series… but not enough to go figure it out.

Seducing Light by K. C. Kendricks. ebook. Ok m/m romance – the title touches on one character being a photographer and the other a famous actor whose last name is Light. The next two books are also by Kendricks – I've concluded that while I may find the storylines intriguing, the excessively gushing language always ends up putting me off.

Tango in the Night by K. C. Kendricks. ebook. Another ok m/m romance, this time about two law enforcement agents, one of whom was seriously injured a year ago when his life partner was killed taking a bullet meant for him.

Taming Triton (Southern Cross Resort, Book 1) by K. C. Kendricks. ebook. Again, an ok m/m romance about a guy who's always suspected that he's bisexual, but has never acted on his attraction to men until he takes a vacation at the Southern Cross Resort.

Grey's Awakening by Cameron Dane. ebook. Steamy m/m romance about a high-powered businessman who's always kept his emotions in tight check. Will that change when he meets a sexy truck driver/artist while taking a vacation?
Time After Time, Liar, and Date Night by Jane Seville. free ebook shorts. These all take place after Zero at the Bone and provide some insight into life after the epilogue.

Tom or an Improbably Tail by Ruth Sims. free ebook short. This was a very cute m/m paranormal romance about a stray cat who isn't always a cat…
---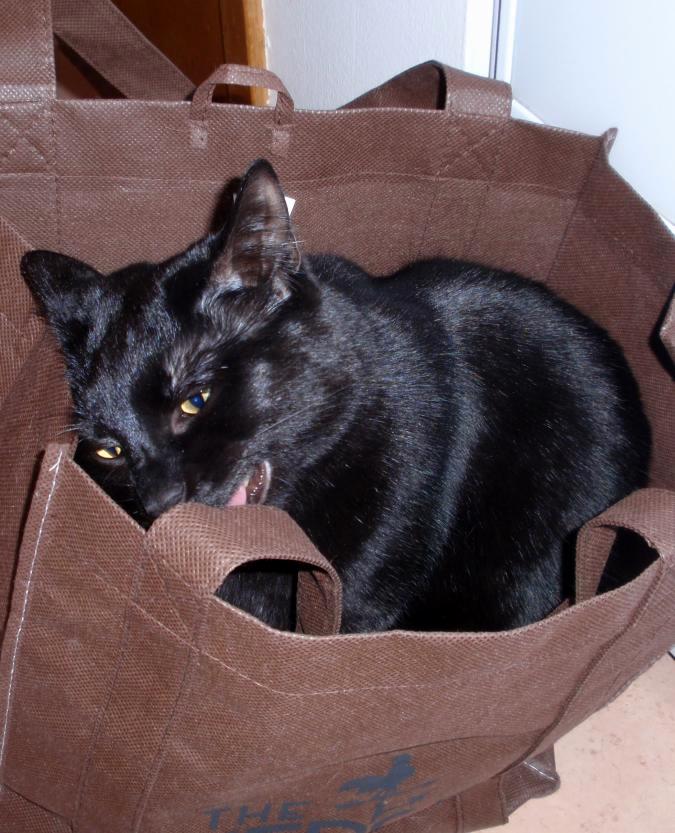 "Ok, deep thoughts are boring. I wonder how this bag will taste?" -Mayhem