Congrats to MrsPao and Cecile, who were winners in my Rain Mix contest! Don't forget to leave a comment on the other contest post before 7 pm CDT, Friday, October 16, for your chance to win a copy of Shannon K. Butcher's new romantic suspense novel, Love You To Death!
---
Remember I mentioned that I hung out with CJ at Uncle Hugo's on Saturday? Well, CJ blogged about it, too, complete with photographic evidence: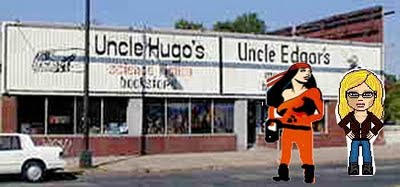 Not only does she have mad Photoshop skillz, her post is funnier than mine. Curses.
And then I discovered that what happens at Estes does not stay at Estes…
Dang, Donna (Fantasy Dreamer) has an absolutely amazing list of bookish contests posted. Wow. (Plus links to interviews, new release news, and more!)
As always, Dear Author has great links to all sorts of ebook news, including to an article about upcoming ebook readers.
Eeeeek!!
Doesn't the kitty in this moderncat contest (for an eco-friendly scratcher/lounger) look like Chaos?! (Although, according to CarrieK, this would be more his style.)
Reading Update


The Pregnancy Test by Erin McCarthy. A sweet romance about a woman, pregnant and on her own, and her boss, who has a lot of emotional baggage.

Storm Watch (Harlequin Blaze) by Jill Shalvis. I had a lot of trouble with suspension of disbelief on this one. The hero (National Guard guy) and heroine (ER nurse) spent way too much stopping to make out and have heart-to-heart talks while struggling through flood waters to rescue a woman who was nine months pregnant. Focus, people, focus! Stay alive and rescue people now, nookie later.

Damned By Blood (Faustin Brothers, Book 3) by Evie Byrne. ebook. Alas, poor Mikhail is not a happy vampire prince when his mother prophesizes that his mate is none other than the first girl he loved, who now, 30 years later, is his sworn enemy. If you like well-written, enjoyable, and hot vampire romances, I highly recommend this trilogy.

As You Are by Ethan Day. ebook. Very good m/m romance. This one totally sucked me in. I was sniffly. Definitely recommended! (No, I'm not going to tell you anything more about it, because if you know what happens, it won't have as much impact. Really, there is a method to my madness.)

Self-Preservation by Ethan Day. ebook. Good m/m romance, but dammit, I cried. I can see that Ethan Day's going on my "must-buy" list.

Alternative Treatment by Claire Thompson. ebook. Another good m/m romance, about a doctor and a guy doing community service because of a DUI.

Gobsmacked,
Happy Ending, and
Cover Me (Men of Smithfield, Books 1-3) by L. B. Gregg. More good m/m romance. If you're brave and not at work, I highly recommend Miss Doreen and CJ's take on the opening scene in Cover Me. (That's a totally NSFW link, people.)

Pas de Deux by Jamie Craig. ebook. Dang, I was totally on a roll this week! Intense m/m romantic suspense about a cop and a lawyer seemingly on opposing sides of a high-profile case. Highly recommended. (Trivially, "Jamie Craig" is actually Vivien Dean and Pepper Espinoza.)

Wranglers: Discovery and 
Wranglers: Voir Dire by Vivien Dean. ebooks. These are the first two parts of the three-part Wranglers story, which is an m/m romance about two adversarial lawyers. The third part will be out later this year.

What We May Be by Vivien Dean. ebook. Ok m/m romance about a former model turned fashion designer who gets involved with a guy who'd rather wear t-shirts and jeans than high fashion.

My Only Home by Pepper Espinoza. ebook. This m/m romance had enough impact on me to have me crying… So, have you figured out yet that I'm a big mushpot and that it takes very little emotional trauma in a book to set me off?! Just get me engaged with the characters enough to care…

Most Likely To Succeed and
At Long Last by Shawn Lane. Hmm. This was apparently m/m lawyer romance week! Yup, two more (unrelated) lawyers in love stories.

White Flag by Thom Lane. ebook. Sweet and powerful m/m romance about a travel writer and a French vintner.

Unlikely Hero by Sean Michael. Another sweet m/m romance – this one's about a teacher whose daughter is abducted, and the only person he can think to turn to for help is his ex.

Unholy Matrimony by Audra Beagle & Chloe West. ebook. Decent m/m romance… sometimes what happens in Vegas follows you home. Whoops.

Dreaming in Color by Cameron Dane. ebook. Very good m/m romance. For the past two years, Colin's been having very hot and vivid dreams of a faceless man and a house with a red door. Will fate help bring them together outside of his dreams?

The One That Got Away by T. C. Blue. ebook. Lots of assumptions and miscommunication made things rocky for two roommates in this ok m/m romance. (Really, so many problems in fiction could be solved by a short conversation. Hmm. Probably in real life, too, huh?)
---
"ROWR!!!" -Mayhem