So… it's been sort of a while since I did a books and reading post. Brace yourselves. 😉
Don't forget to leave a comment on the contest post before 7 pm CDT, Tuesday, October 6, for your chance to win a copy of Marliss Melton's new romantic suspense novel, Show No Fear!
---
Donna (Fantasy Dreamer) has an amazing list of new releases and contests. So does Jackie at Literary Escapism.
Lea's celebrating her first blogiversary with a week filled with contests. She's giving away an Amazon gift certificate and books and who knows what else! Stop by each day to enter the latest contest.
Book Junkie's having several contests. The first is her follower appreciation contest, which runs until October 2. She's also giving away a copy of Kimberly Killon's Highland Dragon. The second contest runs until midnight, October 5.
Jackie at Literary Escapism is having a contest for two Chloe Neill books and assorted other goodies. I really, really enjoyed Chloe Neill's excellent vampire romance, Some Girls Bite, and am looking forward to reading the sequel, Friday Night Bites. Contest closes midnight, October 6.
Suburban Vampire's giving away three signed copies of the graphic novel Pinocchio: Vampire Slayer. Contest closes 8 am PDT, October 13.
It's Banned Books Week, and numerous bloggers have some great posts about it, including Neil Gaiman, The Book Smugglers, Wendy the Super Librarian, Lauren Dane, Love Romance Passion, Romance Book Wyrm, TeleRead, Dottie (My Blog 2.0), and many more.
Make sure you check out the interactive map of censorship attempts in the US from 2007-2009, too.
Kresley Cole is giving away a pdf copy of her short story "Warlord Wants Forever," which is the first story in her excellent Immortals After Dark series. You can download the story here (link is directly to the pdf).
Harlequin Mills & Boon has ten ebooks available for free download, plus you can enter to win a Sony Reader.
How cool is it that CJ, who lives mere blocks away from me, has a shiny new urban fantasy coming out next year?!
Donna (Fantasy Dreamer) wonders whether it's possible to tame that TBR (to be read) pile. I have my doubts! One of the unadvertised features of an ebook reader is that it makes your TBR pile far less visually overwhelming.
Dear Author debunks eight myths about ebooks.
TeleRead links to a nice roundup of available ebook readers and a comparison of the various Sony Reader options, then points out that Amazon is not dominating the ebook market.
Um……. a fake blood energy drink? Ewww!
Reading Update


Breaking Point and

Into the Storm (Troubleshooters, Books 9-10). Suzanne Brockmann. audiobooks. These romantic suspenses made my drive to and from Toronto fly by! (Although Into the Storm was a serial killer book and I generally avoid serial killer books…)


The Stone Prince by Gena Showalter. ebook. Sweet paranormal romance about a woman whose kiss awakens one of the statues in her er0tic statue garden.


Destined for an Early Grave (Night Huntress, Book 4) by Jeaniene Frost. Paranormal romance. Although I adore Bones and Cat, I wonder how long I'll be able to keep reading this series because of the relationship angst…


Stolen Fury by Elizabeth Naughton. Very good romantic suspense about an archeologist and an antiquities thief and ancient statues of the Furies. (Thanks, Lea – you were right!)

Soul Bonds,
Rush in the Dark, and
Edward, Unconditionally (Common Powers, Books 1-3) by Lynn Lorenz. ebooks. The first book in this paranormal m/m romance series never really engaged me, but the next two were better.

I Heart That City: Naked Richmond by Ally Blue. I Heart That City is a bar and Naked Richmond is but one of the stories (each by a different author) centered around the bar. This one's an m/m romance about a bike messenger who crashes into a guy he has a crush on.

Passion and
Satisfaction by M.L. Rhodes. ebooks. Related m/m romances about a high-powered businessman and a bartender.

Falling by M.L. Rhodes. ebook. This paranormal m/m romance had a vaguely Harry Potterish storyline… (Sorry to those of you who are now quietly whimpering.)

Like Coffee and Doughnuts by Elle Parker. ebook. Sufficiently good m/m romance about a PI and a mechanic that I'll be looking for more from Parker.

The Name of the Game and
It's How You Play the Game by Willa Okati. ebooks. Decent related m/m romances. I liked the first better than the second, which seemed rather choppy.
The Tiger Within by Viki Lynn. ebook. Meh paranormal historical m/m romance set just after WWII.

Notturno by Z.A. Maxfield. ebook. Intense and engaging paranormal m/m romance about a professor who tracks down ancient er0tic texts and the vampire who wrote one of those texts.

The Elegant Corpse by A.M. Riley. ebook. This was another of A.M. Riley's intense but not comfortable m/m romances. It's very good, but very graphic.

Chasing Victory by Tory Temple. ebook. Decent m/m romance about a stock car driver who discovers that there's a lot more to life than racing.

Bound by Love by T.A. Chase. ebook. Ok m/m romance about lusty cowboys.

Out of Bounds and
High Line (Love of Sports, Books 1-2) by T.A. Chase. ebooks. Good m/m sports-related romances about a pair of twins and the guys they fall for.

Tabloid Star by T.A. Chase. ebook. Excellent m/m romance about a bartender and an up and coming Hollywood actor. Has a bit of a connection with the Love of Sports books.

Allergies by T.A. Chase. ebook. So-so paranormal m/m romance – who knew the IT guy was a werewolf, anyway?! Looks like this is going to be a series… that I probably won't follow.

Love and Loyalty by Tere Michaels. ebook. Very good m/m romance about a cop who won't let himself care for anyone so he can't get hurt. I highly recommend both this and the previous book, Faith and Fidelity.

The Vampire and the Man-Eater by G.A. Hauser. ebook. Somewhat painfully written paranormal m/m romance. Let's just say I won't be reading anything else from this author, hmm?

Body and Soul,
Secrets, and
Camp Hell (Psy-Cop, Books 3-5) and
Striking Sparks (novella related to Psy-Cop) by Jordan Castillo Price. ebooks. This is a great paranormal m/m series. Price is one of those authors on my must-read list.
---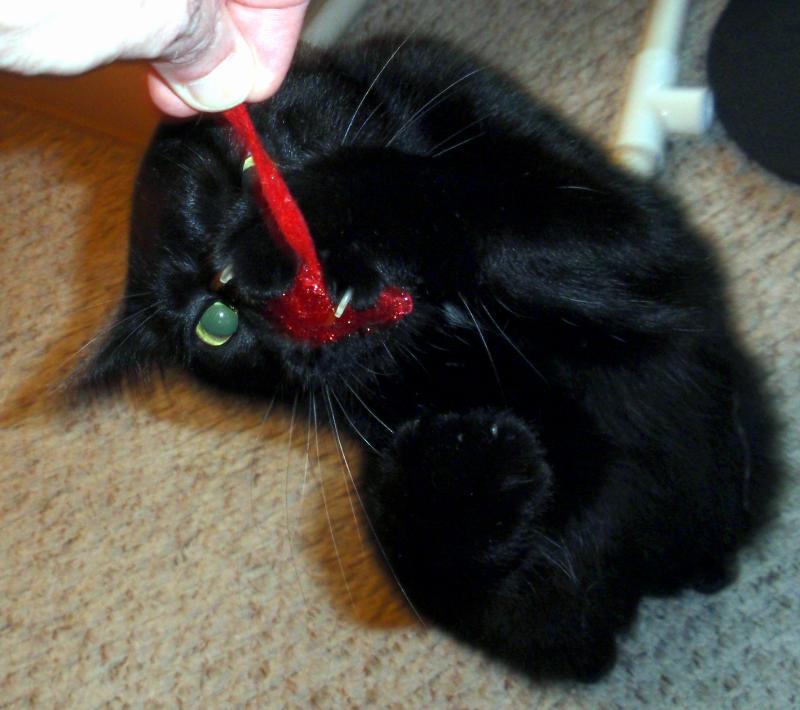 "I'll humor you for now, Mom, even though this is absolutely not an authentic SRM. Die, fake SRM, die!" -Chaos
What? Where's Mayhem? She's here. But hey, let's not begrudge Chaos spotlight time during his birthday week, mmm?