Congrats to Kris and Anne B, who each won a copy of The Cat and the Cradle by Jay Bell!
Congrats to Courtney S, who won In the Crease by Stephani Hecht! In the Crease will be released by Total-E-Bound on September 13.
---
Contests
Bookity
Ebookity
Learn, Make, Do, Think
Cool
Huh
LOL
Teh Cute
Reading Update

Trinity Trespass by Val Kovalin. ebook. Excellent paranormal m/m romance about two demonic agents who have been sent to keep a unique demon-angel hybrid out of the hands of an evil angel. After the world "clicked" for me, both the fast-paced storyline and the complex relationship between the two agents kept me enthralled.

Talker by Amy Lane. ebook. Powerful m/m romance about a physically and emotionally scarred college student who befriends a much quieter student on the bus to track meets. If you've ever been, or known, someone who needed to be saved from themselves, this book will have a strong impact. (And I would say that even if I hadn't had an influence on the music mentioned throughout the book!)

Bewitched by Bella's Brother by Amy Lane. ebook. Very good m/m romance about a chronic graduate student and his best friend who spend the summer staying with her divorced brother and his young son, saving money to continue their graduate studies out of state in the fall.

Gayday! Gayday! (G-A-Y, Book 11) by Kim Dare. ebook. Steamy cute m/m romance short about a bratty submissive who keeps getting himself in trouble and calling his dominant straight friend to rescue him.

Night Watch (A Story of The Telling) by Eden Winters. ebook short. Very good short m/m romance that takes place about a year after The Telling, on the Fourth of July, as Jay tries to minimize the noisy holiday's impact on Michael, who suffers from combat-induced PTSD. (Your purchase during September helps support the the GLBT Bookshelf.)

Cross the Mountain by P.D. Singer. ebook short. Cute short m/m romance about the guys from Fall Down the Mountain out cross-country skiing.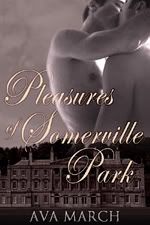 Pleasures of Somerville Park (Object of His Desire, Book 2) by Ava March. free ebook short. Very good free short historical m/m romance following up on Arsen and Henry from Object of His Desire.

Anagama Fires by Sarah Black. ebook. Very good short m/m romance about two potters, both nearly fifty, who've been together most of their lives… until the past five years. The more famous, who was the one who left, sends his nephew to his former lover to learn more about firing pottery. I did have a niggle about this one – the story took place over about a week. On the first day, puppies were born. A few days later, the same puppies were running around and getting underfoot! Whoops.

Indigo Knights 1: Squire by Jet Mykles. ebook. Very good m/m romance spin-off from the Heaven Sent series, about the straight singer who filled in for Brent in Heaven Sent while Brent's wrist was broken, and who is now staying with Brent, Hell, and Brent's intriguing cousin Izzy while he works on getting a new band together.

Just Desserts by Scarlet Blackwell. ebook short. Very good short m/m romance about a famous French chef and the equally famous British food critic who seems to have it in for him.

Unexpected Guest (Patient Eyes, Book 2) by Andy Eisenberg. ebook. Very good m/m romance about a recently divorced guy who's staying in his mother's old house and fixing it up to sell it for her when a gay couple (the guys from Patient Eyes!) move in next door. Getting to know them reawakens thoughts and feelings he's buried for a long, long time. I enjoyed finding out how life was going for the guys from Patient Eyes and enjoyed that this book felt more cohesive than did Patient Eyes.

You Can Go Home Again by Drew Zachary. ebook short. Good short m/m romance about a guy who's back in the small town of his childhood after being away for college and vet school.

Raven by Dakota Rebel. ebook short. Good short paranormal m/m romance about two vampires who own a gay nightclub (Raven) together, but have never gotten together themselves… (I wish I'd realized this was in Naughty Nooners, which I already owned, before I picked it up! Whoops.)

Masked by Lissa Matthews. free ebook short. Short kinky m/m story that sets up an intriguing situation between a dominant and a mysterious masked submissive… From a comment the author left elsewhere, it seems she does plan to write a follow-up story.

A Lesson in Truth by Sloan Parker. free ebook short. Cute short free m/m romance about a grad student with a crush on his advisor.

Thirty Days (Book 1) and
Forever (Thirty Days, Book 2) by Shayla Kersten. ebooks. Good kinky m/m romances about a Dom whose beloved partner/sub died from cancer. As he starts to get back into the scene, his friends introduce him to a sub who had been badly abused and tortured (almost to death) by his previous master. These were hard for me to read at times because they kept reminding me of a friend, although I don't think things got quite that bad for him before he got out…

Captive by Scarlet Blackwell. ebook short. Huh. So-so m/m romance in which something seems to be happening, but that might not be what's happening at all. I got annoyed by that.

Green Lake by Anna Marie May. ebook short. So-so short m/m romance about a guy who takes a research assistant position in Alaska to get away from his wealthy, controlling family. Way too much story for the length of the book and, as Jenre noted in her review at Jessewave, the book was all telling, no showing, which made it impossible to connect with the characters.

Golden Boy (Book 1) by Claire Thompson. ebook. So-so kinky m/m romance about a handsome young mechanic so deeply closeted he doesn't realize he's gay until he sees an extremely compelling guy while out clubbing with a lesbian friend. That compelling guy turns out to be a prestigious Dom who slowly helps the mechanic discover his submissive side. I had some issues with this one. I really disliked the Dom. And the book pissed me off by ending in what felt like the middle.

Golden Man (Golden Boy, Book 2) by Claire Thompson. ebook. After it felt like the first book stopped in the middle, this book picks up… six months later. Some of the characters feel more like caricatures than like people, which was a problem in the first book, too. But ultimately, I didn't like or trust the Dom after the first book and nothing in this book managed to change my mind. (Also, I think the cover is really weird.)
---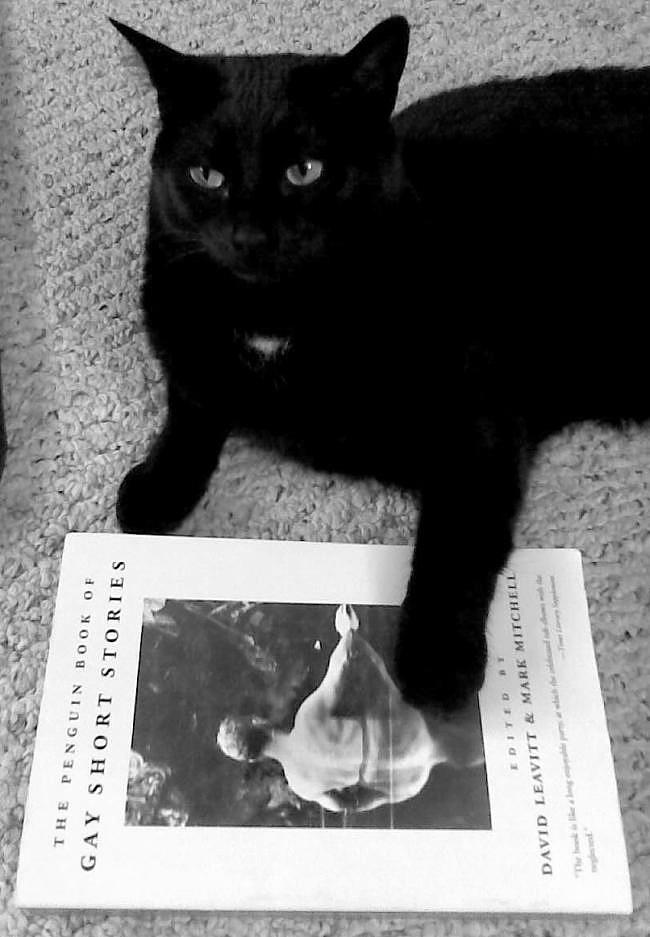 "I found this book on the floor, so it's my book now and I say you don't get to read it, Mom." -Mayhem