Sydney's giving away a copy of the science fiction book Burnout: The Mystery of Space Shuttle STS-281, written by her friend Stephanie Osborn. For your chance to win, comment by midnight, July 6.
Morbid Romantic's giving away five copies of Carolyn Jewel's My Forbidden Desire. (I won a copy from Kelly Moran's blog last week myself.) For your chance to win, leave a comment before 11:59 pm EST, July 12. To increase your odds of winning a copy of this book, A Journey of Books is also giving away five copies. Leave a comment by midnight EDT, July 13, to enter. Not satisfied with your chances yet? Then head over to Seductive Musings before 11:59 pm EST, July 10, where there are another five copies available.
This week, Largehearted Boy is giving away 75 cds (no books). Comment by midnight CDT, July 3, to enter.
Author Nancy Herkness is giving away six skeins of Noro Gisha over on Romancing the Yarn. You have until July 3 to send her an email.
Author Suzanne McLeod is giving away copies of two collections (Mean Streets and The Eternal Kiss: Twelve Vampire Tales of Blood and Desire), plus signed copies of her own books. Leave a comment by the end of the day July 1 for your chance to win.
---
It looks cool, but I think making an inverted bookshelf sounds like too much work.
Dear Author has links to free Kindle books and the Alice Hoffman Twitter kerfuffle.
What are the ethics behind accepting review copies of books? And how will book bloggers be affected by the FTC's promised crackdown on bloggers receiving freebies for reviews?
The NYTimes thinks that the smartphone is the future of ebooks. I have to admit I hate reading ebooks on my Palm Tungsten E2 – the eInk display on my ebook reader is much, much nicer (plus the battery life on an eInk device is amazing). What do you smartphone owners think? Here's the Dear Author guide to using smartphones and netbooks to read ebooks – rumor has it the guide will be updated soon.
---
Reading Update


True Love and Other Disasters by Rachel Gibson. Solid if unremarkable contemporary romance featuring Gibson's fictitious hockey team, the Seattle Chinooks.


The Vampire's Bride (Atlantis, Book 4) by Gena Showalter. Survivor, the Atlantis edition. Eh.


Strange Bedpersons by Jennifer Crusie. Light contemporary romance that includes a black cat. Ok. Not one of the better Crusie books.


Hard and Fast by Erin McCarthy. *fans self* McCarthy can write smokin' contemporary romance with the best of them. I'm enjoying her NASCAR series far more than I expected.


Shadow Hawk (Harlequin Blaze) by Jill Shalvis. Shalvis writes a decent romance, whether it be a Harlequin or one of her tasty trilogies.


Daring Time by Beth Kery. *more fanning* Very good time travel romance that had me utterly captivated. Be warned – it is very, very, very steamy.


Call of the Highland Moon by Kendra Leigh Castle. Enjoyable paranormal romance about a werewolf from the Scottish Highlands and a woman who owns a romance bookstore.


Edge of Desire (Primal Instinct, Book 3) by Rhyannon Byrd. This series. Argh! It's well-written and I'm totally sucked into the storyline, but damn, I spend an awful lot of time wanting to smack characters for being so angsty and TSTL.

Edge of Craving (A Prequel to the Primal Instinct Series) by Rhyannon Byrd. Ebook. This explains why all the Markers are hidden throughout the world. It probably makes more sense to read this after reading at least the first two Primal Instinct books. The prequel's a novella, which was nice because no one could go off into an extended angst-fest. Sadly, while the regular series is well-edited, there are some glaring fails in this ebook (is Alia nearly 24? Or nearly 20? Please, someone, decide).


Touched by Darkness (Sentinels, Book 1) by Catherine Spangler. Solid paranormal romance – I'll be reading more from this series. (I think it's interesting that this NK cover shows fine abs, but suggests love handles at the same time.)
---
More bookcase photos…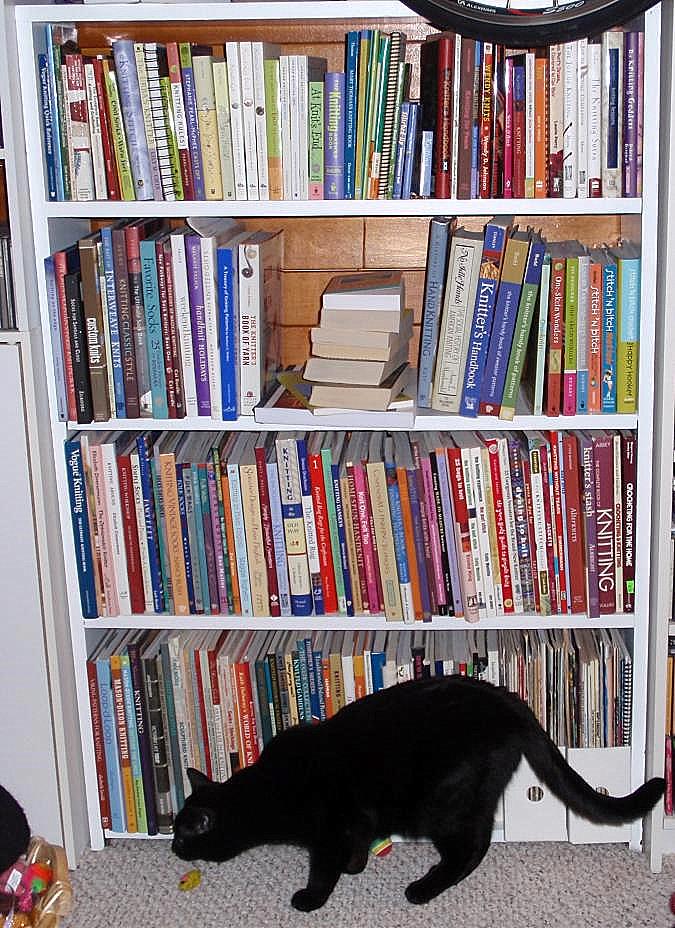 "Mom, why did you move our toy basket?" -Mayhem
And *gasp* – a bookcase photo with no cat bits?!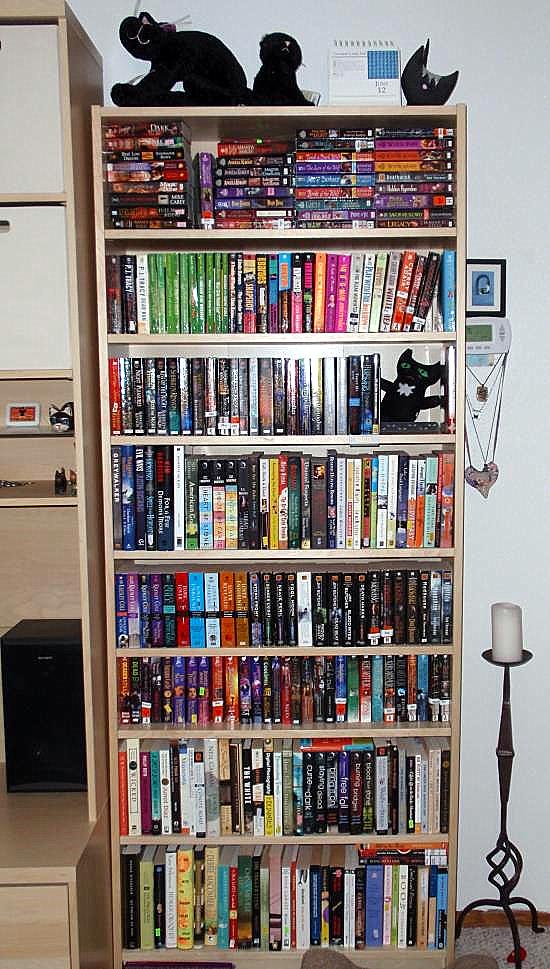 Hmm. No live cats, at least! Can you spot the cat in this last picture?
"Doopity doopity doopity do…" -Chaos