Congrats to Brandi, who won The Match Before Christmas by Eden Winters! The Match Before Christmas will be released by by Torquere Press today. Congrats to Ladypessi Jane Juli-Anna, who won A Shifter Christmas (The Lost Shifters, Book 8 ) by Stephani Hecht! A Shifter Christmas will be released by eXtasy Books today. Congrats to kasjo_peja, who won I'll Be Home by William Cooper! I'll Be Home will be released by Dreamspinner Press today. Whew!
---
Many thanks to A.M. Riley for donating a copy of her newly released m/m romantic suspense, Death by Misfortune, for a lucky commenter to win! Says A.M. about this book:
Bill Turner, the closeted detective from Amor en Retrogrado and his partner, Kate Crandall, investigate the murder of a minor celebrity and soon find themselves up to their eyeballs in Hollywood secrets….I've been working on this book simply for ages. The primary couple from AeR are NOT in this book, but Bill and his lover are. It has an enormous cast of characters, and I really enjoyed writing about the 'Hollywood' that I experience daily.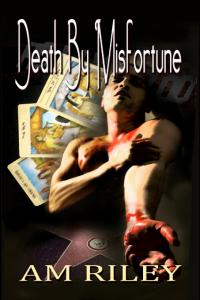 After a glamorous studio party, "Psychic to the Stars" Sylvie Black is found murdered in her fortune telling booth, a blood soaked tarot reading spread out before her. Shortly afterwards, the high-profile director who was about to produce Ms. Black's 'tell-all' Hollywood screenplay, is found murdered as well. Closeted Homicide detective, Bill Turner, and his partner, Kate Crandall, find themselves sorting through a cast of likely suspects, who all seem to have secrets worth killing for. They soon run up against the studio rumor mill, and Jeremy Reilly, a young studio AD determined to protect their prime suspect.
Other Books
About A.M.
A.M. Riley is a film editor and sometime poet, living and working in Los Angeles, with an interest in paranormal, erotica, and anything that tests established boundaries.
Contest Rules
To enter, leave a comment stating that you are entering the contest. Contest closes 7 pm CST, Wednesday, December 22.
If you haven't commented before, your comment will not be visible until after I moderate it. Please do not leave a second comment because your first doesn't show up! The blog gnomes will decide your comments are spam and then only ritual dust bunny sacrifice will salvage your entry…
If your comment is actually an advertisement or if your CommentLuv link turns it into an advertisement, your comment will be deleted. (Most of you do not need to worry – this refers to some pretty clever comment spam.)
Winners will be selected by random number.
You must leave a valid email address in the "Email" portion of the comment form.
Please make sure that your spam filter allows email from stumblingoverchaos.com!
If a winner doesn't respond to my congratulations email within 48 hours, I will select another winner.
If you win, please respect the author's intellectual property and don't make copies of the ebook for anyone else.
This contest is open worldwide!
---
"My plans for world domination would move along much faster if only I had thumbs…" -Chaos