---
---
Congrats to Tam, who won Possession (Devlin Island, Book 1) by S. W. Vaughn!
Congrats to Natasha, who won Opposites Distract by Stephani Hecht! Opposites Distract was released yesterday by All Romance Ebooks as part of its Perfect Strangers series.
Congrats to Otter, who won How the Other Half Lives by Clare London! How the Other Half Lives will be released by Amber Allure on February 6.
Congrats to Carmel, who won Chocolate Dreams by Em Woods!  Chocolate Dreams will be released by Total-E-Bound on February 7.
---
---
Contests
Bookity
Ebookity
Do, Think, Make, Learn
Valentine's
Cool
Huh
LOL
Teh Cute
Reading Update

Rubbing Vignettes: The Wrong Way and the Right Way by Wren Boudreau. free ebook short. Cute short m/m Valentine's romance split into two scenes as Greg tries to figure out how to celebrate his first Valentine's with Finn, and then as they celebrate. I really hope that the first scene was the set up for a sequel to Back to Normal, featuring a couple of guys who rub each other the wrong way…

One Night Stand by Cassandra Gold. ebook short. Very good short m/m romance about a guy whose friends drag him to a club to help him get back out there after a few years. He seems to have a real connection to the guy he brings home… until the guy freaks out about having stayed over night and leaves. (This short story was originally part of the Friction anthology.)

Love Ahead: Expect Delays by Astrid Amara. ebook. Very good m/m romance about two guys driving a 1989 Geo from Seattle to drop off in Boulder, hoping to get there for part of Hanukkah, until the drive turns into the roadtrip from hell.

Half Pass by Astrid Amara. ebook. Good m/m romance about a horse phobic guy who inherits his aunt's boarding stable and moves back to the small town in which he grow up so he can get the stable ready to sell. Unfortunately, it felt like all the details about the horses and their training and care overshadowed the actual story.

Handcuffs & Spreader Bars (Rawlings Men, Book 5) by Kim Dare. ebook. Very good kinky m/m romance about a dom (and police officer) who's had his eye on one of the newer constables for a while, but has only just learned that the constable equates submission with being taken advantage of due to a prior bad experience.

MIA Case Files 1: Wolfsbane by K.C. Burn. ebook. Very good paranormal m/m romance about a closeted agent who works in a secret government agency (MIA) that investigates dangerous paranormal activities. While he and his partner are trying to figure out what's going on in the small town of Rothburg, he meets and becomes fascinated by a gorgeous young man working at a coffee shop.

MIA Case Files 2: Blood Relations by K.C. Burn. ebook. Ok paranormal m/m romance about another MIA agent who gets involved with a young man who seems too good to be true. I didn't enjoy the second book in this series nearly as much as I did the first – it was just too predictable.

Del Fantasma: Duck Fart by Jade Buchanan. ebook. Good paranormal m/m romance about an innocent Siamese cat shifter who just tracked down the best friend he's had a crush on for years, only to discover that his friend is now mated to someone else. He thinks his heart is broken – so why is he leaving with that duck shifter and that human?!

High Flow (EMS Heat, Book 7) by Stephani Hecht. ebook. Good m/m romance about a medic who was gay bashed and now can't let anyone get close or touch him. But maybe the handsome doctor in the ER will be patient enough to past his defenses…

True Hollywood by James Buchanan. ebook short. Good short m/m romance about two stuntmen who haven't seen each other since their breakup years before until they run in to each other at their former mentor's wake.

Second Helpings (Table for Two, Book 2) by Scarlet Blackwell. ebook short. Ok short m/m romance continuing the story of Luc, the arrogant French chef, and Daniel, the closeted British food critic, as Daniel's obnoxious mother (who doesn't know he's gay) arrives for a visit and ratchets up the tension.

Beach Reading (Book 1) by Mark Abramson. ebook. Ok m/m mystery about a waiter in the Castro who spends a lot of time wandering around stoned and picking up guys. I did enjoy being able to picture the various locations mentioned. I didn't enjoy the rambling brain dumps from everyone in the story.

A Bid for Love by T.D. McKinney & Terry Wylis. ebook. Ok m/m romance about an FBI agent who participates in a charity auction and is "purchased" by an anonymous bidder he assumes to be a woman. Ah, the surprise that awaits him when he and the bidder meet up in Italy. Sadly, the language was too flowery and overwrought for my tastes.

Knight or Daye by Jude Mason. ebook short. Ok short kinky m/m/m romance about a guy who infiltrates a human slavery ring, hoping that he can reconnect with and rescue the lover he drove away.

Howl by Lacey-Anne Frye. ebook. Ok m/m paranormal romance about a couple who stays at an isolated B&B in the middle of the woods. The proprietor tells them not to go outside after dark… Why don't people ever listen??

What You See by C.J. Black. ebook short. So-so short m/m encounter between a waiter and an older man who always sits in his section at the restaurant.
---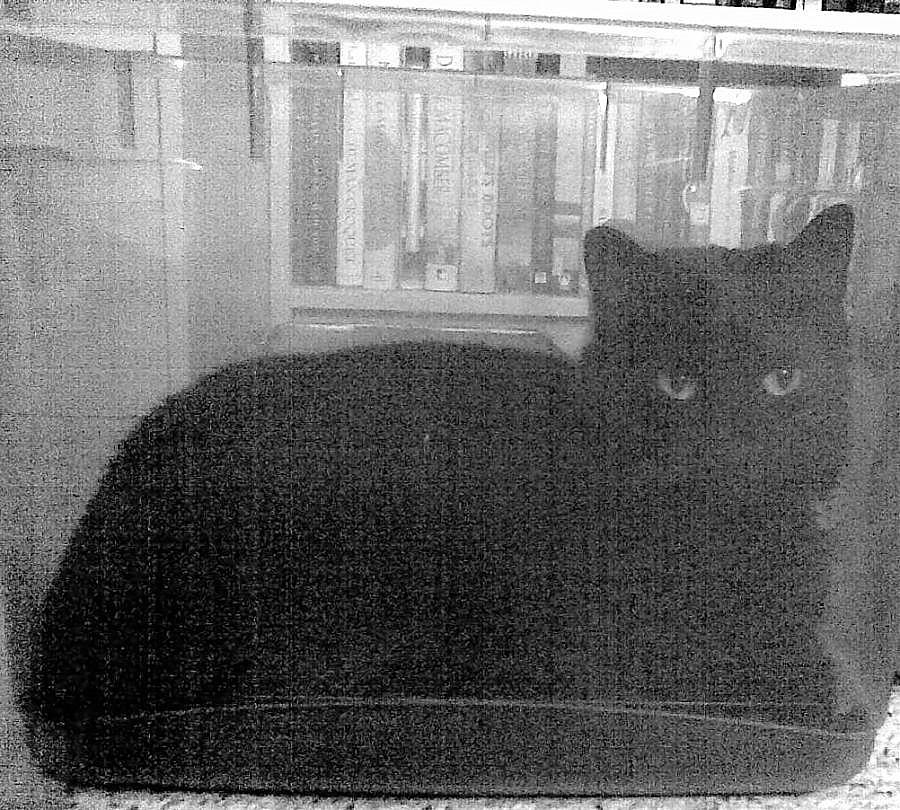 "I'm hiding in my Plastic Tub of Invisibility. You can't see me." -Mayhem