---
---
Congrats to Laura M, who won Blind Items by Kate McMurray! Blind Items is being released today by Dreamspinner Press.
---
---
Contests
Bookity
Ebookity
Do, Learn, Think, Make
Cookity
Crafty
Cool
Cool or Wha…?
Wha…?
LOL
Teh Cute
Reading Update

Dance With Me by Heidi Cullinan. ebook. Excellent m/m romance about two men who've both lost (or given up) something they cared about and been living half lives ever since. It's also about learning to accept and deal with chronic pain/injury/illness. Plus the story takes place in the Twin Cities; in fact, Laurie's condo would be a ten-minute walk from mine. 🙂 Recommended.

A Matter of Time, Volume 1 and
A Matter of Time, Volume 2 by Mary Calmes. ebook. Very good m/m romantic suspense about an architectural assistant who inadvertently witnesses a organized crime-related murder and then meets a straight police detective who keeps turning up in the oddest places. I read this story when it was released a few years ago, in its original and unedited ebook form. It was a delight to reread it all without the editing issues detracting from the story.

Bridges by M.J. O'Shea. free ebook short. Very good free short m/m romance about two guys who got off on the wrong foot with each other in grade school and remain enemies throughout high school. Then they end up working together at the grocery store as overnight stockers…

Breaking Point by S.L. Armstrong & K. Piet. free ebook short. Very steamy free kinky short m/m scene between two lovers.

Shadowed (Treasured #2) by Cari Z. ebook. Very good paranormal m/m romance in which Arcane Studies PhD student Daniel and his occasional lover Rhys head to Venice for Daniel's winter break. Things start out well for them…

Family Unit by ZA Maxfield. ebook. Good m/m romance about two very different guys in their mid-40s (one a retired marine, the other a liberal raising his grandson) who get off to an awkward start, but then slowly grow to know each other better. While I enjoyed this one more than the other ZAM titles I read this week, I felt it suffered from a similar problem with the ending – the story stops, with many questions left unanswered, and then an epilogue is tacked on… an epilogue that doesn't answer the questions. 🙁

Rhapsody for Piano and Ghost by ZA Maxfield. ebook. Good paranormal m/m romance about a 19-year old pianist who's brilliant musically, but very naive interpersonally. Then some well-meaning ghosts move in and start "helping" him with his social life…

All Stirred Up (Stir #2) by ZA Maxfield. ebook. Good m/m romance about the "evil" twin brother of one of the main characters from Stirring Up Trouble, who's struggling with escalating PTSD. An intervention by his board of directors and his twin have him heading for rehab in the company of a very unusual doctor. I found the ending of this one very frustrating – it felt as if it just stopped, rather than providing closure, and the epilogue did nothing to assuage that.

What Child Is This? (Crossing Borders #2) by ZA Maxfield. ebook. Good holiday m/m romance about how getting away from it all for a relaxing holiday weekend doesn't always turn out as one might hope.

The Truth About Al (Rocky Mountain High: Campus Hearts #2) by ML Rhodes. ebook. Good m/m romance about the son of a conservative politician whose family is pressuring him to present a "suitable" (i.e., straight) image so as not to damage his mother's run for Senate.
---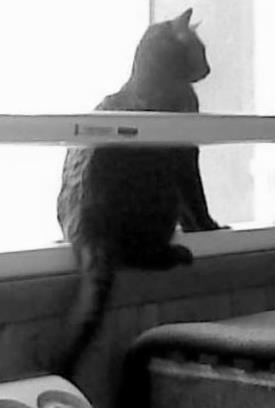 "No, I'm not stuck. I'm just… thinking." -Mayhem