Many thanks to author (and knitter) Amy Lane, who's offering up an ebook copy of her new m/m romance release, Keeping Promise Rock, for one lucky commenter! Plus additional thanks to Amy, because I won a copy of the ebook in a contest on her blog, Yarning to Write. 🙂
A bit about the book:
Carrick Francis has spent most of his life jumping into trouble with both feet. The only thing saving him from prison or worse is his absolute devotion to Deacon Winters. Deacon was Crick's sanity and salvation during a miserable, abusive childhood, and Crick would do anything to stay with him forever. So when Deacon's father dies, Crick puts his college plans on hold to help Deacon as Deacon has helped him.

Deacon's greatest wish is to see Crick escape his memories and the town they grew up in so Crick can enjoy a shining future. But after two years of growing feelings and temptation, the painfully shy Deacon finally succumbs to Crick's determined advances and admits he sees himself as part of Crick's life.

It nearly destroys Deacon when he discovers Crick has been waiting to be pushed away, which is what Crick's family did in the past. When Crick's knack for volatile decisions lands him far away from home, Deacon is left, shell-shocked and alone, struggling to reforge his heart in a world where love with Crick is a promise, but by no means a certainty.
And a bit about Amy:
Amy Lane mothers four children, teaches high school part time, and when the dragon roars in her blood, she writes. Her house is a demolition zone, her car is an accident waiting to happen, but her children love movies, science fiction, and prefer plastic swords to any other toy so she figures she's done her job well. She spent five years as an independent writer and although she loves m/m and will continue to write it, she still has stories to tell from her Little Goddess series and isn't going to give up being an indie any time soon. She is currently working on the sequel to Keeping Promise Rock, which is titled Making Promises, and then she'll move on to the final installment of her novella series, Jack and Teague (and Katy): A Story of Green's Hill. (The first five installments of this last one are available on her website for absolutely free!)
Contest Rules
To enter, leave a comment below stating that you are entering the contest. Leave your comments by 7 pm CST, Wednesday, February 3.
If you haven't commented before, your comment will not be visible until after I moderate it. Please do not leave a second comment because your first doesn't show up! The blog gnomes will decide your comments are spam and then only luck and adopting ten shelter kitties will salvage your entry…
If your comment is actually an advertisement or if your CommentLuv link turns it into an advertisement, your comment will be deleted. (Most of you do not need to worry – this just refers to some pretty clever comment spam.)
Winner will be selected by random number.
You must leave a valid email address in the "Email" portion of the comment form.
Please make sure that your spam filter allows email from stumblingoverchaos.com!
If a winner doesn't respond to my congratulations email within 48 hours, I will select another winner.
This contest is open worldwide!
---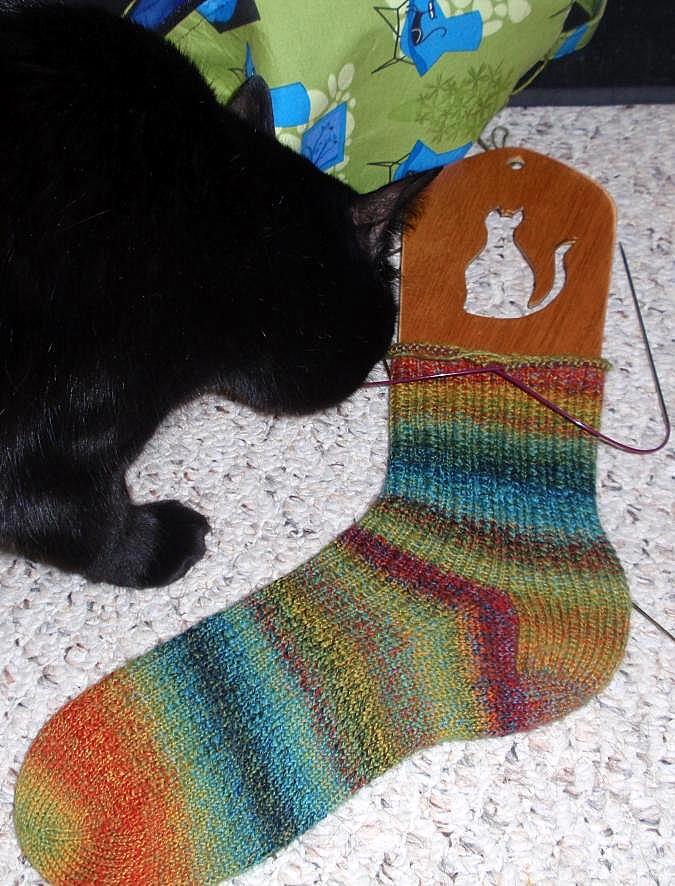 "Who cares about Mom trying to regain some of her long lost knitting cred with this pathetic sock?! Check out these yummy needles!" *munch* -Mayhem
"Mayhem! No!" -me
*mope* -Mayhem