---
---
Congrats to AlbertaGirl, SarahM, and Melora, who won copies of Mourning Heaven by Amy Lane! Mourning Heaven is being released today by Dreamspinner Press.
Congrats to Mammarella, who won Sub Zero by Angel Martinez!
Congrats to Sarah S, who won Body Magic (Triad #2) by Poppy Dennison! Body Magic will be released by Dreamspinner Press on September 10.
---
---
Contests
Bookity
Ebookity
Think, Make, Do, Learn
Cookity
Drinkity
Crafty
Cool
Cool or Wha…?
Wha…?
LOL
Teh Cute
Reading Update

The Cat in the Cradle (Loka Legends #1) by Jay Bell. ebook. Very good young adult gay fantasy (with romantic elements) about a young man and his talking cat who head out to experience more of life than what they've seen during their sheltered existence. They achieve that in spades.

Finding Fire, Flesh and Blood, and the Loka Legends Sketchbook (Loka Legends #0.5/1.5) by Jay Bell & Andreas Bell. free ebook collection. Finding Fire takes place before The Cat in the Cradle, but you don't need to read them in that order. Flesh and Blood takes place before, during, and after The Cat in the Cradle; I recommend you read it after. Both (very good) short stories provide additional insight into the events of The Cat in the Cradle.

From Darkness to Darkness (Loka Legends #2) by Jay Bell. ebook. Very good young adult gay fantasy (with romantic elements) about life, death, love, and the responsibilities of power. Hmm. Could I be any more cryptic? 😉

Stained Glass by Jaime Samms. ebook. Very good kinky m/m romance about a guy who's only recently realized he's a sub, but who's been almost destroyed by his dom imploding. He retreats into a bottle, but his friends are not ready to lose him.

Max & Finn (Men of Smithfield #2) by LB Gregg. ebook. reread. Very good m/m romance about a prep school teacher and dorm parent who is discomfited to discover that the security specialist he had an impulsive encounter with will be protecting one of the students in the dorm.

Slow Burn by Dawn Douglas. ebook short. Steamy short m/m romance about a college student whose twin sister blackmails him into doing a dreaded coffee delivery for a financial trust. In the elevator on the way to the delivery, he drools over the handsome older Brit…
Words and Their Digestion by seventhswan. free online short. Very good short m/m romance about a college student who's probably somewhere on the autism spectrum and whose roommate is one of his few friends. And then his roommate gets a serious boyfriend…

Posted to Death (Simon Kirby-Jones #1) by Dean James. reread. This was a delightful and slightly twisted version of the British village cozy mystery, because Simon is a gay vampire (he can be out in sunlight and doesn't need to drink blood, as long as he takes his medication) and well-known historian (who secretly writes romances and mysteries under several pseudonyms). Definitely recommended if you enjoy mysteries with a bit of snark and a complicated cast of suspects. (Also, for the wary, I would give this book a no-pepper heat rating – a very safe read.)

Faked to Death (Simon Kirby-Jones #2) by Dean James. Good gay mystery in which vampire and author Simon goes to a retreat for mystery writers, which is livened up a bit too much by murder.

A Road Not Taken by Jennifer Thorne. ebook. Good m/m romance about an eco-house builder who finds a depressed young man along the side of a road in a broken-down car, takes him home, and puts him to work. Things proceeded between them pretty fast – I think it would've worked better in a slightly longer format, with more time for their relationship to develop.

Love, Hypoethetically (Theta Alpha Gamma #2) by Anne Tenino. ebook. Good m/m romance about a grad student and tutor who's never really gotten over his first love from high school, even though things ended in a way that left him horribly bitter.

Out of the Ashes by Olivia Duncan Craig. ebook. Good m/m romance based on Cinderella about a guy who grows up on a remote Texas ranch, basically living the life of an indentured servant. And then one day a handsome young man visits the ranch… This needed a wee bit more proofreading attention.

Murder on Camac (Marco Fontana #1) by Joseph RG DeMarco. ebook. Good gay mystery about a PI who also runs a troupe of male strippers and is hired by a grieving man to find out whether his boyfriend died in a mugging gone wrong, or was murdered because of a book he was writing exposing wrongdoing in the Catholic church.

Crimes on Latimer (Marco Fontana #3) by Joseph RG DeMarco. ebook. Good collection of six short gay mysteries featuring PI Marco Fontana, starting with Marco's first "case" in high school. I was a little frustrated that a promising thread from "The DaVinci Theft" wasn't resolved in that or any of the other stories.

Touching Evil by Rob Knight. ebook. Ok paranormal m/m romance about a psychic who can basically read minds when he touches someone or touches an object someone else touched. This makes him very useful to the police… until a serial killer starts working to get his attention. I found this a frustrating read – too many sex scenes, too many food descriptions, and too many sentence fragments (reminding me that "Rob Knight" is just a "Sean Michael" pseudonym).

It Happened in Buenos Aires (Grave Watchers #2) by Missouri Dalton. ebook short. Huh. I'm setting this to today, but I read this soon after it came out and can't remember the dates. Perhaps my disappointment in the story blocked it all out?
---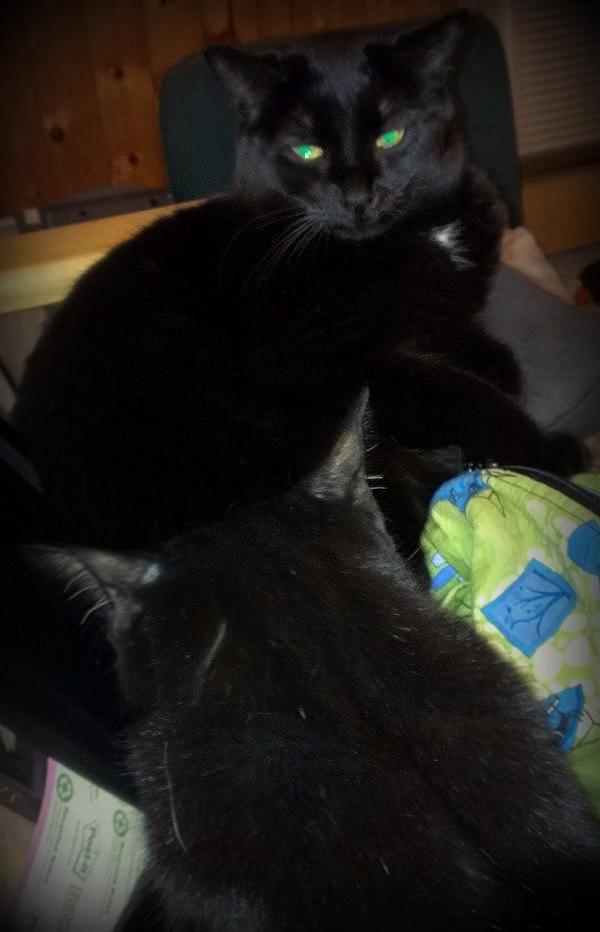 "You better watch out, big kitty! I am preparing my kitty laser eyes!" -Mayhem
"I'm so scared. Not." -Chaos