---
---
Congrats to choccygrl, who won Going With My Heart by Stephani Hecht and My Subby Valentine by Amber Kell!
Congrats to Paul B, who won First Impressions by Josephine Myles!
Congrats to Nette, who won The Only Easy Day (Sanctuary #2) by RJ Scott! The Only Easy Day will be released by Silver Publishing on February 18.
Congrats to Melissa, who won The Pirate's Gamble by Eden Winters! The Pirate's Gamble will be released by JMS Books on February 19.
---
---
Contests
Bookity
Ebookity
Think, Do, Make, Learn
Cookity
Crafty
Cool
Cool or Wha…?
Wha…?
LOL
Teh Cute
Reading Update

Midnight in Berlin by JL Merrow. ebook. arc. Excellent paranormal m/m romance about an American who's been drifting around Europe for a while. One rainy drunken night, he accepts a ride from a devilishly handsome man in a Porsche… and his life (and his reality) will never be the same again.

Lesson Learned by Lillian Francis. ebook. Excellent m/m romance about two teachers at a Welsh secondary school who become close friends, although one finds the friendship increasingly challenging, due to the attraction he feels for his oblivious, obviously attracted to women friend.

The Only Easy Day (Sanctuary #2) by RJ Scott. ebook. arc. Very good m/m romantic suspense picking up where the first book left off. As the Sanctuary guys work to build a case against the mobsters responsible for the murder Morgan witnessed, things are complicated by the murder victim's Navy SEAL stepbrother showing up on a mission of vengeance.

The Hanged Man's Ghost by Missouri Dalton. ebook. Very good paranormal m/m romance about a Chicago police detective with a drinking problem and a crush on his straight best friend. When he realizes he can see ghosts, his life spirals quickly out of control. Sloppy proofing and a storyline that needed to be reined in just a bit kept this from being a five-star read. (But! There is knitting!)

Fiends in Low Places by Missouri Dalton. ebook short. Good short paranormal m/m romance about a guy who works for the MC from The Hanged Man's Ghost and who's trying to get back together with an FBI agent. Apparently the rest of this story (much alluded to throughout this one) is still being written.
Getting It Right (Life Lessons #1.8) by Kaje Harper. free ebook short. Sweet short m/m romance about both Mac and Tony agonizing over what to get the other for Valentine's Day.

I Dare You, Back (Dare #3) by Tam Ames. free ebook short. Good short m/m romance about a college senior who's been sleeping around for two years, ever since his boyfriend dumped him and left for grad school. Now his ex is back in town…

The Swimming Swan (Cob Brothers #2) by Amber Kell & Stephani Hecht. ebook. Fluffy m/m paranormal romance about a merman come to land to meet his mate, who he doesn't know is a swan prince.

Taking the Dare (Truth or Dare #4) by Lee Brazil. ebook. Ok m/m romance about the last unattached Blake brother, who habitually manipulates people and just can't seem to stop. I didn't particularly care for him or for his love interest.

Reluctant Mate by Eden Cole. ebook short. So-so short paranormal m/m romance about a wolf shifter who's pissed off that his father has arranged for him to mate a man instead of a woman.

Awakenings by Tara Larson. ebook. DNF. I only made it to 8% – this looks to be another unedited book from Dreamspinner Press. It featured random and constant POV shifts, non-stop infodumping, and passive voice. Ugh.
---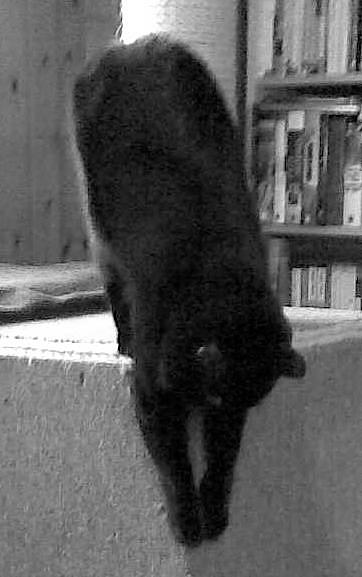 *scratch scratch scratch* -Mayhem