Many thanks to Finn Marlowe for donating a signed paperback copy of her paranormal m/m romance, Forever in One Second, for a lucky commenter to win! This contest is open worldwide except where considered illegal.
Cheating death is easy – the hard part is knowing when not to.

From the moment an anonymous rescuer pulled him back from the brink of death, Dane Harper has vowed to live every second of his life to the fullest. Nothing would please him more than to share those stolen moments with the man who, literally, held his life in his hands. First, though, he has to find him. Then convince him it's safe to come out of his self-imposed shadows.

Even if it means playing dirty.

Court has no regrets about manipulating that one second of fate to save Dane's life, but having this accursed power to cheat death isn't the only thing darkening his lonely existence. The last thing he needs is an eternal optimist shining a cheery light on the dark, tortured corners of his past. Except now that Dane has found him, there.s no shaking him…and the longer Court basks in Dane's relentless warmth, the more he begins to believe that maybe, just maybe, happiness can at last be his.

Distracted by the devilish sparkle in Dane's eyes, Court begins to forget that there are those who would kill to control his stunning power. And that Dane is the perfect bait…

Product Warnings
Beware – features a man with absolutely no scruples about resorting to seduction and cheap tricks to get what he wants. Plus a skittish, supernaturally gifted paramedic who's about to discover that it's okay to go along for the ride.
Excerpt (scroll down and select tab)
Also by Finn
About Finn
Finn Marlowe is a paralegal by day and erotic (M/M) romance novelist by night. She believes daydreaming is a vastly underrated pastime and probably spends way too much time at it. Her kids no longer ask what's wrong when they spy her staring off into space – they just assume she's mentally plotting a scene from her next novel and they're probably right. Paranormal romance is her favorite genre to write, and her stories are usually on the dark side because she still believes in things that go bump in the night.

Finn calls British Columbia home and when she's not enjoying the beautiful outdoors, she's inside reading or resenting the fact her kids are better video game players than she is. If there were more hours in the day, she'd like to become a better artist, a greener gardener and learn to speak Spanish. Since she believes all dreams are possible if you don't give up on them, she expects to regain her video game hi-scores, naturally vanquish all garden pests and finally paint what lives inside her imagination. As for speaking Spanish, well, she'll settle for learning to pronounce all the good curse words.

You can find out more about Finn and her books at her website, Goodreads, and her blog.
Contest Rules
To enter, leave a comment stating that you are entering the contest. Contest closes 7 pm CST, Friday, January 25.
By entering the contest, you're confirming that you are at least 18 years old.
If you haven't commented before, your comment will not be visible until after I moderate it. Please do not leave a second comment because your first doesn't show up! The blog gnomes will decide your comments are spam and then only ritual dust bunny sacrifice will salvage your entry…
If your comment is actually an advertisement or if your CommentLuv link turns it into an advertisement, your comment will be deleted. (Most of you do not need to worry – this refers to some pretty clever comment spam.)
Winners will be selected by random number.
You must leave a valid email address in the "Email" portion of the comment form.
Please make sure that your spam filter allows email from stumblingoverchaos.com!
If a winner doesn't respond to my congratulations email within 48 hours, I will select another winner.
This contest is open worldwide!
---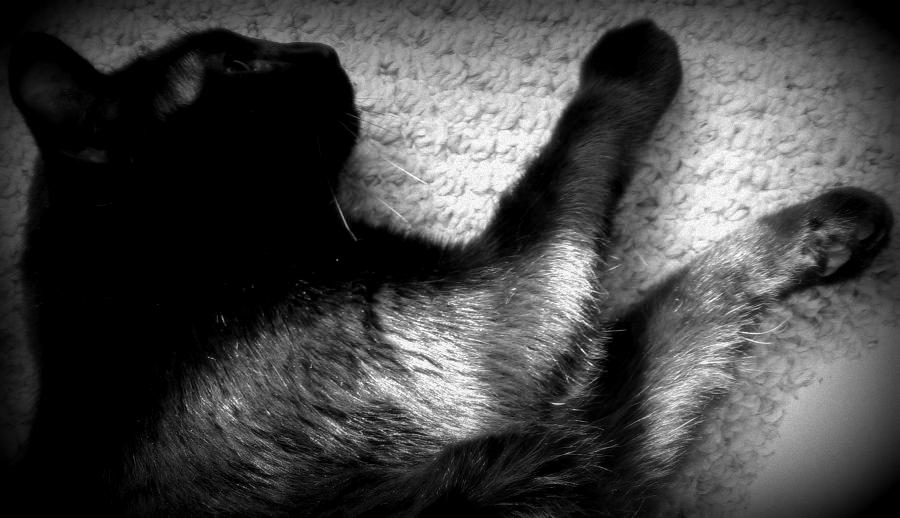 "Mmm… sunbeam." -Chaos