---
---
Congrats to Giselle, who won The Decisions We Make by RJ Scott!
Congrats to Orannia, Eva, Bogusia, SarahM, and Zanara, who all won copies of Fall into the Sun by Val Kovalin!
Congrats to Helena, who won Cinder (A CinderFella Story) by Marie Sexton! Cinder will be released by Silver Publishing on February 4.
---
---
Contests
Bookity
Ebookity
Think, Do, Learn, Make
Cookity
Crafty
Cool
Cool or Wha…?
Wha…?
LOL
Teh Cute
Reading Update

Time To Do (Perfect Timing #3) by Kim Dare. ebook. reread. Excellent m/m romance about two guys – one gay, one straight – who have been best friends since they were small and are now roommates at college. The gay guy's been quietly in love with his best friend for years, but has been resigned to never being able to touch him… until he finds his friend's list of things to experience, which segues from kissing and having sex with women (all checked off) to kissing a man (not checked off)… This was my first Kim Dare book, and remains my very favorite. 🙂

Dirty Laundry by Heidi Cullinan. free ebook short. Smoking hot kinky short m/m story about a timid grad student doing his laundry on a Friday night and the cowboy who comes to his rescue.

Forever in One Second by Finn Marlowe. ebook. Very good m/m paranormal romantic suspense about a rescue worker who can heal with touch. When one of the people he's healed comes to find and thank him, neither of them have any idea how much their lives will change.

The Yearning by AJ Rose. ebook. Very good paranormal m/m romance told from the perspective of a ghost anchored to a young mortician who is in love with his oblivious best friend. This took some unexpected and enjoyable twists. 🙂
9:05 by KC Burn. free ebook short. Very good short m/m romance about an office worker who's the only one moving around while the rest of world is stuck at 9:05 am.
Chapter Five and the Axe-Wielding Maniac by Marie Sexton. free ebook short. Very good short m/m romance about a writer with writer's block hiding out at his Oregon cabin… and then a young man with a pick-axe knocks on his door with a surprising request.

Carbon & Ash by Chris Owen. ebook short. This was a short but sweet m/m romance about slowing sliding into something other than friendship without being fully aware. And it's one of my comfort rereads.

A Simple Suburban Murder (Tom & Scott #1) by Mark Richard Zubro. Very good gay mystery about high school teacher Tom, who finds a much-hated math teacher dead in his classroom, and his closeted baseball player boyfriend, Scott.

All the Gear, No Idea (I Blame Brett #2) by Kim Dare. ebook short. Good short kinky m/m romance about a dom who's asked to look after a clueless new sub.
Not a Whore by Jaime Samms. free ebook short. Good short m/m romance about a young man who's sleeping with his boss, but things are more complicated than they appear at first…
Method Acting by Clare London. free ebook short. Cute short m/m story about two guys in bed… with a surprising twist.

Death Trick (Donald Strachey #1) by Richard Stevenson. ebook. Good gay mystery set in Albany in 1979, when things were wild pre-HIV. Donald Strachey's been hired by the parents of a missing gay man suspected of murder, but nothing is quite adding up about the case. (This is such a weird cover! Pretty sure there wasn't a dog in the book…)

Hair of the Dog by Ashlyn Kane & Morgan James. ebook. Good paranormal m/m romance about a guy who wakes up covered in blood the morning after his father's funeral and quickly learns (from the mysterious men waiting outside his door) that he was bitten by a werewolf. It was an interesting storyline, but the timeline was too murky for my pattern-matching brain, leading the story to feel jumpy.

Melting by VJ Summers. ebook short. Good short kinky m/m romance that consists of an extended wax play bdsm scene between a dom and his beloved submissive. I really wanted to read more of this couple's backstory.

Plan B (A Candyland Story) by VJ Summers. free ebook short. Steamy short m/m story about two guys hooking up in a bar, which appears to be the prequel to Liar, Liar.

Hold the Sky by AC Fox. ebook. Good m/m romance about two architects – one just starting out and the other quite successful – who can't stop competing with each other.
How Much for the Whole Night? by RJ Scott. free ebook short. Good short m/m story about a guy who picks up a hooker for the first time ever on the night before his final divorce custody hearing. There was just way too much story for the number of pages!

The Librarian by Lee Brazil. ebook. Ok m/m romance about a university librarian who's had a crush on his former college roommate, now his hairdresser, for ten years. I was going to rate this higher until nearly the end of the book, when it turned out that the entire premise was based on a big misunderstanding. *sigh*

Want (1 Night Stand #81) by Ann Mayburn. ebook short. So-so short m/m about a straight construction foreman who's been lusting after one of the stonemasons working for him. Via the 1 Night Stand service, he manages to arrange a blind date with the man. The pronoun confusion in this one was painful – I really couldn't figure out who was doing what to whom most of the time.
---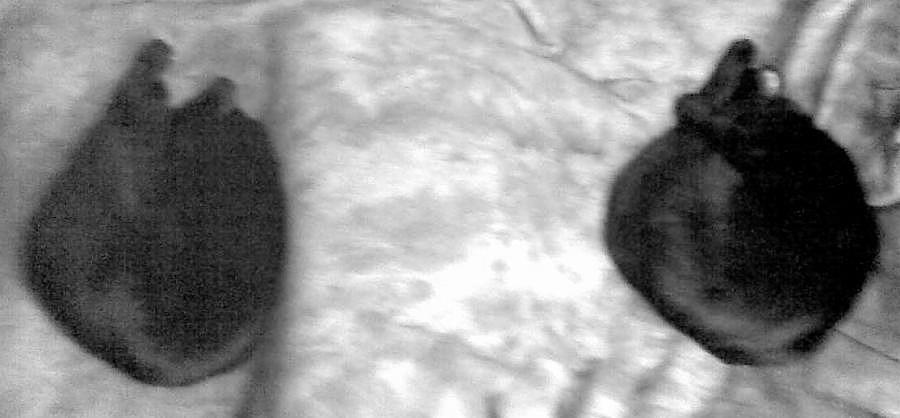 I know this is an exceptionally crappy picture, but it amused me so much to see them both sleeping in the same pose. 🙂 (May is closer to the camera, so she looks the same size as Chaos.)