---
---
Congrats to Courtney S, who won Becoming His by Shawn Lane!
---
---
Contests
Bookity
Ebookity
Think, Learn, Do
Cookity
Crafty
Cool
Cool or Wha…?
Wha…?
LOL
Teh Cute
Reading Update

What Happened to Larry Alan? by Dawn Kimberly Johnson. ebook. Excellent m/m romance about a guy who gets hit in the head with a soccer ball and has a chance to change some pivotal events from his past.

Any Closer by Mary Calmes. ebook. Feel-good m/m romance about a good-hearted guy who owns a construction company and finds out something sordid about the past of one of his employees/friends.

The Love of a Mate (Pack Discipline #4) by Kim Dare. ebook. Very good paranormal m/m romance about the pack troublemaker, who's incredibly suspicious when the beta's brother begins a subtle pursuit.

The One that Counts by Chrissy Munder. ebook short. Very good short m/m romance about a guy who's feeling introspective after his father's death and shares some things from his past that his partner didn't know.

Just-You Eyes by Clare London. ebook. Very good m/m romance about a guy, accompanying his sister to a heterosexual speed dating night to even out the numbers of men and women, who meets a hotel employee and has an uncharacteristic one-night stand.

Cherries on Top by Rowan McAllister. ebook. Very good m/m romance about a guy who doesn't do relationships, but finds himself unable to resist the sweet, previously straight bartender who takes him home.

Between Friends by Lou Harper. ebook short. Very good short m/m romance about two guys who've been friends since they were kids. One's closeted, in deep denial, and the other's not willing to be his dirty little secret.

We're Both Straight, Right? by Jamie Fessenden. ebook. Very good m/m romance about two straight college guys who have been best friends for years. When one of them learns how much money they can make doing a "straight guys' first gay experiences" porn shoot, he convinces the other to do it with him.

A Deadly Kind of Love (Deadly Mystery #6) by Victor J. Banis. ebook. Very good m/m mystery in which Tom and Stanley head to Palm Springs to help a friend who found a dead man in his hotel bed. I must confess that it was refreshing to read a nearly angst-free installment of their story!

Long, Lonely Howl by Lyn Gala. ebook. Very good paranormal m/m romance about a YMCA youth counselor who inadvertently finds out about werewolves and has to make some life-changing decisions. Be aware that the ending's a bit abrupt and is definitely HFN.

Shades of the Past (EMS Heat #9) by Stephani Hecht. ebook. Good m/m romance about an EMT whose partner and cousin died on the job because she wouldn't listen to him. He blames himself for her death and isn't doing very well at all. (I wanted just a bit more in each of the later scenes in the book.)

Bad Company by KA Mitchell. ebook. Good m/m romance about two guys who were friends when they were kids, but haven't spoken for years… until one decides to piss off his homophobic father and "go gay". Strangely, he wasn't the person who needed to be smacked in this book.

About Damn Time by Elizabeth Jewell. ebook short. Ok short m/m romance about two guys, close friends and both gay, who've never gotten together – but will a bet change that? I was doing ok the story until the sex scene – someone who's just spent nearly six months restoring a classic car is probably not going to be ok with having sex on the car's hood, especially with belt buckles flopping all over the place…

Hairy, Horny, and Over Here by J.L. Merrow. ebook short. Very funny m/m story about a photographer and a hunter out looking for jackalopes in the woods on the Isle of Wight. I'd suggest reading this book in conjunction with I'll Tell You a Secret, Jackalope. 🙂

Pearls Before Swine by Vic Winter. ebook short. Very steamy short paranormal m/m romance about a guy who considers himself very civilized and proper, but has to reconsider after he runs into (literally) a shifter at the museum and invites him over for coffee…

What You Wish For: The Nine of Cups by Alex Marcus-Jacobs. ebook short. reread. Ok short m/m romance about a college student who gets a disconcerting tarot reading, just prior to a life-changing event. The conversations were my main reason for not rating this higher – they were awkward and didn't feel realistic.

Obsidian (What You Wish For #2) by Alex Marcus-Jacobs. ebook. Ok kinky m/m romance continuing the story of the college student and his older lover/Dom. Like the previous book, this seemed stilted and awkward to me.

Layoffs by Dallas Coleman. ebook short. Ok short m/m romance about two guys who get laid off from the same company because others took credit for their work.

Neon Yellow: Obsessive Adhesives by Andy Slayde & Ali Wilde. ebook. Ok m/m romance about a player who starts to see the appeal of the quiet guy from Accounting. Only… who keeps leaving those unnerving post-it messages on the guy's computer monitor?! I would've rated this higher if there hadn't been some real TSTL moments in it. You know there's a stalker. You know he's been following your new boyfriend; in fact, he broke into your boyfriend's house and completely trashed it (besides leaving those increasingly threatening post-its at work). Why would you decide to get away from the situation and go camping (ie, isolated)? And most especially, why wouldn't you be completely freaked out when the axe and other items disappeared from the campsite?!?!?

Rushing Towards Perfection by Mya. ebook. Ok kinky m/m romance about two guys who are rushing into a relationship without knowing a lot about each other. This one just didn't quite work – it felt like sections were missing.

Run With Me by Eden Cole. ebook. Meh m/m romance about the son of a crime boss who keeps running away from his father, even though his father always sends brutes to beat him up and drag him home. But maybe the latest guy who's tracked him down will be different…

Sex Scene: Take One by Lee Avalone. ebook. Incoherent trainwreck. Any sex scene that has "his large log" in it… no. Just no.
---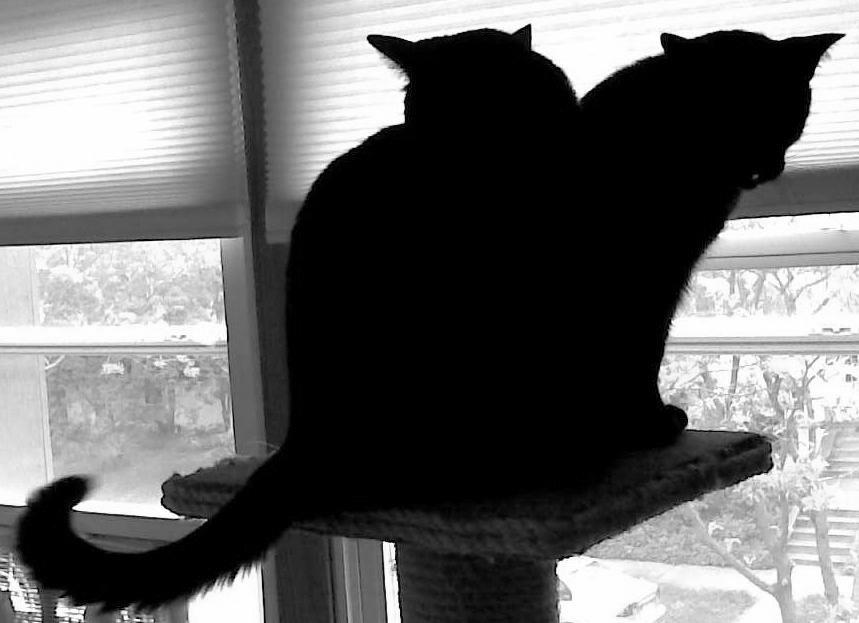 Mutant kitty!!!! O.O