Congrats to Tracey D, who won the copy of Dangerous Distractions by Mia Watts!
---
Many thanks to author Stephani Hecht for donating a copy of her forthcoming m/m romance, Man Down, for me to give away! (Man Down will be available April 15 from eXtasy Books.)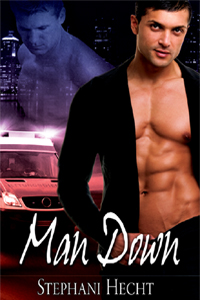 All Jessie Goodson wants to do is put the past behind him and focus on his dreams of becoming a paramedic. Broken and scarred in more ways than one, he yearns to prove to everyone who's ever doubted him that he can make something of himself. Determined to succeed, the last thing he wants is anything or anyone to distract him from his goal.

Randal Connors's job is to train new medics; it sure as hell isn't to mess around them. Especially a certain blond, who's not only way too young for him, but haunted by a secret past. Forbidden or not, Randal still finds himself becoming more attracted to Jessie with each passing day.

Then the explosive details of Jessie's secrets come out and Randal knows he can't turn his back on the man. But in helping Jessie, will Randal lose everything he has?
About Stephani:
Stephani Hecht is a happily married mother of two. Born and raised in Michigan, she loves all things about the state, from the frigid winters to the Detroit Red Wings hockey team. Go Wings! You can usually find her snuggled up to her laptop, creating her next book or gorging on caffeine at her favorite coffee shop.

When she's not running around like crazy, trying to get her kids to their various activities, she's currently working on numerous projects. In the coming months, she has several books coming out with eXtasy Books in both The Lost Shifter Series and Drone Vampire Chronicles, plus a few additional projects that are still in the development stages.
Contest Rules
To enter, leave a comment stating that you are entering the contest. Contest closes 7 pm CDT, Wednesday, April 14.
If you haven't commented before, your comment will not be visible until after I moderate it. Please do not leave a second comment because your first doesn't show up! The blog gnomes will decide your comments are spam and then only luck and counterintuitive espionage will salvage your entry…
If your comment is actually an advertisement or if your CommentLuv link turns it into an advertisement, your comment will be deleted. (Most of you do not need to worry – this refers to some pretty clever comment spam.)
Winners will be selected by random number.
You must leave a valid email address in the "Email" portion of the comment form.
Please make sure that your spam filter allows email from stumblingoverchaos.com!
If a winner doesn't respond to my congratulations email within 48 hours, I will select another winner.
If you win, please respect the author's intellectual property and don't make copies of the ebook for anyone else.
This contest is open worldwide!
---
*ahem* "I am still waiting for my doughnut, Mom." -Chaos
---
Make sure you enter the contest to win a copy of Elle Parker's m/m romantic suspense, Like Coffee and Doughnuts! Contest closes 7 pm CDT, April 12.