---
---
Congrats to Mandy B, who won Forever in One Second by Finn Marlowe!
Congrats to Cathy M and Alder, who each won their choice of Saving Valor (Fanged Love #1) or Chalice (Planetary Submissives #1) by Amber Kell! Saving Valor (Fanged Love #1) was released by Silver Publishing on January 14. Chalice (Planetary Submissives #1) was released by Total-E-Bound on January 16.
---
---
Contests
Bookity
Ebookity
Do, Learn, Make, Think
Cookity
Crafty
Cool
Cool or Wha…?
Wha…?
LOL
Teh Cute
Reading Update

Galley Proof by Eric Arvin. ebook. Excellent gay fiction (with romantic elements) about an author who lives a very predictable, safe life ruled by lists and habit… until his attractive new editor shakes things up. As with so many books by Eric Arvin, this book was simultaneously fun, funny, and thought-provoking – pretty much like life itself.

Pole Star by Josephine Myles. ebook short. arc. Excellent short and smutty m/m romance about a stripper who gets injured onstage and ends up in the emergency room in his firefighter costume, flirting with the cute radiographer. I had really good intentions of waiting until closer to the release date to read and review this one, but… I couldn't resist. 🙂

Tailor Made by Josephine Myles. ebook. arc. Sweet and smutty m/m romance about an unapologetically slutty art student who wants to get his advisor in bed. But he's not expecting to find himself so drawn to the fashion student he tries to shanghai into helping him with his senior project…

The Heart of Texas (Texas #1) by RJ Scott. ebook. Very good over-the-top m/m romance reminiscent of the tv show Dallas, complete with oil wells, villains, lies, a marriage-of-convenience, and more!

Heatstroke by Taylor V. Donovan. free ebook. Very good m/m romance told via nearly 50-year old journal entries being read by a young man trying to figure out the mystery of why his cold grandmother is so adamant he stay out of her attic.

Raven's Mark (Sandpipers #2) by Jade Archer. ebook. Very good m/m romance about a chef who becomes fascinated by Raven, the guy who's just started watching the owners' son along with his own. However, Raven suffers from crippling PTSD… and his past hasn't given up on him yet.

A Life Without You (Boston Boys #1) by Erica Pike. ebook. Good m/m romance about a gay college student who has a crush on his engaged straight best friend and roommate… his apparently bi-curious straight best friend. Emotions definitely run high in this one (and the POV is first-person present), but it worked for me. And I'm very curious to see who the next book will be about!

Just Like Cats and Dogs by BA Tortuga. Good m/m paranormal romance about an orphaned panther shifter who grew up with a pack of wolf shifters, but was never really accepted. So when he runs into a wolf shifter who tormented him while they were growing up, he's surprised at the attraction between them. The repetitive style of writing isn't so noticeable for short works, but it definitely grated during this longer book.

There's Cock in This Book (The Hockey Story) by Isa K. free ebook short. Good short m/m story about a deeply closeted minor league hockey player who survives by keeping his head down and blending in… until the new guy on the team hits on him. With a bit more proofing and a less abrupt ending, this would have been a Very Good read.

How to Keep the Love of Your Life (After Mistaking Him for a Serial Killer) by Maureen Willmann. ebook. Ok m/m romance about a guy who thinks someone is following him right up to the door of his apartment… and it turns out to be his neighbor across the hall. Too sugary sweet and implausible for me. Also, so very tired of stalkers.

The Man Who Spoke My Name (Joey #2) by Azalea Moone. free ebook short. Meh short m/m story about a guy torn between the ex who cheated on him and the guy he slept with on New Year's Eve.
---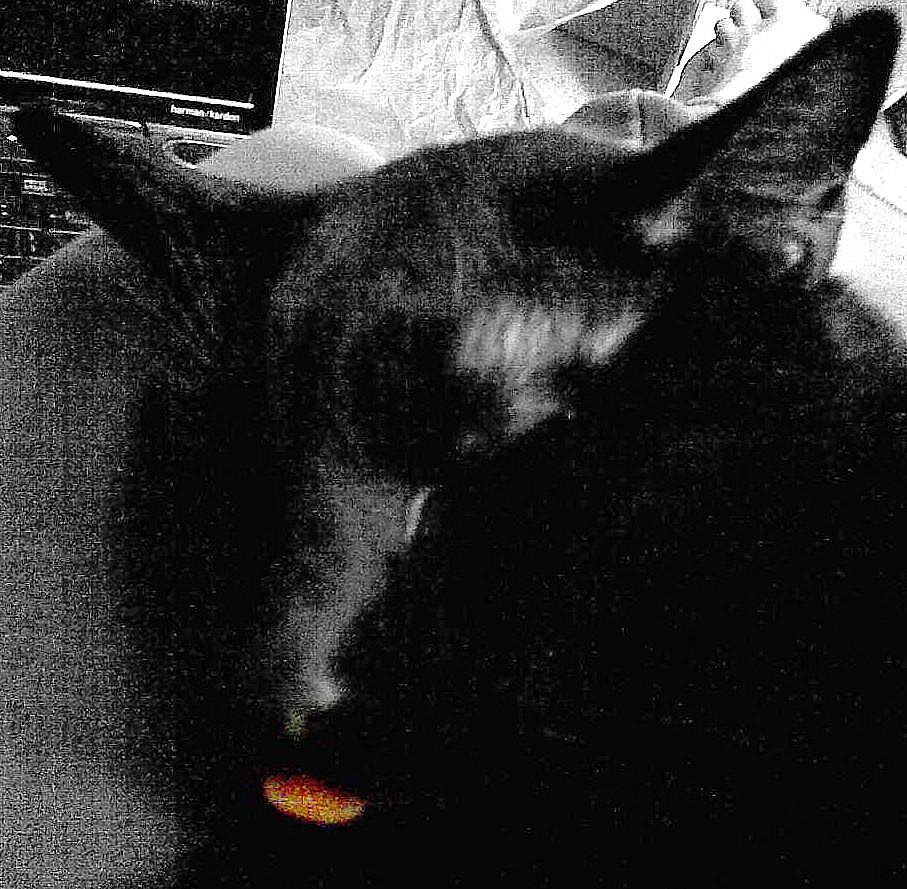 "…zzzzzzzzzzzzzzzzzzzzz…" -Chaos