---
---
Congrats to SueM, who won Knight Errant by K.D. Sarge! Knight Errant is available for $0.99 through July 31 at Smashwords.
Congrats to Susmita, who won Ranger's Folly (Lost Shifters #12) by Stephani Hecht! Ranger's Folly is being released by eXtasy Books today.
Congrats to Renee, who won Dark Sun by M.J. O'Shea!
Congrats to Julie, who won In the Shadow of a Hero by Anna Mayle!
Congrats to Amy, who won the Tea and Crumpet anthology, donated by Clare London!
---
---
Contests
Bookity
Ebookity
Do, Make, Learn, Think
Potterity
Cookity
Crafty
Cool
Cool or Wha…?
Wha…?
LOL
Teh Cute
Reading Update
Masochism 101 by Kim Dare. free ebook short, although you'll need to be a member of the Goodreads M/M Romance Group to read it. The prompt for this excellent kinky short m/m romance was a guy photographed midway through falling in the bathtub…

Trust Me (Cover Me #2) by LA Witt. ebook. Very good m/m romantic suspense about a cop who's ready to break up with his boyfriend because he suspects his boyfriend has been cheating on him, but what's really been going on is a helluva lot more complicated. You also get to see how things are going with the guys from Cover Me.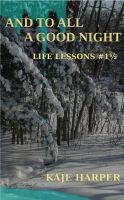 And To All a Good Night (Life Lessons #1.5) by Kaje Harper. free ebook short. Very good short free holiday-themed m/m mystery that takes place a few months after Life Lessons, right before Christmas, as the out teacher continues to recover from his injuries and learns to deal with dating the deeply closeted cop.

Dirty Kiss by Rhys Ford. ebook. Very good m/m romantic suspense about a former cop, now PI, investigating the apparent suicide of a prominent Korean businessman when he becomes fascinated by the businessman's disgraced cousin. Hopefully there's a sequel… and I'd love to get more of Bobby's story.

Again by Mary Calmes. ebook. Very good m/m romance about a guy who was devastated when the love of his life, a CIA agent, suddenly left him for someone else, without knowing that their surrogate was pregnant. It's five years later when he runs into now-former CIA agent… I have to confess that I wanted to smack Dante more than once – he was such a steamroller! I wanted him to stop and actually listen. 🙂

Accidentally in Love by Jane Davitt & Alexa Snow. ebook. Very good m/m romance about a photographer who's definitely a player, engaging in a non-stop string of one-night stands. When he rents part of a house from a goodhearted computer geek with crappy self-esteem, he decides to help the geek finally get a guy of his own. So why is he unhappy when his plan works? As others have mentioned, the first part of this book was excellent. The last part of it got bogged down by sex and lack of direction.

Tea and Crumpet by UK MAT. ebook collection. Very good collection of United Kingdom-themed GLBTQ short stories, from contemporary to paranormal to historical. I was delighted to discover that there was a Cambridge Fellows short from Charlie Cochrane! And I absolutely love the cover. 🙂

One Night by RJ Scott. ebook. Good m/m romance about a deeply closeted guy who's convinced that two men can't have a loving relationship, only a sexual one, so he's engaged to be married to a woman so his adopted daughter will have a stable home.

Finding Forgiveness (Poconos Pack #1) by Dana Marie Bell. ebook. Good paranormal m/m romance about a wolf shifter who suffers from debilitating migraines and has no idea why the guy destined to be his mate avoids him at all costs.

Clay's Challenge by Cassandra Gold. ebook. Good m/m romance about a guy going through a crisis in confidence about how he looks after someone he met online isn't interested in dating him because he's "too fem." So he decides to go on a wilderness adventure and prove to himself that's not the case. (Main character Clay was actually a minor character in Quinn's Hart.)

Bicycle Built for Two by Jeff Adams. ebook short. Good short, completely angst- and conflict-free m/m romance about two guys who meet during a charity cycling event to raise money for HIV/AIDS research.

From Pack to Pride (Supernatural Mates #1) by Amber Kell. ebook. Good paranormal m/m romance about a wolf shifter whose alpha brother sends him to stay with a pride of lions in order to keep him safe from a hostile wolf who wants to kill him. (Ok, Tam, you were right – I liked it better than Hellbourne!)

A Prideful Mate (Supernatural Mates #2) by Amber Kell. ebook. Ok paranormal m/m romance about a lion shifter who sees a picture of jaguar shifter on a shifter dating website and knows the jaguar shifter is his mate. Now he just has to convince his mate to stay… and keep his mate alive.

Not in Kansas by R.G. Alexander. ebook short. Cute short m/m fantasy roughly based on the Wizard of Oz.

Salad on the Side by Karenna Colcroft. ebook. Ok paranormal m/m romance about a vegan who doesn't realize he's living among werewolves until he's bitten and changed. These were probably the most long-winded werewolves ever – there needed to be a lot less talking in this book. Hopefully the obviously planned for sequel will be less chatty.

The Male Room by Carolyn Levine Topol. ebook. Ok m/m romance about two best friends, one who's just been kicked out by his boyfriend and the other who's just been fired, who decide to start an online GLBT dating service together. I need to remember that this author's stories are too sugary for me…

Semi Precious Weapons by Clancy Nacht. ebook short. Ok short m/m romance about two models in New York City who hook up and hit it off, but then things get messed up between them. This book definitely needed a bit more editorial care – a couple spots were so tangled that I couldn't sort out what exactly was happening.

Joy & Pain by Celia Kyle. free ebook short. Ok kinky short m/m romance about a stripper who meets and is attracted to an older big bear of a man. This book needed better proofing: "illicit" instead of "elicit", "spurn" instead of "spur", etc.
---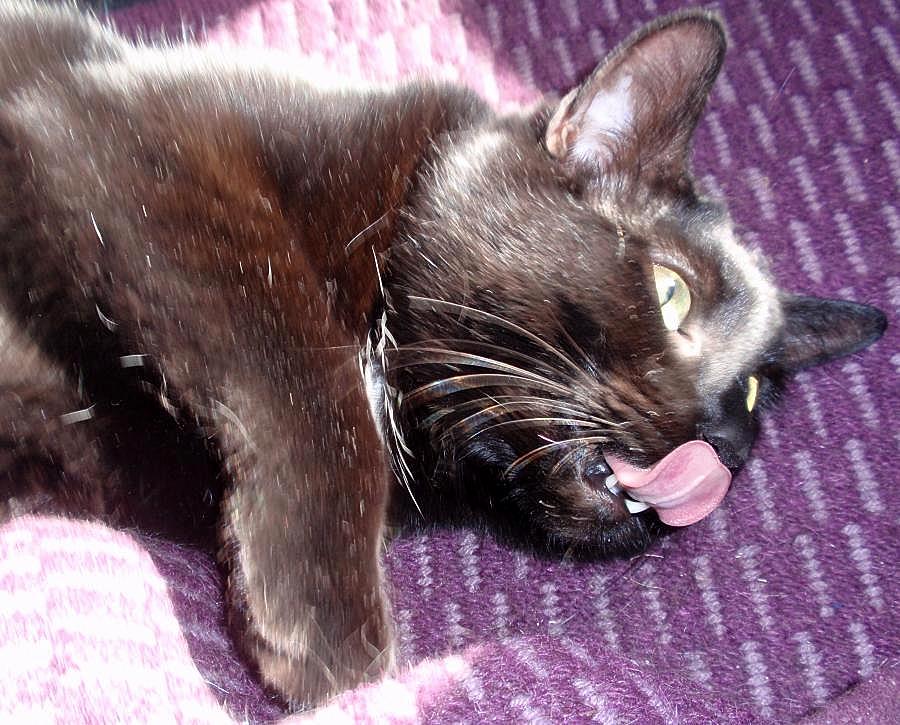 "You know what would hit the spot right now? A crunchy bug. Yum!" -Mayhem