---
---
Congrats to Joder, who won Hot Head by Damon Suede!
---
---
Many thanks to Meredith Shayne for donating an ebook copy of her forthcoming m/m romance, Equilibrium, for a lucky commenter to win! Equilibrium will be released by Dreamspinner Press on June 24.
Welcome to Burreela, New South Wales. Population: more animals than humans. Although most (human) occupants are trying to get out of Burreela, the tiny town is the perfect place for veterinarian Michael Stone to break out of the bad habits that almost cost him the most meaningful part of his life: his profession.

Michael is struggling to regain his balance after hard personal losses and two years of promiscuity and drug abuse. He's not prepared to meet Ryan Mitchell, a nice guy who won't take no for an answer, whose patient pursuit leaves Michael less and less inclined to keep refusing. But Michael's bad habits aren't that far behind him. Can Michael hold himself together enough to be the man Ryan needs, or will he lose his equilibrium while trying to be man enough to hold on to the one he loves?
Excerpt (scroll down and expand)
Other Books
About Meredith
A scientist in a past life, these days Meredith Shayne mainly uses her scientific training to poke holes in television pseudoscience. Originally from Australia, she moved to New Zealand to start a new life a few years ago and hasn't regretted it for one minute, even if she frequently wishes that the New Zealand weather was a little better; if she's forced, she'll admit that the refreshing lack of animals that can kill you in New Zealand makes up for a little rain. Meredith travels a lot, so much so that she has developed a shameful love of airplane food and knows her passport number off by heart. When she is at home she enjoys baking, horrible music from the 1980s, reality television, and gloating any time Australia thrashes the living daylights out of New Zealand on the sporting field. You can find out more about Meredith at her blog or on Twitter.
Contest Rules
To enter, leave a comment stating that you are entering the contest. Contest closes 7 pm CDT, Thursday, June 30.
By entering the contest, you're confirming that you are at least 18 years old.
If you haven't commented before, your comment will not be visible until after I moderate it. Please do not leave a second comment because your first doesn't show up! The blog gnomes will decide your comments are spam and then only ritual dust bunny sacrifice will salvage your entry…
If your comment is actually an advertisement or if your CommentLuv link turns it into an advertisement, your comment will be deleted. (Most of you do not need to worry – this refers to some pretty clever comment spam.)
Winners will be selected by random number.
You must leave a valid email address in the "Email" portion of the comment form.
Please make sure that your spam filter allows email from stumblingoverchaos.com!
If a winner doesn't respond to my congratulations email within 48 hours, I will select another winner.
If you win, please respect the author's intellectual property and don't make copies of the ebook for anyone else.
This contest is open worldwide!
---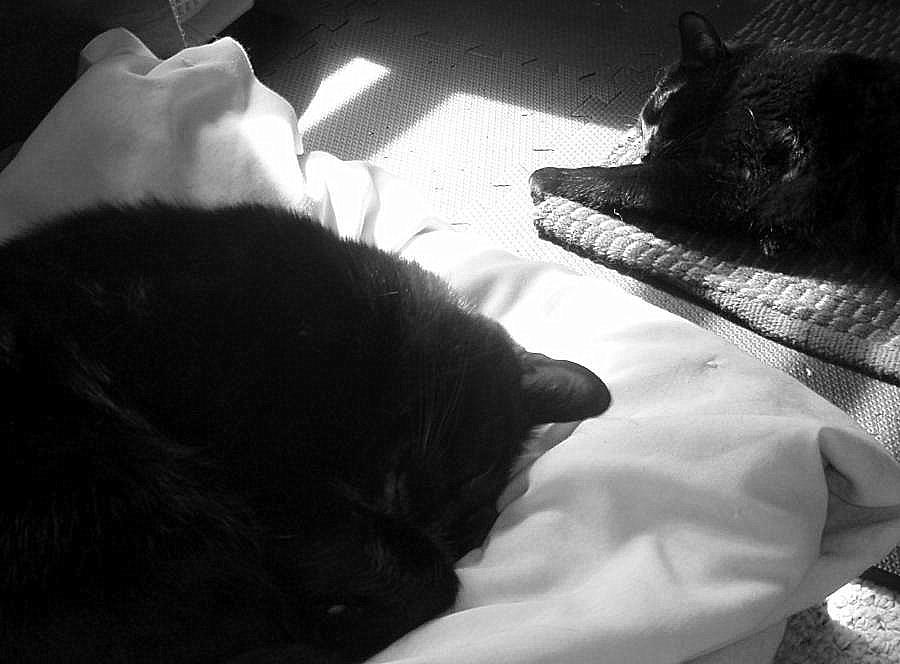 "….zzzzzzzzzzzzzzzz…." -Chaos
*sunbeam bliss* -Mayhem
Hmm. You maybe need to click on that picture to embiggen it – you can't really tell what bit of May you're looking at otherwise!