---
---
Congrats to Susan65, who won Ex Equals by L.A. Witt! Ex Equals will be released on September 18 by Amber Allure.
Congrats to Kimberly, who won the Fire Trilogy (Kian, Darach, and Eoin) by RJ Scott! The final book, Eoin, is now available from Silver Publishing.
---
---
Contests
Randomly Me

I now have a tumblr. Mostly it's going to be quotes, random observations, videos of songs that I love and that have moved me, lyrics, and some of my photos. Near the bottom, you can see some of the things that I've liked elsewhere on tumblr.
Bookity
Ebookity
Think, Do, Learn, Make
Research, so suggestive this week…
Cookity
Crafty
Cool
Cool or Wha…?
Wha…?
LOL
Teh Cute
Reading Update
When Irish Eyes Are Smiling (Irish Eyes #1) by Tom Collins. free online story. Very good free m/m romance about two guys who live in the same building, each surreptitiously eying the other for the past several months. It was refreshing to watch a relationship develop and to see them working through issues in what felt like a realistic fashion.

When Irish Eyes Are Sparkling (Irish Eyes #2) by Tom Collins. ebook. reread. Very good m/m romance about a bi-curious artist with a heart of gold (whose family owns the Irish Eyes pub) and a paramedic who avoids emotional entanglements. My only complaint is a plot thread involving a voicemail and an attack that never went anywhere.

Must Be Love by Dallas Coleman. ebook short. Very good short m/m romance about a barista who moved out of the house he shared with his doctor boyfriend, but they continue to hook up with each other.

The Book of Daniel (St. Nacho's #4) by ZA Maxfield. ebook. Good m/m romance about Jake's brother, Daniel, who was seriously injured in the previous book. He's still in St. Nacho's going to physical therapy, waiting for his divorce to go through, admiring a handsome firefighter from afar, and getting grief from people about substituting money for emotion. I would have liked this better if it hadn't made several time jumps near the end, which I thought made the story seem disjointed and somewhat rushed.

Can't Be His (His #3) by Shawn Lane. ebook short. Sweet short m/m romance about an exterminator and a world class figure skater who are roommates, have been friends for years, and have secret crushes on each other.

Library Science Just Got Sexy by EM Lynley. ebook short. Ok short m/m story about a professor involved with a student (although not a student in his program). This is pretty much just a couple of semi-public sex scenes. (And was also previously released as Public Exposure.)

Emerald Moon (Prides of the Moon #2) by Ann Mayburn. ebook short. Ok short paranormal m/m romance about a puma shifter who hasn't seen his mate since killing his mate's serial killer brother many years ago. I suspect I won't be reading more in this series, since it sounds like most of them will be m/m/f.

Love at First Sight (Home #4) by Cardeno C. ebook. Ok m/m romance about a high school senior on a trip to NYC who falls in love with a guy he sees at the hospital holding a newborn and crying. After he graduates, he moves to NYC to find his dream man again, but things don't go as he had hoped. This book was painfully sweet, which isn't my favorite thing. And there were several points in the book when the head hopping drove me nuts.
---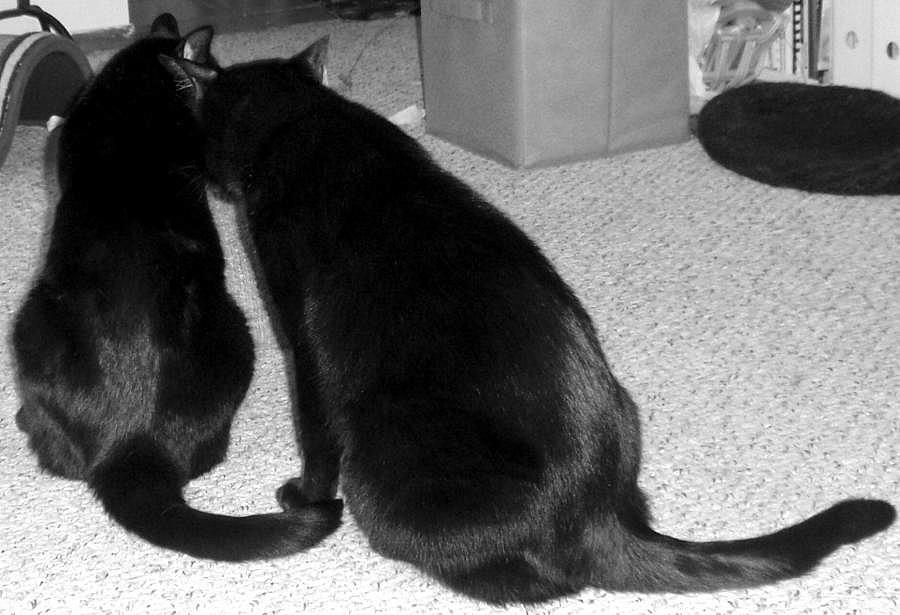 "Aw, come on, May. Don't hold a grudge." -Chaos
"You pulled fur off my butt! Again!!!!! You are mean, big kitty!!!!" -Mayhem