---
---
Congrats to Dianna, who won Accidentally His by Shawn Lane! Accidentally His will be released by Amber Allure on March 20.
Congrats to Tracey D, who won Trust, Love, Submit by Kim Dare! Trust, Love, Submit will be released by Total-E-Bound on March 21.
Congrats to Sandy Jay, who won Treacherous Sun (Nu Hayven, Book 1) by Jade Archer! Treacherous Sun will also be released on March 21 by Total-E-Bound.
---
---
Minneapolis made the news yesterday for a huge gas main explosion! Amazingly, no one was hurt, but if you look at the photo gallery in the linked article, you'll see a melted vehicle and a huge crater. (This was about 50 blocks away from me, so the kitties were in no danger while I was at work.)
---
---
Contests
Bookity
Ebookity
Do, Think, Learn, Make
Crafty
Cool
Cool or Wha…?
Wha…?
LOL
Teh Cute
Reading Update

Time To Do (Perfect Timing #3) by Kim Dare. ebook. reread. Excellent m/m romance about two guys – one gay, one straight – who have been best friends since they were small and are now roommates at college. The gay guy's been quietly in love with his best friend for years, but has been resigned to never being able to touch him… until he finds his friend's list of things to experience, which segues from kissing and having sex with women (all checked off) to kissing a man (not checked off)… This was my first Kim Dare book, and remains my very favorite. 🙂

Settling the Score by Eden Winters. ebook. Very good m/m romance about a small-town mechanic whose formerly small-town, now Hollywood actor boyfriend dumps and outs him on national television. A Pygmalionesque story unfolds after that, as the mechanic goes to work for a bestselling author with his own axe to grind. My only real problem with the book was a personal one – I always get frustrated by books that use dialect; instead of immersing me, the dialect kept jolting me out of the book.

Sebastian's Wolves by Valentina Heart. ebook. Excellent, intense paranormal m/m romance about a wolf shifter who turns wolf for a long time when his mate dies. I had a hard time putting this one down to do anything else!

Of Cocoa and Men by Vic Winter. ebook short. Delightful short paranormal m/m romance about a lone wolf shifter addicted to hot chocolate, even though it's not good for wolves. He becomes fascinated by the scent of the new baker in town, who smells like chocolate to him.

Surviving the Change by Cari Z. ebook. Very good paranormal m/m romance about a lone wolf shifter who can only stay in one place for a few weeks before other shifters force him to move on. Right after he arrives in Denver, he becomes fascinated with an elusive law student bartending in a shifter bar.

Sunrise by Elizabeth Jewell. ebook short. Very good short paranormal m/m romance about a guy with a mysterious lover who shows up every few years and always has to leave by sunrise.

An Assassin's Touch (Lost Shifters #9) by Stephani Hecht. ebook. Good paranormal m/m romance about Leopard shifter and assassin Shane and Panther shifter Trevor, whose lives are much complicated by an evil Cobra shifter.

Shane's Fury (Lost Shifters #10) by Stephani Hecht. ebook. Good paranormal m/m romance about Leopard shifter and assassin Shane trying to find his kidnapped mate.

Tool for Change by P.D. Singer. ebook short. Good short m/m encounter between the nerdy facilities supervisor at a convention center and a sexy electrician. I wanted just a little bit more story…

Herbs de Provence by Jenna Jones. ebook. Good m/m romance about a chef with wanderlust who discovers that his friend's ward has grown up into a gorgeous young man while getting his MBA.

Everyone's Man by Edward Kendrick. ebook. Ok m/m romance about a rent boy who is brutally gang raped and left to die. The ER doctor who treats him realizes he's not safe in the hospital and takes steps to keep him safe. With better editing, this could've been a very good book… presumably editing would've removed such silliness as being able to reach the prostate with a tongue.

Touch My Wolf (My Wolf, Book 2) by Eden Cole. ebook short. So-so short paranormal m/m romance with a dash of m/m/m tossed in. This story about beta wolf Blaine finding out that his mate is one of his pack's enemies was definitely nowhere near as good as the first book. The whole thing was choppy and felt rushed and incomplete.

Make Me (KinKaid Wolf Pack, Book 2) by Jessica Lee. ebook short. Disappointing short paranormal m/m romance that's basically two sex scenes between the couple from Bloodlines, strung together by a bit of plot that was left unresolved.

Heads or Tails by Jenna Byrnes. ebook short. So-so short m/m romance about an accountant, engaged to the boss's daughter, who's been in denial about his attraction to men until he keeps running into the sexy new guy. Warning: This book contains infidelity and graphic m/f sex.
---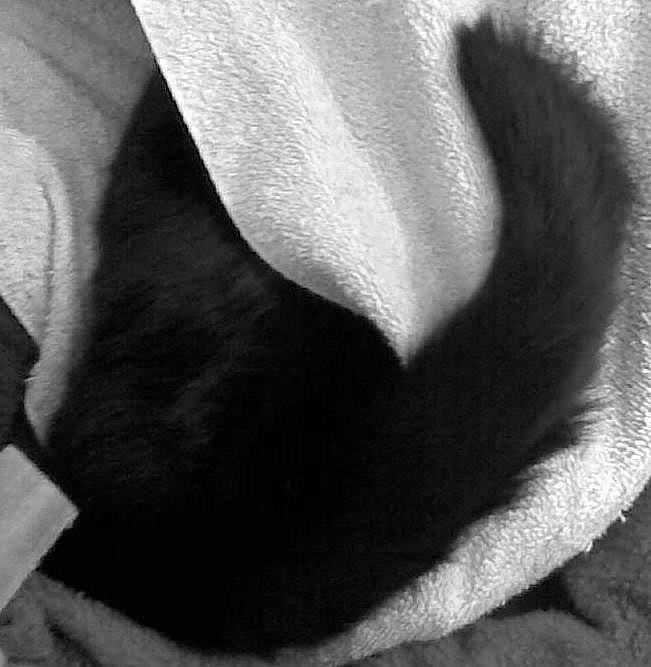 "It's been a long week. I'm hiding!" -Mayhem