---
---
Congrats to Zanara, who won The Wish (2nd ed) by Eden Winters! The Wish is being released today by Dreamspinner Press. And don't forget that a new edition of Valentine Wish (Wish #3) is available as a free read today!
---
Congrats to Majken, who won A Better Man by RJ Scott and Jaime Reese! A Better Man will be released by Silver Publishing on July 21.
Congrats to Erica, who won Daddio (Horizons #3) by Mickie B. Ashling! Daddio will be released by Dreamspinner Press on July 23.
---
---
Contests
Bookity
Ebookity
Do, Think, Make, Learn
Gluten-Free
Cookity
Crafty
Cool
Cool or Wha…?
Wha…?
LOL
Teh Cute
Reading Update

Red-Eye Dawn (Turbulence #3) by Jordan Castillo Price. free ebook short. Very good installment of the serial in which Paul starts to freak out about their situation, but gains calm from an unexpected source.

Temporal Driftwood by Stephen Osborne. ebook short. Cute short m/m romance about a guy who's shown two possible futures for himself… Can he believe he deserves the good one?

An Oral Fixation by Piper Vaughn. free ebook short. Cute short m/m romance about a college student who's had a crush on his bisexual roommate for years, but the timing hasn't worked out to say anything about it.

Naked Truth (Sun, Sea & Submission #3) by Kim Dare. ebook short. Good short kinky m/m romance about a nudist who seems determined to disrupt the (closeted at work) life of the Pendragon Hotel's manager.

Final Atonement (Doug Orlando #1) by Steve Neil Johnson. Good gay mystery set in NYC in the early 90s about a cop, ostracized by his peers for trying to do the right thing, who's trying to figure out who murdered a universally disliked rabbi.

Player and the Prude (Men of Holsum College #4) by Daisy Harris. ebook. Good m/m romance about a wealthy and slutty business major who takes a bet from a friend to seduce a gawky, repressed film student.

Skin Deep (Gray Zone #3) by Adrienne Wilder. ebook. Pretty good paranormal m/m romance about a guy who returns home one day to discover that his boyfriend is very, very sick… and is then plunged into a nightmarish world he can barely comprehend. This was a very mixed read for me – it's a Bittersweet Dreams title, so it doesn't exactly end happily. And I couldn't quite relate to the main character – many of his actions seemed TSTL to me.

Come Cuddle Me by Missy Welsh. ebook short. Ok short m/m romance about a naive young man who posts his address along with an invitation to "come cuddle me" and is rescued from his foolishness by the bearish neighbor he's been crushing on.
---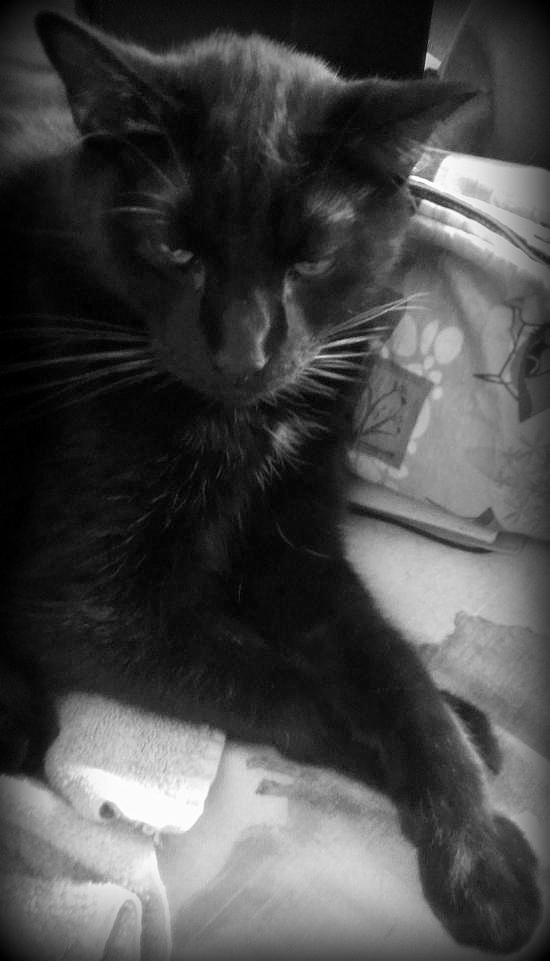 "I can't believe you called me a thug, Mom. Look at how sophisticated and refined I am!" -Chaos