Randonymity
Before
You can't tell from the picture, but that toilet was very low and also almond-colored. The light switch for the main bathroom light was a dimmer switch (one of eight (!!!), now all replaced), which made the lights buzz. It's not easy to take pictures of my wee bathroom, but… Here's what it used to look like: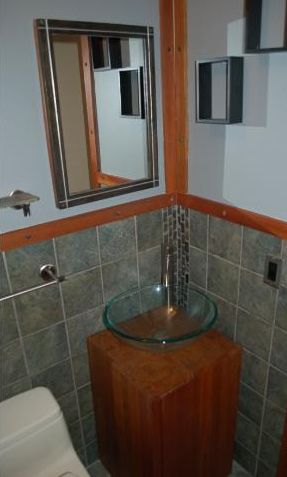 While that vessel sink looked great, it was just too low for me. Plus the vanity developed numerous cracks over the dry winter, so the sink wasn't level anymore and started to leak. Also, the paint on the walls doesn't look that dark in these pictures, but combined with the tiny frosted glass single-candelabra bulb light fixture (on the wall above the toilet, not in frame)… I could barely see myself in the mirror! Also, the grout was an assortment of different colors – red-brown, light gray, dark gray.
After
I sealed all the grout using a medium-gray tinted sealer (tinted sealer looks great, but it is sooooo much work), had the walls repainted a much lighter gray-green (SW Rare Gray), had the low almond toilet replaced with a "comfort height" white toilet, had the low sink and vanity replaced with a taller but less wide sink and vanity, had the ineffective single-candelabra bulb light fixture replaced with a three-bulb fixture, switched out the (black) dimmer switches and a white, now black, GFCI outlet… Much better now!
Bookity
Think, Make, Do, Learn
Cookity
Gluten Free
Cool
Cool or Wha…?
Wha…?
LOL
Teh Cute
Reading Update
No time to read! Remodeling!
---
"Hee hee! May will never notice me hiding behind this box until it is too late!" -Chaos