Congrats to Orannia, who won the copy of Freeze Frame (Faerily Imperfect, Book3) by Mia!
Many thanks to Kris, as I was one of the winners in the Kris'n'Good Books m/m rut challenge!
---
Contests
Reading and Beyond
Learn and Make Stuff
Things That Amused Me (or Made Me Go "Huh?")

Teh Cute
Reading Update

Duty and Devotion by Tere Michaels. ebook. Very good m/m romance primarily about the guys from Faith and Fidelity and how their relationship and lives develop. Recommended, but you must read both Faith and Fidelity and Love and Loyalty first. That shouldn't be a hardship. 🙂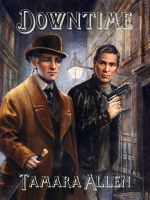 Downtime by Tamara Allen. ebook. Excellent time travel m/m romantic suspense about an FBI agent from the present who ends up back in 1888 London. I don't want to say anything more about it (besides my getting rather tearful at one point), except that, yes, it was rather historical. And I don't read historicals. I guess I'm mellowing!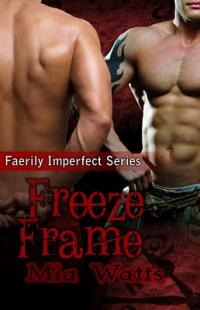 Freeze Frame (Faerily Imperfect, Book 3) by Mia Watts. ebook. Fun'n'steamy paranormal m/m romance about a half-faery PI whose unpredictable ability to freeze time might be more hindrance than help as he becomes involved with a guy he's supposed to be following. Hijinks ensue. 🙂

Can't Hurry Love by M. Jules Aedin. ebook. Another fun paranormal m/m romance, this time about a guy who, as his probation from the Easter Bunny Department, is assigned to help a guy in the Cupid Department who isn't meeting his quotas or completing his paperwork.

Windows in Time by M. Jules Aedin. ebook. Very well done m/m romantic suspense/ghost story about a writer, convalescing in his apartment after breaking his leg, who sees a guy in the apartment across from his do a striptease… and then dissipate.

All the Things You Are by M. Jules Aedin. ebook. Sweet (but not too sweet!) m/m romance about a guy who's just finished college and moved to San Francisco from Alabama. He'd been hoping to play pro football, but a knee injury ended that possibility; instead, he plans to explore life uncloseted, which he wouldn't have been able to do as pro football player.

Simple Men by Eric Arvin. ebook. Decent m/m romance about a straight college football coach who finds himself inexplicably attracted to the new college chaplain. There's another storyline about two of the football players who are best friends and roommates.

Drawing Closer by Jane Davitt. ebook. Good m/m romance about a professor who tries to resist a slightly younger painter because he doesn't believe the painter could be attracted to a D/s lifestyle. (I find this cover very disturbing, because it looks like the guy lying down is missing the lower half of his body.)

Pineapples & Chocolate by E.M. Lynley. free ebook short. Nicely done m/m short story (and free!) about a guy out grocery shopping, hoping to score.

Last Chance by Viki Lyn. ebook. This m/m paranormal romance really drew me in and I'm glad I didn't start reading it right before bed, because I might have stayed up too late. A sexy science major is desperately trying to find a cure for his encroaching vampirism, so he certainly doesn't need the distraction of a straight football player as his time runs out… or does he?

Hearts Afire: January by Bonnie Dee & T. A. Chase. ebook collection. I enjoyed Bonnie Dee's paranormal m/m romance about a guy who inadvertently starts fires when he gets stressed, excited, etc. Will the sexy firefighter he meets believe him, or think he's an arsonist? T. A. Chase's m/m romance about a firefighter, an architect scarred by fire, and an arsonist stalker was ok… but, oh, am I ever sick of stalker stories…

Hearts Afire: April by Emery Sanborne & Jamie Craig. ebook collection. I thought that both of the m/m romances in this collection were very good. In Emery Sanborne's, two firefighters in the same station don't fight their mutual attraction very much, but things are complicated by them being just about the worst communicators ever. (Possibly worse than me! Impressive, that.) In the Jamie Craig story, a guy who was blinded in a car wreck looks up the firefighter who talked him through the rescue…

The Messenger by Adrianna Dane. ebook. Ok m/m holiday romance with some slightly squicky voyeurism and another darn stalker! Ack! Please. No more stalkers! (Also, I'd figured out what the big reveal was going to be by the time I'd read half of the story…)

Timeless by Patric Michael. ebook reread. Good m/m romance about two guys, one straight, one gay, who become friends in high school and stay friends, helping each other through the ups and downs of their lives and loves.

Reckless by Rick R. Reed. ebook short. Good, albeit disconcerting, short m/m story about a guy accused of passing HIV on to a one-night stand.

Moving Day by Jaime Samms. ebook. Nicely done m/m romance about a guy afraid to take a chance on love, and his best friend, who has loved over and over and watched too many of those loves die.

Apron Strings by Jaime Samms. ebook short. Well done m/m romance short about two guys in a relationship that's gone a little stale over time.

The Best Man by Jenna Jones. ebook short. Hmm. Another well done m/m romance short about two guys in a long-term relationship that's gone a little stale over time.

Wild Lickins by Amber Skyze. ebook. Between the title and the author name, I should've been warned, eh? Meh m/m romance about a guy who goes to a gay resort in an attempt to get over his attraction to his business partner, with whom he owns the ice cream shop Wild Lickins. It wasn't too bad at first, but after some rather twisted duplicity was revealed, I was over the story. And it got worse as the dialogue deteriorated.
---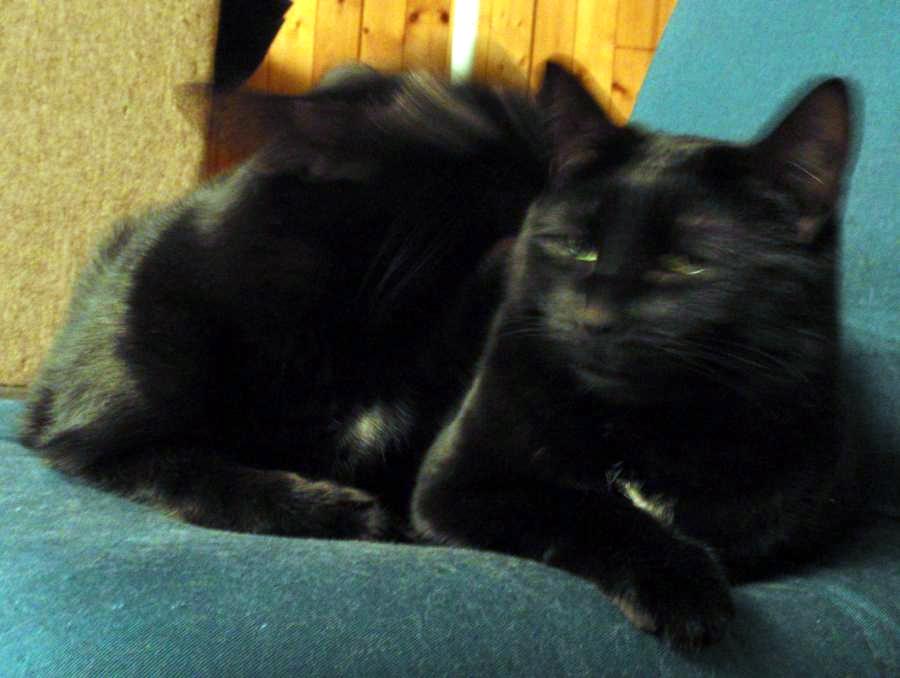 *sigh* "Always with the ear cleaning, big kitty…" -Mayhem