---
---
Congrats to Laura R, who won The Working Elf Blues by Piper Vaughn! The Working Elf Blues is being released today by Less Than Three Press.
---
---
Many thanks to Clare London for donating an ebook copy of her freshly re-released m/m romance, Dear Alex (2nd ed), for a lucky commenter to win!
Alex Palmer writes the Agony Uncle column for Meant for Men – a magazine aimed at gay men, for their life and issues. What started as a genuine and ground-breaking feature has become a snark fest, due to Alex's boredom and personal cynicism. His respect for the correspondents has dwindled away in direct relation to his own self-respect as a journalist. He no longer believes in his readers' search for a soulmate, or in the column's headline: "Is He Really the One?"

In the early days, Robbie Cooke was Alex's co-presenter of the column. They'd been lovers, too. But that's now all in the past. Unlike Alex, Robbie still sees the anguish and need behind the letters received by the magazine. He wants to help the writers, rather than turn their situations into journalistic entertainment. He and Alex may still work as partners on the magazine, but their fundamental disagreement on style means they're no longer partners off.

A life of excess and casual lovers is wearing Alex out, yet he's in denial. He's determined he doesn't need Dear Alex to set him straight about what's wrong with his life. But gradually he comes to realise what he's really missing: Robbie's sense and compassion, and his love back in Alex's life. The problem is, by the time Alex is desperate to make amends, Robbie may have already moved on.

This story was originally published as "Dear Alex" in the Dreamspinner Press anthology Make Me a Match.
Excerpt (scroll down)
About Clare
Clare took the pen name London from the city where she lives, loves, and writes. A lone, brave female in a frenetic, testosterone-fueled family home, she juggles her writing with the weekly wash, waiting for the far distant day when she can afford to give up her day job as an accountant. She's written in many genres and across many settings, with novels and short stories published both online and in print. She says she likes variety in her writing while friends say she's just fickle, but as long as both theories spawn good fiction, she's happy. Most of her work features male/male romance and drama with a healthy serving of physical passion, as she enjoys both reading and writing about strong, sympathetic and sexy characters.

Clare currently has several novels sulking at that tricky chapter 3 stage and plenty of other projects in mind… she just has to find out where she left them in that frenetic, testosterone-fueled family home.

All the details and free fiction are available at her website. Visit her today and say hello!

You can also visit Clare at her blog, website, Facebook, Twitter, and GoodReads.
Contest Rules
To enter, leave a comment below stating that you are entering the contest. Contest closes 7 pm CST, Monday, December 29.
By entering the contest, you're confirming that you are at least 18 years old.
If you haven't commented before, your comment will not be visible until after I moderate it. Please do not leave a second comment because your first doesn't show up! The blog gnomes will decide your comments are spam and then only luck and counterintuitive espionage will salvage your entry…
If your comment is actually an advertisement or if your CommentLuv link turns it into an advertisement, your comment will be deleted. (Most of you do not need to worry – this refers to some pretty clever comment spam.)
Winner will be selected by random number.
You must leave a valid email address in the "Email" portion of the comment form.
Please make sure that your spam filter allows email from stumblingoverchaos.com!
If a winner doesn't respond to my congratulations email within 48 hours, I will select another winner.
If you win, please respect the author's intellectual property and don't make copies of the ebook for anyone else.
This contest is open worldwide!
---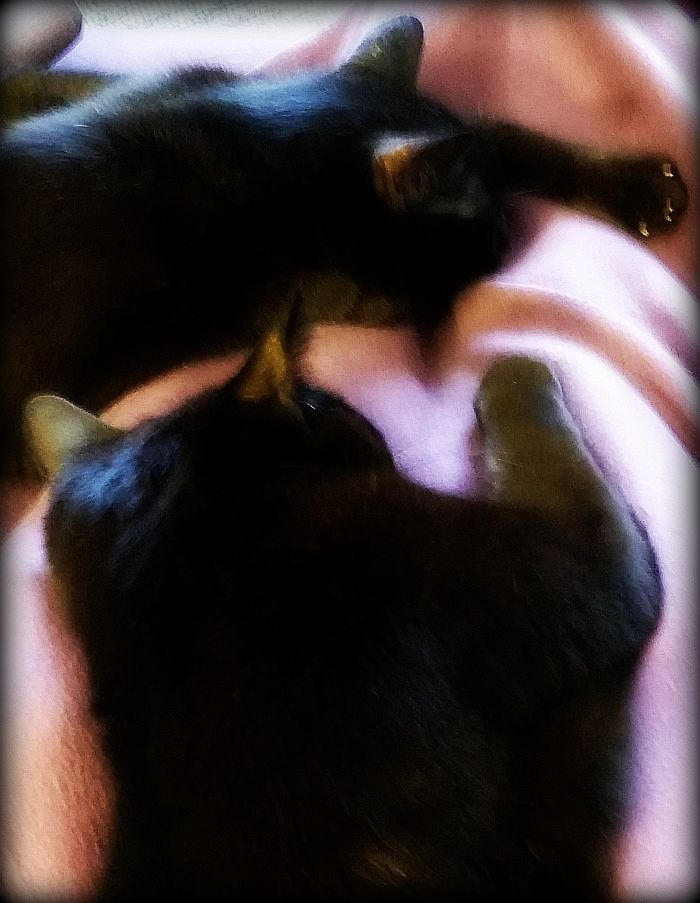 "…zzzzzzzzzzzzzzz…" -Chaos & Mayhem, being a lovely warm catghan on my legs