Congrats to Jenre, who won her choice from LA Witt's backlist!
Congrats to cturtlechick, who won Why Jay Ran Away (Contact, Book 3) by Jade Archer! Why Jay Ran Away will be available from Total-E-Bound on October 18.
Congrats to Mary F, who won Blood and Alchemy (Drone Vampires, Book 11) and a bonus copy of The Third Floor by Stephani Hecht. How did Mary get so lucky? Well, after I kicked off the contest for Blood and Alchemy, the publication date got changed from October 15 to October 31; The Third Floor is being released today instead. Stephani's giving Mary a copy of The Third Floor to help tide her over until the 31st – and you can still enter to win a copy of The Third Floor. 🙂
---
Contests
Bookity
Ebookity
Think, Learn, Make, Do
Linkity Peeps
Halloweeny
Cool
Huh
LOL
Teh Cute
Reading Update

Like Pizza and Beer (Dino & Seth, Book 2) by Elle Parker. ebook. Excellent m/m romantic suspense that you should not even pick up until you've read the first book, Like Coffee and Doughnuts. That won't be a hardship. 🙂 Dino takes on two new cases: one for Seth, trying to find dirt on Seth's sister's scumbag boyfriend, the other for his own ex-girlfriend, which makes Seth very jealous. Add to that Dino's own discomfort with anyone knowing that he's dating Seth…

Between a Rock and a Hard Place by Clare London. ebook. Very good short m/m romance about a guy waiting at the airport for a very good friend who's been overseas for a final job interview. Since his friend's flight turns out to be delayed 12 hours, he has plenty of time to think about how much he'll miss his friend and how much he screwed up the last time they saw each other. Some very unusual people sit near him and help distract him from his thoughts… or do they?

Picture Postcards by J.M. Snyder. ebook short. Very good short m/m romance about a guy, in love with his best friend, who drifts out of touch after his friend marries a woman… and then a postcard arrives in the mail.

Bittersweet Seasons by Fabian Black. ebook. Very good collection of short, poignant m/m romances, most of which touch on seasons or time passing.

Maxxed Out by Treva Harte. ebook. Good m/m romance about Max, a college student who hasn't come out to his parents, who shows up at the door of his (deceased) brother's best friend with an agenda… The one detractor was the alternating first person, which, while done pretty well, was confusing at times.

Sub for Hire by Claire Thompson. ebook. So-so kinky m/m romance about an author who works as a sub-for-hire at a professional dungeon until he can support himself with his writing. He can handle the job, as long as he's able to keep his emotions detached, because he actually longs for a loving D/s relationship. Again, I just can't engage with Claire Thompson's older books the way I can with her newer books. This was particularly challenging, because I wasn't overly fond of the dominant characters.

Burning Up by Z.A. Maxfield. ebook short. Good short m/m romance about a fire dancer, entertaining on the street, who gets heckled by a drunken idiot with a quieter, nicer friend.

Lockdown by Augusta Li & Eon De Beaumont. ebook short. Ok short m/m story about a superhero and a supervillain who are locked in a nuclear power plant after their fight damages the core…

In Knots by Celia Kyle. ebook short. Meh kinky short paranormal m/m romance about a human sub who goes to a werewolf bdsm club. At least there were some amusing editing fails.

Call Me Sir, Too (Sir, Book 2) by Stormy Glenn. ebook. Meh kinky m/m romance about a Dom and sub who met in the first book. Since then the Dom's been gone on mysterious business and the sub's been seriously traumatized and injured by an evil Dom. Will the good Dom be able to get the sub to trust again? My favorite line in the whole book (and I'm reproducing it exactly!): "That strange twinkled shinned in Dante's eyes again."

The Magic in Your Touch (Reed, Book 1) by Sara Bell. ebook. Meh m/m romance from an author whose more recent work I really love. Chicks with dicks, insta-love, stalker(s)… *sigh*

You Don't Need a Doctor by Julia Talbot. ebook short. Doctors Without Borders Charity Sip Blitz. Good short paranormal m/m romance about an ER doctor who notices that the shooting victim he's treating is awfully hairy and has very pointy teeth and is healing very fast… This would've been better as a longer story, because so much was crammed in.

El Cedral by Kiernan Kelly. ebook short. Doctors Without Borders Charity Sip Blitz. Very good short m/m romance about a doctor from NYC, taking a sabbatical from his cushy hospital job, who agrees to help out an old friend at his clinic on an impoverished Mexican island.
---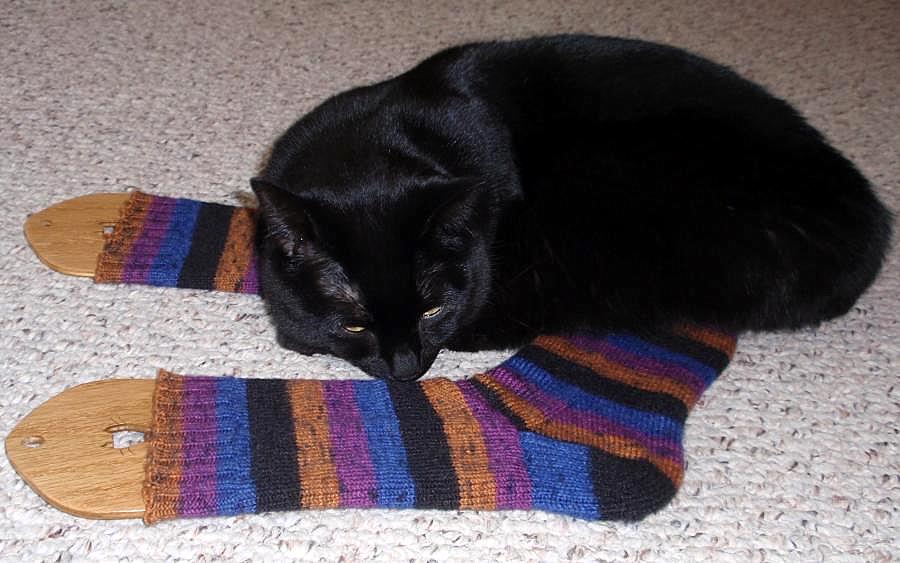 "None of you better be thinking of trying to steal my stripey socks! I'm keeping an eye on you!" -Mayhem