Congrats to Harper, who won Like Pizza and Beer by Elle Parker! Like Pizza and Beer was released by Lyrical Press on Monday.
---
Many thanks to Stephani Hecht for donating an ebook copy of her forthcoming paranormal m/m romance, Blood and Alchemy (Drone Vampires, Book 11), for a lucky commenter to win! Blood and Alchemy will be released by eXtasy Books on October 15 31.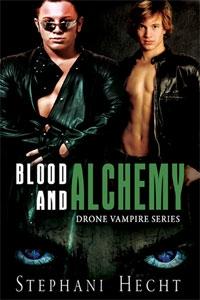 Reunited with his clan and having found his mate, Drone Vampire Nolan only wants to settle in his new home and start his happily ever after with the formerly evil warlock, Donavan. But you can never rest easy when you're part of the supernatural world – a lesson Nolan learns the hard way when his clan is attacked by a group of rogue demons. Soon he finds himself struggling to stay alive while protecting Donavan from his own good intentions. It doesn't make things easier that Donavan's brother and cousin have developed the nasty habit of blowing up anyone who pisses them off, either.

Then Donavan's relatives kill the wrong demon and things become more perilous than ever. Will Nolan be able to save the love of his life and his clan? Or will he be forced to make the most heart-wrenching decision ever and pick one over the other?
Stephani's Other Books
About Stephani
Stephani Hecht is a happily married mother of two. Born and raised in Michigan, she loves all things about the state, from the frigid winters to the Detroit Red Wings hockey team. Go Wings! You can usually find her snuggled up to her laptop, creating her next book or gorging on caffeine at her favorite coffee shop.

When she's not running around like crazy, trying to get her kids to their various activities, she's working on numerous projects.

You can visit Stephani at her blog or her website.
Contest Rules
To enter, leave a comment stating that you are entering the contest. Contest closes 7 pm CDT, Thursday, October 14.
If you haven't commented before, your comment will not be visible until after I moderate it. Please do not leave a second comment because your first doesn't show up! The blog gnomes will decide your comments are spam and then only ritual dust bunny sacrifice will salvage your entry…
If your comment is actually an advertisement or if your CommentLuv link turns it into an advertisement, your comment will be deleted. (Most of you do not need to worry – this refers to some pretty clever comment spam.)
Winners will be selected by random number.
You must leave a valid email address in the "Email" portion of the comment form.
Please make sure that your spam filter allows email from stumblingoverchaos.com!
If a winner doesn't respond to my congratulations email within 48 hours, I will select another winner.
If you win, please respect the author's intellectual property and don't make copies of the ebook for anyone else.
This contest is open worldwide!
---
"Mom! Mayhem was so annoying I had to leave, and then she took my spot!" -Chaos
---
Make sure you enter the contest for Ellery's Duty (Thrown to the Lions, Book 3) by Kim Dare! Contest closes 7 pm CDT, October 12.