Contest Update
Reading & Beyond
Yay, Minnesota!
Get Your Geek On
Eh, Canada
Yum
Fun & Kitties & Goats, Oh My

Reading Update
Thanks to jmc of Shuffling through a book-less desert, where I won a copy of the historical m/m romance, Seducing Stephen!
Love Ahead by Madeleine Urban & Abigail Roux. ebook collection. These two m/m romances were decent, but you can definitely tell that they were older stories from Urban and Roux. And, as Tam pointed out when she read them a week or two ago, how names are used in each story was definitely odd. In the first, both guys mostly used each others' last names. That was ok, since they knew each other through their work at a construction site. Then, later in the story, when they started to use each others' first names, it was obviously supposed to indicate their growing closeness and intimacy. I get that. But why the hell did they both have first and last names that could be first or last names?! It was so confusing. So very confusing. And in the next story? The name thing? Really? You never exchanged actual names after talking to each other on the phone for months? *headdesk*

Snow Plowed (Bay City Paranormal Investigations) by Ally Blue. free holiday short. This was a cute'n'steamy m/m Valentine's short with the characters from Love, Like Ghosts. And if you haven't read the Bay City Paranormal Investigations series, what are you waiting for?! It's one of the series that sucked me into reading m/m romance. Hmm… Ok, maybe that's why you haven't. 😉
Petit Morts 1-5:
Hue, Tint and Shade;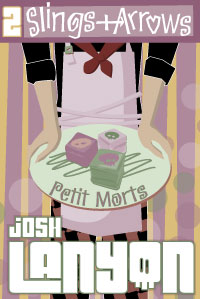 Slings and Arrows;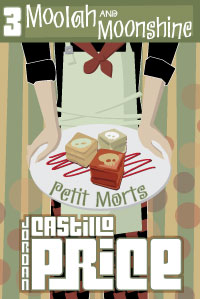 Moolah and Moonshine;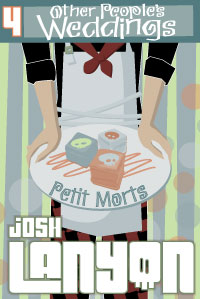 Other People's Weddings;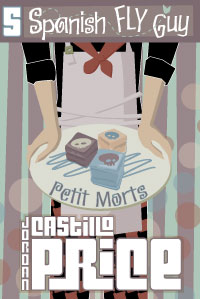 Spanish Fly Guy (1, 3, 5 by Jordan Castillo Price; 2, 4 by Josh Lanyon). ebook shorts. These delightful little m/m romances are all loosely based around a mysterious chocolate shop and Chance, its equally mysterious proprietor. Although I enjoyed each and every one, I think that #4 (Other People's Weddings by Josh Lanyon) was my favorite, with #1 (Hue, Tint and Shade by Jordan Castillo Price) following closely behind. Recommended. (Val at Obsidian Bookshelf has much more detailed reviews of the Petit Morts, as does Jenre of Well Read.)

Holiday Outing by Astrid Amara. ebook. Another delightful Hannukah m/m romance from Astrid Amara! A successful author of gay fiction, still closeted to his family, gets snowed in with his family (and a high school nemesis) for Hannukah.

Fantasies: Thanksgiving by Cassandra Gold. ebook. Enjoyable m/m romance about two guys, one gay, one straight, who have been friends for many years… and then something changes in their friendship. (We'll be revisiting this cover image at some point in the future, too.)

True North (Lost Boys & Love Letters, Book 1) by Bethany Brown & Ashlyn Kane. ebook. Darn good m/m romance about a deeply closeted petroleum engineer and the new doctor in town, and about how limiting it can be to let your fears control you.

Picture Perfect (Lost Boys & Love Letters, Book 2) by Bethany Brown & Ashlyn Kane. ebook. Ok m/m romance that started out feeling like a freestanding story, but seemed as if, partway through, it suddenly needed to become part of a series (the few paragraphs that were apparently supposed to tie it to True North didn't seem, to me, to fit)… probably right about the time it detoured into m/m/m for a bit. Very ambivalent about reading the third book.

Hero by Heidi Cullinan. ebook. This was another read for Kris' m/m rut challenge. This was a fantasy (I guess sort of an urban fantasy, actually) based on the Japanese myth of the kitsune. Intellectually, I could tell it was a pretty good story, but I was fighting against the fantastical elements of the story the entire time. So, basically, I don't think I can fairly rate this one.

Heart and Soul (The Assignment, Book 2) by Evangeline Anderson. ebook. Ah, this poor m/m romantic suspense got a bit caught in my expectations for it (sequel to The Assignment!) and my discomfort with parts of the story itself. Don't get me wrong – it was a decent read and definitely worth reading if you enjoyed the previous book (and subsequent shorts) – but I had trouble reading around all the plot holes. *sigh*

Coach,
In Bear's Bed,
Office Advances, and
A Biker's Vow (Campus Cravings, Books 1, 7, 8, & 9) by Carol Lynne. ebooks. Reading Carol Lynne is like eating potato chips – not very filling and you know they're probably not good for you, but you just can't stop. O_o As you might guess from the name of this series, it's set on a college campus. (And yes, that is Candy Cane Guy In Bear's Bed! That naughty boy…) Oddly, at the end of A Biker's Vow, this series appears to be intersecting with Lynne's Cattle Valley series.

Sonny's Salvation (Good-Time Boys, Book 1) by Carol Lynne. ebook. See my comment on reading Carol Lynne books above. 🙂 Sonny quit the FBI to run the family ranch in Nebraska after his dad died. Too bad there aren't many gay men in rural Nebraska… (And I already know I won't be reading past the third book in this series, based on the subject matter of the fourth book.)

Rules Were Made To Be Broken by Lenore Black. ebook. Pretty good m/m romance about a guy who recently took over running the family sporting goods store and his (straight) best friend who's feeling a bit jealous of the store and all the time it takes up. Very nice review of this and Lenore Black's other works over at Dear Author.

Dead Men Get No Tail by Misty Malone. ebook short. Ok m/m romance about two college roommates, one of whom decides to have a fake funeral for himself. This one left me sort of "Huh?"

Fool for Love by Cassandra Gold. ebook. I'm not a big fan of May-December romances, but Cassandra Gold does a nice job with this m/m romance between a professor and his college student neighbor.
---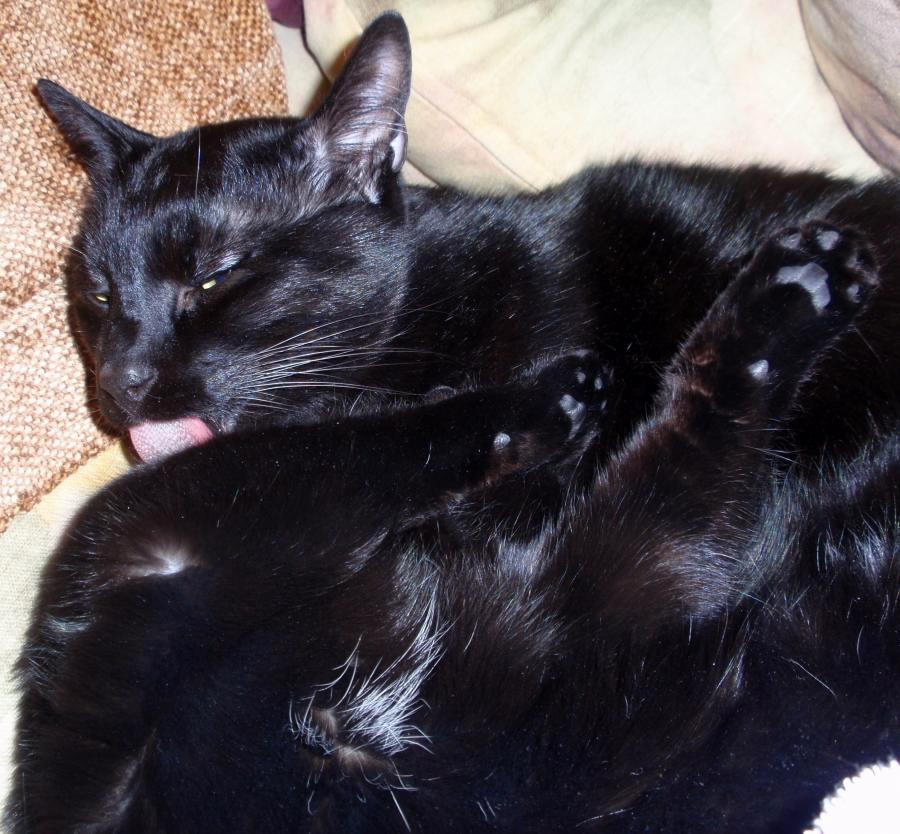 "Sheesh, May, you totally missed this spot by your elbow when you were bathing. What a slob." -Chaos
*strikes kitty yoga pose #742* -Mayhem