---
---
Congrats to Vicki T, Tina, and Lauren L, who won the Three Fates anthology by Mary Calmes, Andrew Grey, and Amy Lane. Three Fates is being released by Dreamspinner Press today.
Congrats to Pat N, who won Accounting for Luke (Dangerous Lovers #2) by Amber Kell!
Congrats to Sally, who won Summer School by Tam Ames! Summer School will be released by Silver Publishing on July 28.
---
---
Contests
Bookity
Ebookity
Do, Think, Make, Learn
Cookity
Drinkity
Crafty
Cool
Cool or Wha…?
Wha…?
LOL
Teh Cute
Reading Update

Wacky Wednesday by JA Rock. ebook. Very good kinky m/m romance about a dom and his younger sub who haven't been connecting very well recently… and then they wake up to find they've switched bodies, which definitely gives them the chance to understand each other better!

Daddio (Horizons #3) by Mickie B. Ashling. ebook. Very good m/m romance that picks up six months after the second book as Lil and Grier settle into their relationship – Lil learning to parent, Grier working to control his anger, and both of them learning to communicate and compromise. Jody and Clark are back, too! Plus there's plenty of smutty goodness to go around. 🙂

Marlowe's Ghost by Sarah Black. ebook. Very good paranormal m/m romance about a former Marine turned history scholar who goes to England at the request of a professor to check up on the professor's sickly, scholarly nephew and perhaps shepherd him back to the US. The lyrical writing was vaguely scholarly and packed with info about Christopher Marlowe, yet didn't have the brain dump quality that some of Black's other works have had.

A Better Man (The Men of Halfway House #1) by RJ Scott & Jaime Reese. Very good m/m romance about a contractor who's been unable to find work and is about to be homeless, so he answers an ad for a handyman job that turns out to be much, much more. And what's up with his secretive, prickly, and attractive new boss? I'm glad there's a sequel planned, because I want to see what the next chapter of their lives looks like!

The Auspicious Troubles of Chance (The Auspicious Troubles of Love #1) by Charlie Cochet. ebook. Very good historical m/m romance about a guy who lost everything that mattered to him and has been living on the edge ever since. He knows he can't keep going on as he has been, so… he joins the French Foreign Legion.

Roses in the Devil's Garden (Fallen Rose #1) by Charlie Cochet. free ebook short. Very good short historical m/m romance about two NYC Prohibition agents who constantly have to be on the lookout for agents on the take. Definitely looking forward to reading the next book!

Lost in My Waking Dream by Charlie Cochet. ebook short. Good short sort of historical romance, sort of not (can't say more without being spoilery) about a guy who feels as if he's surely been going crazy since the Great War.
Latin Boyz by PA Brown. ebook. Good but unevenly paced m/m suspense with a tiny bit of almost romance thrown in. Actually, this reminded me of an Oprah book – the depressing stuff tended to overwhelm the happy moments and… it did not end so well.
---
People periodically ask how I get such good pictures of Chaos and Mayhem. (Aw, thank you!) The secret is to take lots and lots of pictures, crop, and don't be afraid to tweak the pictures to make them more interesting (plus tweaking can hide a multitude of problems). I'm all about simplicity when I work on pictures – I use a simple photo editor to crop and then tweak in Picasa. Here's a crappy original:
Here's the crappy original cropped to focus on the cats:
And here's the cropped and tweaked final version (still crappy, but more interesting):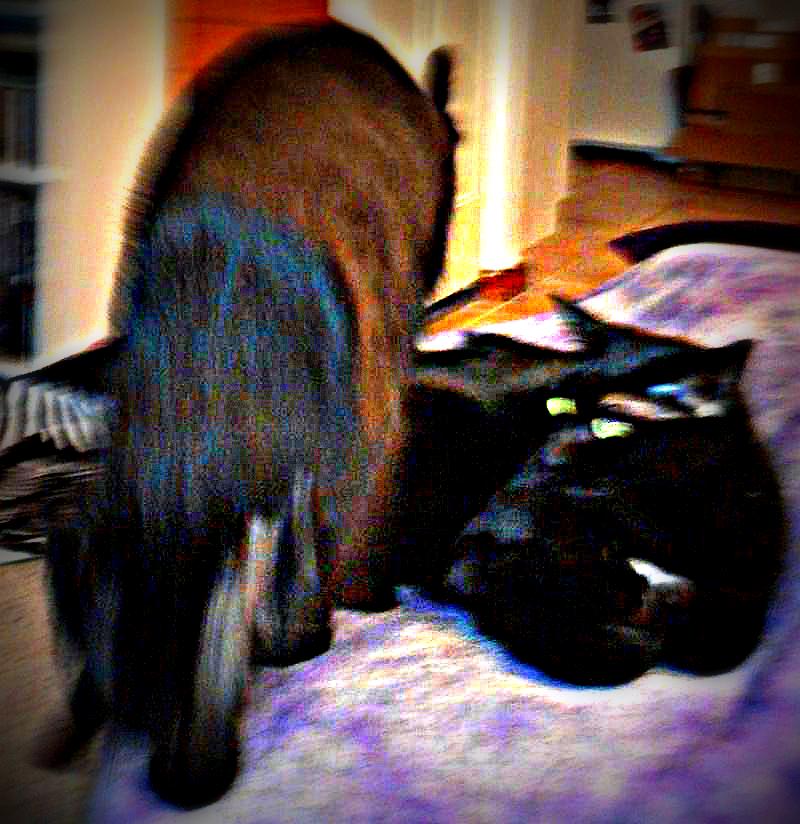 "Quit taking my picture! I'm outta here." -Chaos
"Yeah! What the big kitty said! You are trying to steal our souls!!" -Mayhem