Contests
Jackie of Literary Escapism is holding a baby pool – two lucky winners will receive $15 gift certificates to the online bookstore of their choice.
Ms Moonlight is giving away five print m/m romance books (Tri-Omega Mates by Stormy Glenn; Switch by Claire Thompson; Frost Fair by Erastes; Male of the Species by Kate Steele; Polar Reaction by Claire Thompson) to a follower of her blog. Contest closes noon EDT, May 7. You must live in the US or Canada to win.
Free Reads
Check out the Free Gay Ebooks page at the GLBT Bookshelf, which has free stories from Josh Lanyon, Mary Calmes, Victor J. Banis (the first Stanley and Tom Deadly mystery! I love that series.), Eden Winters, P.D. Singer, P.A. Brown, Claire Thompson, and more. (Thanks to Mary Calmes for the link!)
My Reading Update (below) has links to some of the books above, plus links to additional free m/m romance ebooks. Apparently it was freebie week!
Reading & Book Miscellania

Beware this nasty and elaborate scam in which victims are pressured to accept a "'pre-trial settlement' for copyright violations."
Hmm. This bookcase seems like it'd be a bit hard on books – but what great exercise!
Ebook News & Views
Covers
Thanks to SciFiGuy for the link to the amusing Good Show, Sir blog, which features the very worst of scifi and fantasy covers, complete with snarky commentary.
Reviewing
Learn, Make, Do, Think
Lay's has restructured salt to help it dissolve faster and reduce the amount of salt needed for taste.
Huh
Gluten-Free
LOL
The Cute
Reading Update

All or Nothing (Taking the Odds, Book 3) by James Buchanan. ebook. Very good m/m romantic suspense, being the continuing adventures of Nicky and Brandon. With a beloved series, I always worry that a new release won't live up to the previous books, but I should've known better. So go. Go get the first book, Cheating Chance, and read it. I'll wait. 🙂

Only for Him (Only, Book 2) by Shawn Lane. ebook. Sweet m/m romance about a slightly outrageous administrative assistant at a law firm who's really attracted to a cutely nerdy guy (one of the firm's partners).

Cow Pie Bingo by Addison Albright. ebook short. reread. A guy who's recently realized that he's gay but has no idea what to do next discovers a very cute guy in line at his kissing booth…

The Wish by Eden Winters. ebook. Very good m/m paranormal romance about two guys who have never met, but dislike each other based on reputation and circumstance. (Hmm. Possibly my most vague summary ever!) I don't want to tell you too much about the story, because part of what I enjoyed about it was reading and putting the pieces together. How about I just say I highly recommend it? 🙂

The Boy Under the Bridge by Eden Winters. ebook short. This is about a character who makes a brief appearance in The Wish and isn't treated particularly well or shown in the best light – it's surprisingly satisfying to find out what happens to him. You should definitely read The Wish first!

The Telling by Eden Winters. free ebook. Good m/m romance about a soldier who returns from Iraq suffering from PTSD and crippling guilt.

The French Have a Word for It by Josh Lanyon. free ebook short. Very good short m/m romance about a young man painting in France who runs into the bodyguard who rescued him from kidnappers when he was a teen.

Pinky Swear by Lynn Lorenz. ebook. Good m/m romance about two guys who grew up next door to each other in New Orleans and were best friends until a misunderstanding drove them apart and they lost touch… and then Hurricane Katrina arrives.

Upwardly Mobile by Clare London. ebook short. Steamy m/m romance about a couple talking to each other on the phone, one from his parked car, the other from the train…

Home Sweet Home by Clare London. ebook short. Ok m/m romance about a couple who have been taking a break from each other, not sure that their differences are surmountable.

Swap Meet by Lolita Lopez. ebook. This m/m romance is terribly misnamed. It should be The Straight French Billionaire and the Gay Firefighter, especially since it reads like a smokin' hot category romance, complete with the slightly awkward writing. The straight French billionaire is accompanying a female coworker to a partner swapping event – he's just there because she needs to appear to be part of a couple to get in. A mysterious, magnetically handsome man gives the billionaire a card with just a name and a room number and the billionaire cannot resist going to the room… (Issue: If this is a couple's event, who the heck did said magnetically handsome man arrive with? That's never mentioned.)

Last One Standing (The Five of Swords) by Andy Slayde & Ali Wilde. ebook. Decent m/m romance about a prostitute who tries to blackmail a customer and instead ends up off the streets, working as a dishwasher. I liked this a lot more before the ending – it felt like the story simply stopped. If this kicks off one of those Torquere serials, I'll be mightily annoyed. (Also, if they managed to tie the Tarot into this Arcana, I completely missed it.)

Angelfish by M. King. ebook. Very good m/m story about a guy, back in New Zealand after attending college in England, who isn't settling comfortably into parental expectations as he's haunted by the mocking image of a tattoo.

The Ice Shack by M. King. ebook short. Good m/m short about a couple getting away from their families over the holidays.

First Day of Forever by Mary Calmes. free ebook short. Sweet m/m romance about two guys who were best friends growing up. Did one wait too long to figure out what he wanted? (Needs a few more commas…)

If by Rowena Sudbury. free ebook short. Meh m/m story about two martial artists who train and live together, until one realizes the other has been lying to him. I didn't really care about either of them by the end of the story, so… *sigh*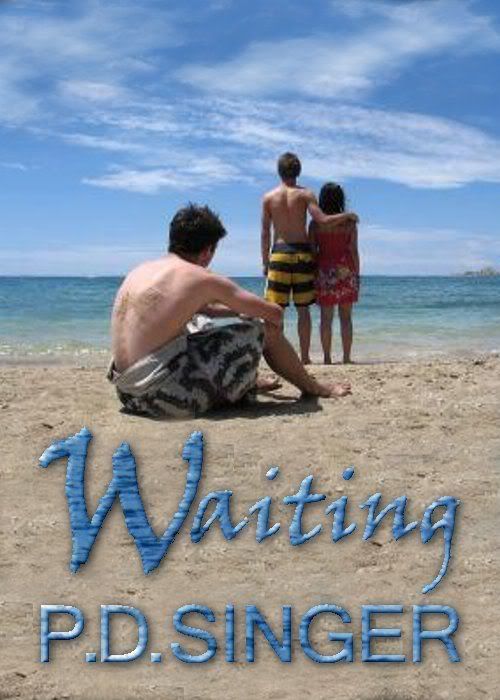 Waiting by P.D. Singer. free ebook short. Good m/m romance about a spring break that gets off to a really rocky start when Daniel's boyfriend shows up at the airport with a girl clinging to him.

More Than Just a Good Book by Sloan Parker. free ebook short. Very good m/m short story about two guys who meet in the college library. *fans self*

Gregori's Ghost by Sarah Black. free ebook. Very good m/m romance about a neurologist whose dying grandfather charges him with looking after the son of a man befriended by his grandfather during WWII. I'm definitely going to be reading more Sarah Black.

Some Place Only We Know by Christiane France. ebook. Ok m/m romance about a rather innocent bookstore owner who volunteers at a hospice, where he meets a writer who's visiting his brother. Beware! Instalove alert!

The Five of Wands by Sara Bell. ebook. Decent m/m romance about a resident suspended after being accused of a careless medication error who finds help from an unexpected source.

Only Human by Glyn Soitino. ebook short. Good paranormal m/m romance about a man, created by a wizard with all the knowledge he needs to survive, who falls for a closeted cop. I didn't realize until I was well into this story that it was the sequel to Out of the Blue. Oh well.

Hoosier Werewolf: Howl and Prowl by Kate Steele. ebook collection. Very good paranormal m/m romance collection of three stories about werewolves finding their mates. The cover's the usual Changeling Press horror and the title's kind of weird, but this was one well-done and scorching read.

BDSFerret by Celia Kyle. holiday ebook short. While this m/m paranormal romance about a ferret shifter going to a prairie dog shifter bar is billed as being a satire, it only managed that once or twice.

Passion's Victory by K.C. Kendricks. ebook. So-so m/m romance about a guy who owns part of an architectural firm and can't resist the newly contracted, older architect. Does Kendricks always write in first person point-of-view? Seems like it, from what I've read. Not my favorite, especially when the characters don't seem particularly guy-like.

A Hard Habit To Break by K.C. Kendricks. ebook. Another so-so romance about two guys who've been in love with each other since high school, but allowed massive miscommunication and misunderstandings to come between them. Another story told in first person… Also, I think the blurb for this one is a bit misleading, so beware.
---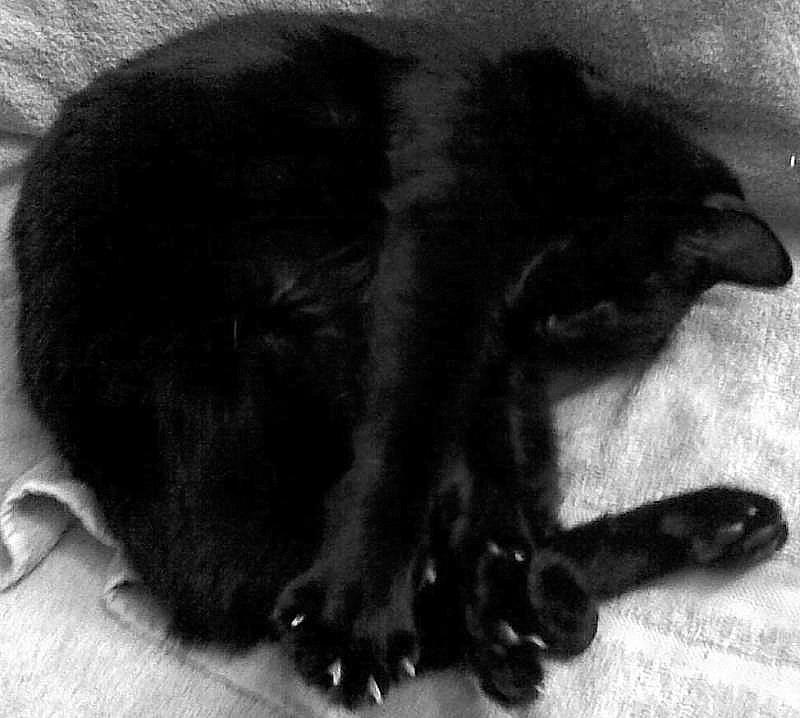 *happy sleepy stretchy clawy purry* -Chaos