---
---
Congrats to Avalie, who won Home Sweet Home by Kim Dare! Home Sweet Home is being released today by Resplendence Publishing.
Congrats to Anna B, who won Fallen Angel (Angel of 13th Street #2) by Eden Winters! Fallen Angel is being released today by Torquere Press.
---
---
Many thanks to Edmond Manning for donating an ebook copy three ebook copies of his recently released novel, King Perry, for a lucky commenter to win!
In a trendy San Francisco art gallery, out-of-towner Vin Vanbly witnesses an act of compassion that compels him to make investment banker Perry Mangin a mysterious offer: in exchange for a weekend of complete submission, Vin will restore Perry's "kingship" and transform him into the man he was always meant to be.

Despite intense reservations, Perry agrees, setting in motion a chain of events that will test the limits of his body, seduce his senses, Â and fray his every nerve, (perhaps occasionally breaking the law) while Vin guides him toward his destiny as "the one true king."

Even as Perry rediscovers old grief and new joys within himself, Vin and his shadowy motivations remain enigmas: who is this offbeat stranger guiding them from danger to hilarity to danger? To emerge triumphant, Perry must overcome the greatest challenge alone: embracing his devastating past. But can he succeed by Sunday's sunrise deadline? How can he possibly evolve from an ordinary man into King Perry?
Excerpt (scroll down and expand)
About Edmond
Edmond Manning has always been fascinated by fiction: how ordinary words could be sculpted into heartfelt emotions, how heartfelt emotions could leave an imprint inside you stronger than the real world. Mr. Manning never felt worthy to seek publication until recently, when he accidentally stumbled into his own writer's voice that fit perfectly, like his favorite skull-print, fuzzy jammies. He finally realized that he didn't have to write like Charles Dickens or Armistead Maupin, two author heroes, and that perhaps his own fiction was juuuuuuust right, because it was his true voice, so he looked around the scrappy word kingdom that he created for himself and shouted, "I'M HOME!" He is now a writer.

In addition to fiction, Edmond enjoys writing nonfiction on his blog. When not writing, he can be found either picking raspberries in the back yard or eating panang curry in an overstuffed chair upstairs, reading comic books.
Contest Rules
To enter, leave a comment stating that you are entering the contest. Contest closes 7 pm CDT, Friday, May 18.
By entering the contest, you're confirming that you are at least 18 years old.
If you haven't commented before, your comment will not be visible until after I moderate it. Please do not leave a second comment because your first doesn't show up! The blog gnomes will decide your comments are spam and then only ritual dust bunny sacrifice will salvage your entry…
If your comment is actually an advertisement or if your CommentLuv link turns it into an advertisement, your comment will be deleted. (Most of you do not need to worry – this refers to some pretty clever comment spam.)
Winners will be selected by random number.
You must leave a valid email address in the "Email" portion of the comment form.
Please make sure that your spam filter allows email from stumblingoverchaos.com!
I am not able to reliably contact people with aol.com and netscape.com email addresses – please use a different email address if at all possible!
If a winner doesn't respond to my congratulations email within 48 hours, I will select another winner.
If you win, please respect the author's intellectual property and don't make copies of the ebook for anyone else.
This contest is open worldwide!
---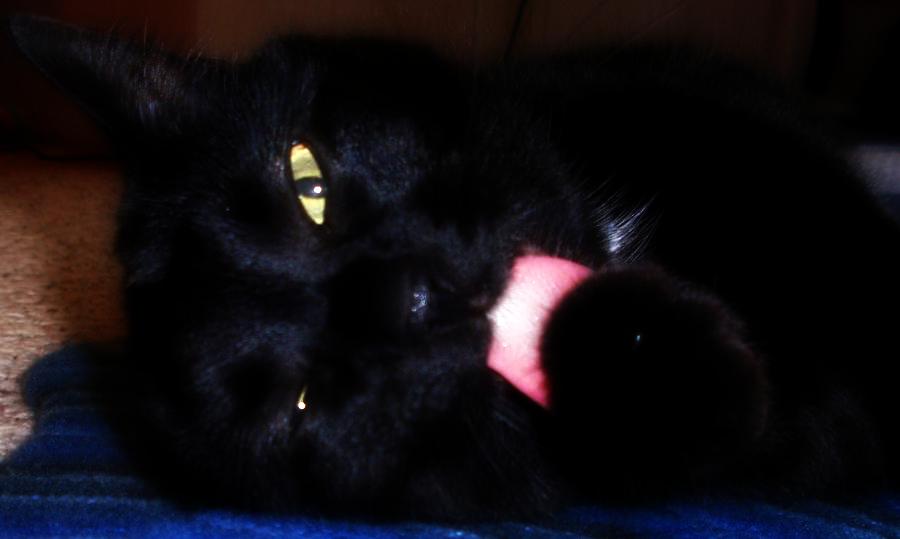 "Clean paw, clean paw, I'm going to have a clean clean paw!" -Mayhem