The kitties continue to do well after their adventure last week. They slept most of Friday – understandable, since who can sleep in a hospital?
Both the vet and the vet tech commented on how Chaos was a bit, erm, crabby with them. Apparently he was fine until someone tried to touch him. (I was afraid to ask if he'd drawn blood.)
I suspect the above has something to do with why Chaos was crusted with dried activated charcoal from his chin on down and required a thorough washcloth bath after I got him home Friday.
May was perfectly clean. The vet tech mentioned that May had been very scared, but that about halfway through the night, her curiosity got the better of her (we're not surprised, are we?) and she had to sit up and keep an eye on everything.
Thank you all so much for your comments and commiseration!
As I write this on Sunday evening, I have not been paged during my on-call week. *pauses to knock on wood, since I'm on call through 9 am Monday* Update: I didn't get called! Woot!
This might actually be an historic event in the history of being on call at my workplace.
I am slowly increasing my cycling mileage as I slog along, trying to get back into shape.
Sadly, this seems to be at the expense of knitting – my neck can apparently handle knitting or cycling, but not knitting and cycling.
Weird cycling thing I saw Friday night – a 70-year old woman biking along in cycling shorts and… a very sturdy white corset. The sort of corset that's no frills at all and, standing on its own, could probably support a VW Bug. *blink blink*
I saw her twice, so I'm sure I wasn't hallucinating.
Best thing about bullet posts? No transitions required!
Mayhem woke up and stared at the computer while I was watching it – apparently the chirrups and meows sounded realistic to her.
Saturday I went to my beloved Uncle Hugo's and picked up a few paranormals that technically release on Tuesday (The Fire King (Dirk & Steele) by Marjorie M. Liu and Edge of Dawn (Light Warriors, Book 3) by Patti O'Shea).
I finished reading them Saturday, too. Whoops. 🙂
My goodness, it sure doesn't take much for these bullet posts to get out of hand, does it?!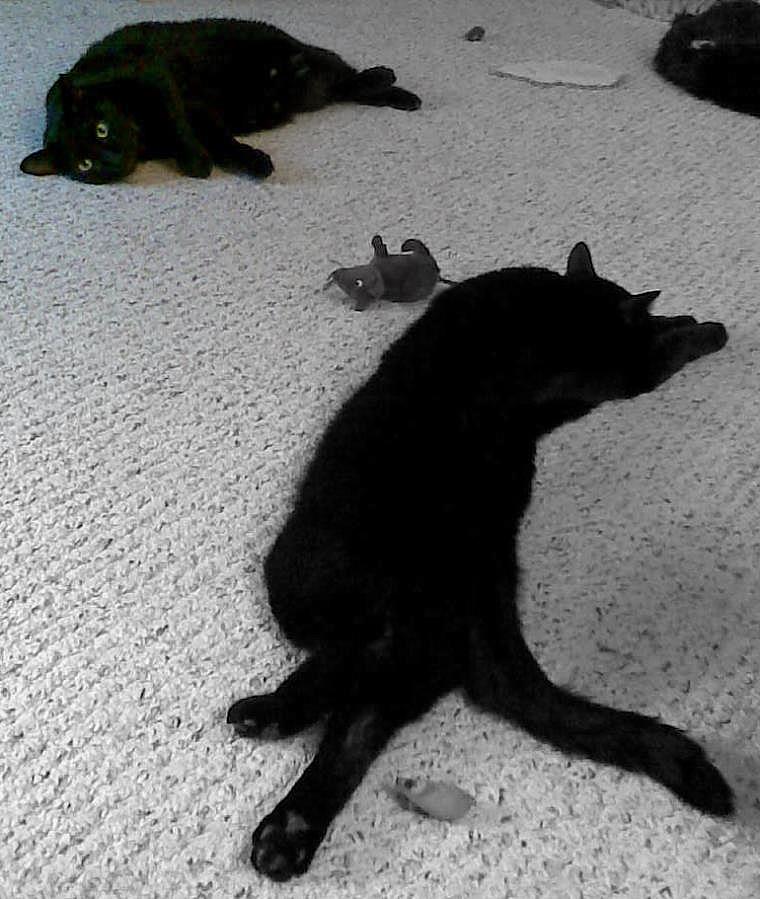 "Even though I'm exhausted from my ordeal, I've gotta keep an eye on you, Mom. You're sneaky with those portable kitty prisons." -Chaos
*…zzzzzzzzzz…* -Mayhem