Author Barbara Bretton (who wrote the wonderful Casting Spells) is giving away six skeins of alpaca silk to a lucky commenter. Leave your comments before the evening of March 6.
Bridget's giving away a copy of Julia & Julia: My Year of Cooking Dangerously by Julie Powell. Send her an email or leave a comment by March 7 for your chance to win. (I read it a while ago and enjoyed it, although some of the cooking scenes left me queasy.)
There's still time to contribute to Animal Rescue of Fresno (ARF) and participate in Concateknit's contest! For every $5 you contribute, you get an entry in the contest, which ends March 7.
If you're interested in the chance to win an iPod Touch and are willing to work for it a little, check out the latest contest over at Bitten By Books. Contest runs through March 20.
---
OMG! A real panther cub! The cute! The cute! It burns!
Eeep! Chaos?!
Dear Author has a list of recommended romance releases for March.
Check out the Random House Suvudu Free First Book Library, where you can download the first title of a series for free. Current titles are Assassin's Apprentice by Robin Hobb, Red Mars by Kim Stanley Robinson, Settling Accounts: Return Engagement by Harry Turtledove, His Majesty's Dragon by Naomi Novik, and Blood Engines by T.A. Pratt. I just downloaded Blood Engines myself.
While being able to find more information on every little thing that wanders through your head is a nifty aspect of the interwebz, keeping a tangents log can help you stay more focused.
IKEA Planner is a nifty little free Windows application that lets you play around with how different IKEA stuff will fit into your space.
If you're like me, glasses shopping is fraught with peril (since you can't actually see what you look like in various frames). The FrameFinder seems like it could be very handy for us.
Like to learn things but don't really want to bother with credits and all that? Check out the list of 200 free online classes put together by the Online Education Database.
Eeek! If a kitteh like this shows up at your house, you should probably run away really really fast (taking your hard drives with you, of course).
---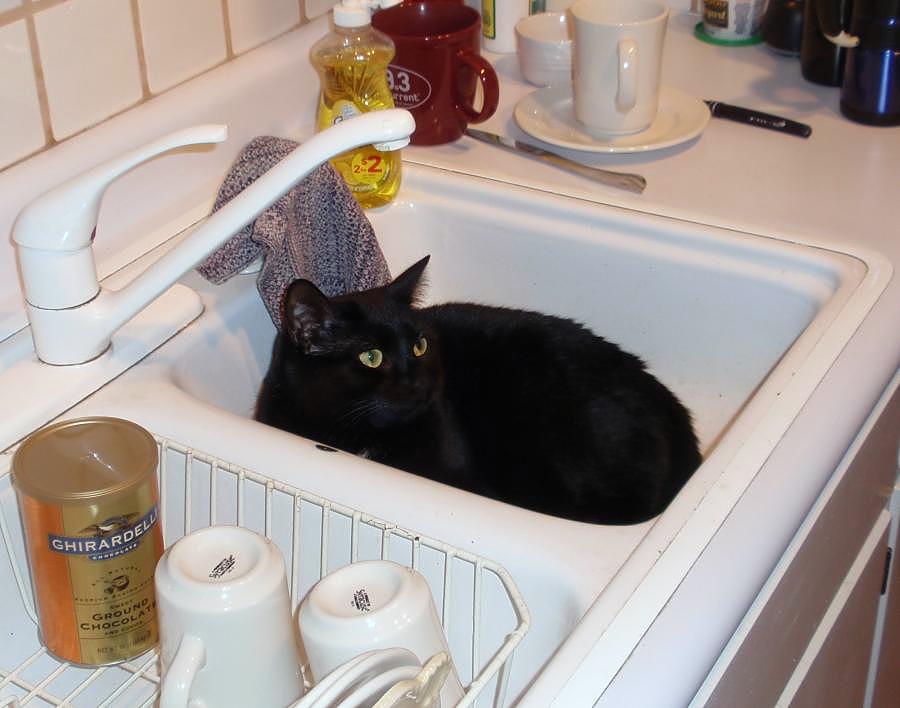 "If I pretend I can't see you, Mom, you can't tell me I shouldn't be in the sink. Besides, all panthers hang out in sinks. Really." -Mayhem