---
---
Congrats to Raevyn, who won the M/M Week books by Erastes, Kim Knox, Ava March, KC Burn, Dev Bentham, and Larry Benjamin from Carina Press. All six books will be released on March 19.
Congrats to Sarah Madison, who won Diversion by Eden Winters! Diversion will be released on March 18 by Amber Allure.
---
---
Contests
Bookity
Ebookity
Do, Learn, Make, Think
Tuneity
Cookity
Crafty
Cool
Cool or Wha…?
Wha…?
LOL
Teh Cute
Reading Update

Moving in Rhythm by Dev Bentham. ebook arc. Very good m/m romance about a closeted online math instructor whose crippling shyness and social anxiety have him living a hermetic life. When his brother is deployed to Iraq, he agrees to take care of his pregnant sister-in-law during the deployment, and finds himself being forced, protesting, out of his shell… not always smoothly. This was a wonderful combination of sweet and serious.

Social Skills by S Alva. free online. Good m/m romance about a college freshman who plays the violin and has crippling social anxiety. He's nearly incapacitated by anxiety when he realizes that the closeted football player he's tutoring is gay and likes him.

Ghosts & Flames by Kaje Harper. ebook. Good holiday paranormal m/m romance a guy with a ghost problem who runs into a guy with a vampire problem. While the final 2/3 of the story was very involving, the first third simply had too much info-dumping – I kept wondering if this was the second book in a series.

Question Mark (Liaisons #2) by SE Culpepper. ebook. Good but uneven m/m romance about Mark from the previous book, who finally realizes that he needs to get over his ex and decides that a trip to Bora Bora is just what he needs. While I was rooting for Mark and his guy, parts of their interactions just didn't make sense.

Stroke! by MJ O'Shea. ebook short. Good short m/m romance about a guy on his college crew team who's struggling to keep a freshman from taking his varsity spot. The big mystery was pretty obvious from the beginning.

Maple Leaf Red: Sugaring Off! by Vic Winter. ebook short. Cute short paranormal m/m romance about a guy living alone on a remote Canadian sugar bush who helps an injured wolf…
And Then I Met Him by L Arthur. free online. Pretty good m/m romance about a straight college student who works at a tutoring center and becomes strangely fascinated by a defensive and troubled young man.

Sorry Now? (Paul Turner #1) by Mark Richard Zubro. Good gay mystery about a Chicago police detective trying to figure out who killed the daughter of a homophobic minister and politician.

Political Poison (Paul Turner #2) by Mark Richard Zubro. Pretty good gay mystery in Chicago police detective Paul Turner tries to figure out who killed a professor/alderman. The background stuff that doesn't change much between books was copied and pasted from the first book. Grrr. Strangely not feeling the urge to check more of this series out from the library… And seriously – why would you try mouth-to-mouth on someone who was poisoned?!

Promise in a Kiss by Piper Vaughn. ebook short. Ok short m/m romance about two guys who made a promise to each other when they were kids, then lost touch. While this was sweet, it felt more like a tease than an actual story.

In the Penalty Box (Seattle Marauders #2) by Riley Shane. ebook. Ok m/m romance about a closeted hockey player and the freelance writer who used to have a crush on him. Alas, this did not stand up well against the fabulous (and free) m/m hockey player romance, Heart in Hand.

In the Name of the Law by Sue Holston. ebook short. Ok short m/m romance about a cop who's been in love with his straight partner for years.

Schooled in Murder (Tom & Scott #12) by Mark Richard Zubro. Ok mystery in which Tom stumbles a dead body or two at school and is under suspicion for murder, with unsuspected enemies coming out of the woodwork. The whole thing with the blurb for this and the previous book saying that Scott is a former professional baseball player is beyond weird. Quote from the book itself: "Scott plays professional baseball." That seems pretty clear to me at least!
---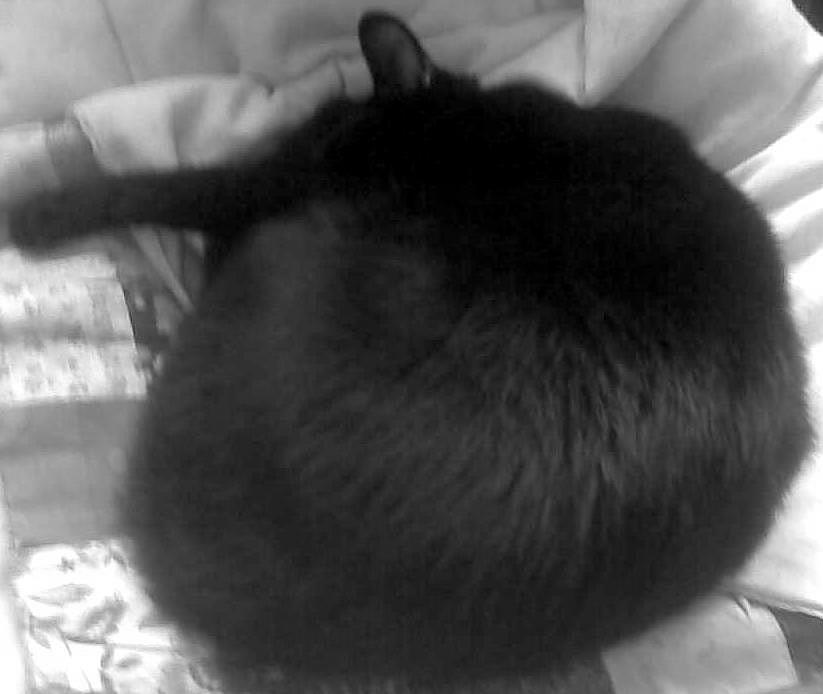 "…zzzzzzzzzzzzzzzzz…" -Chaos