---
---
Congrats to Juni, who won Yearning (Green's Hill Werewolves, Book 1) by Amy Lane! Yearning will be released by Torquere Books on February 12.
---
---
Contests
Bookity
Ebookity
Make, Think, Do, Learn
Valentine's
Cool
Huh
LOL
Teh Cute
Reading Update

Rinse and Repeat by Amberly Smith. ebook. Excellent paranormal m/m romance about a guy who's a Repeater, stuck repeating the same day over and over again until he can change some key event from the day. Things are different on this Repeat, because he's started to care way too much about a skateboarder he's watched die far too many times. (Hi, Pouty Guy!)

These Haunted Heights by Ally Blue. ebook. Very good paranormal m/m romance about a photojournalist who's staying alone at his aunt's house on the Oregon coast while he shoots a story about the area. Mysterious crying from the empty tower room and a handsome brooding neighbor complicate things in interesting ways…

How the Other Half Lives by Clare London. ebook short. Very good short m/m romance about two guys, one very tidy and the other very untidy, who exchange flatsitting duties with each other, but never actually meet… until they do.

A Russian Bear by C.B. Conwy. Very good kinky m/m romance about a grad student and a Dom who meet through a case of mistaken identity that leads to the Dom helping the grad student explore his attraction to submission.

Maleria, Cholera and Bubonic Plague (A Russian Bear, Book 1.5) by C.B. Conwy. web short. Good short m/m romance about Mischa waking up with hangover. (Although I would've eaten toast first, not chili!)

Call Me Sir, Boy! by Kim Dare. ebook short. Cute kinky short m/m romance about a dom who loses a bet and is stuck wearing a hat that says "Call Me SIR, Boy!" at the club for an evening when he's approached by a submissive he's never seen before – a submissive who seems perfect for him.

Opposites Distract by Stephani Hecht. ebook short. Sweet short m/m romance about a party boy who's really attracted to a geeky guy he sees at their college's GLBT student center, but the geeky guy doesn't trust the party boy's intentions.

Chocolate Dreams by Em Woods. ebook short. Sweet short m/m romance about an accountant who's been burned by love before and lies about having a boyfriend to the chocolatier he finds attractive.

Sagittarius Blues by Katrina Strauss. ebook. Good holiday m/m romance about a college student whose inflammatory vlog personality has unexpected negative impacts on his life. For some reason, this never really came together for me and I haven't been able to figure out why.

Into the Light (Clear Water Chronicles, Book 1) by Scarlet Blackwell. ebook. Ok m/m romance about a sheriff who's a good man now, but was part of a bullying gang when he was in high school… and other members that gang raped a gay student while he stood by and did nothing. Now the victim of that rape has returned to town and wants the sheriff to pay for his part in the unreported crime. This was a really mixed read for me – I felt that it started out strongly, but by the end had turned into a melodramatic soap opera. 🙁

One True Thing by Amanda Grayson. ebook short. What an unsatisfying read! This m/m romance about an agent who has to go into deep cover by having his cover story planted in his brain was frustrating, particularly since it had so much potential. There was way too much story for a short, so the story had no depth and often seemed to jump around. And then the story just stopped, so you have no idea if they successfully completed the mission (i.e., the purported reason for the story).
---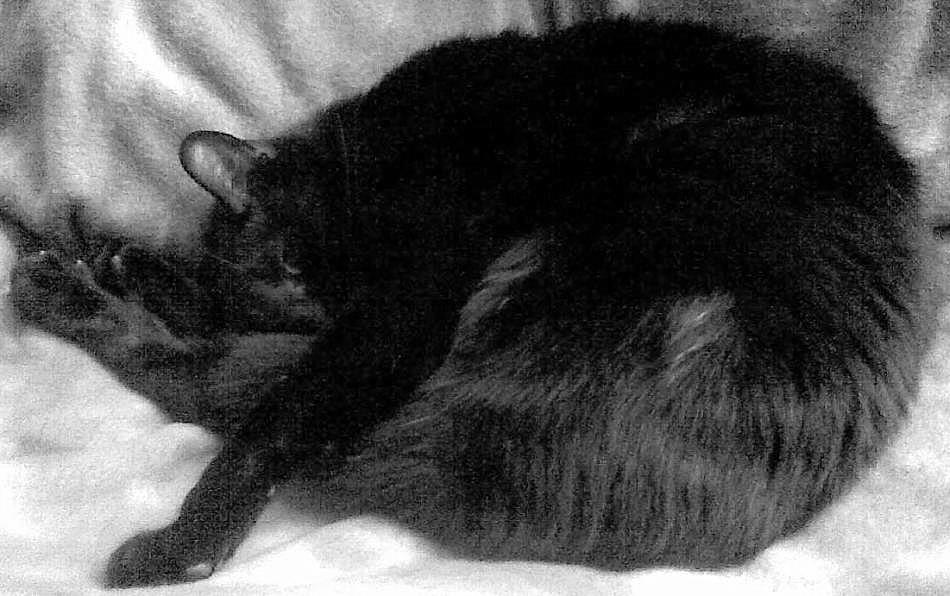 "Go away. Being noble and dignified was exhausting." -Chaos