Congrats to Jase, who won the copy of Gay Pride (G-A-Y, Book 7) by Kim Dare!
---
Contests
Books & Reading
Learn, Do, Make
Wow
Huh
LOL
Teh Cute
Reading Update

Icing on the Cake by Shayla Kersten. ebook. Very good m/m romance about a guy who's the man of honor for his best friend's wedding. She puts him in charge of getting the cake… and oh, that baker is hot. (I wish Shayla Kersten wrote more m/m, because I've really enjoyed what she does have out… *hint hint*)

Gaps in Your Soul by Shayla Kersten. ebook reread. Um, yeah, so after reading the previous book, I felt the need to read some more Shayla Kersten. This is a pretty good m/m romance about… Hmm. Having trouble with a summary. At its most basic? I'd say it's about how the US military's Don't Ask, Don't Tell policy messes with people's minds and ultimately messes them up.

The One That Broke Free (One, Book 4) by T.C. Blue. ebook. Very good m/m romance about a soldier who was discharged ten years ago after his leg was permanently damaged. Since then, he's been living alone in the small, closed-minded Southern town where he grew up, but after being in Boston for his brother and brother-in-law's wedding, he's rethinking his life. (I was lucky enough to win this from the author! Thanks, TC! And hey, TC will be giving away an ebook here at SOC tomorrow…)

Out of Balance by Stephani Hecht. ebook. Pretty good m/m romance about a banker who's been going through a rough time when a hunky customer asks him out.

Two Man Team (Team, Book 2) by Jet Mykles. ebook. Do I hear bodies hitting the floor out there?! 🙂 Sarah reviewed this book and I was intrigued. (No, it wasn't because of the Candy Cane Guy cover!) It's an m/m romance that starts as an m/f/m romance and I'm not a fan of menagey books. But this one managed to avoid the big issue I have with menagey books, so it actually worked pretty well.

Vindaloo and the T-Bird by Sarah Black. ebook short. Good m/m romance about an eye surgeon who buys an old T-Bird so he has an excuse to spend time with the mechanic he used to date. There's one thing that bothered me about this, but it's a spoiler – we can talk about it in email if you've read the book!

Object of His Desire by Ava March. ebook. Good m/m Regency romance (I'll give you a minute to recover) about a young man who's been at a debauched house party for a week. He hasn't participated because he's been pining for the lord who's hosting the party. Alas, he knows his affections won't be returned, as the lord is ostensibly using the week to audition for his next mistress… (And yes, that's Underwear Guy on the cover!)

Convincing Arthur by Ava March. ebook. Another good m/m Regency romance! It turns out that I don't mind (and actually enjoy) historicals if they aren't overburdened with historical details. I know that some love reading elaborate details of the clothes, the furnishings, the food… but that's what turned me off of historicals in the past. Anyway! Leopold's been waiting for Arthur to be free from his long-term and unfaithful lover. Now that Arthur's free, will Leopold's own debauched reputation keep Arthur away?

Fantasies: Christmas by Cassandra Gold. ebook. Good m/m romance about a guy who's had a really bad week (he gets laid off, his beloved old cat dies, and his boyfriend dumps him by email) until he wins a Hawaiian vacation at the liquor store and invites the helpful guy next in line to go with him.

Cutting Cords by Mickie B. Ashling. ebook. Good m/m romance about two young men who end up as roommates in NYC because their dads were pro baseball teammates once upon a time. One guy is going blind but in denial (about more than just going blind *ahem*). The other is dealing (not so well) with crippling self-esteem issues. This story is told in alternating first- and third-person point-of-view, but I think it would've worked better if it had been entirely in third-person.

Poker Night 5: Full House by Carol Lynne. ebook. Well, I had to know how it all ended, since the story of Kent and Marco has been building through the previous four books! I enjoyed it, but I'd recommend reading the rest of the series first.

Theron's Return (Campus Cravings, Book 11) by Carol Lynne. ebook. Um, I sort of pick these m/m romances up randomly as the descriptions strike my fancy, so for me, this is a completely nonlinear series. This one's about a guy living in BK House who's had a really, really bad year and simply can't deal with it any more. It was ok – exactly the sort of read I needed at the time.

Calendar Boys April: Out of the Storm by Jamie Craig. ebook. Good m/m romance about a meteorologist who's just been dumped by his boyfriend on a weekend getaway when a hunky ranger shows up at his cabin door, stranded by a surprise storm. (Wait, just how many dumped boyfriend books did I read this week?!)

Calendar Boys August: Scorched by Jamie Craig. ebook. Another good m/m romance – this one's about a NYC firefighter who returns to Utah to help fight an out-of-control wildfire and runs into his former best friend's kid brother.

Apotrope by Chris Owen. ebook short. Huh. This paranormal m/m romance about a vampire trying to impress a guy just never came together for me. (It's part of Torquere's Spice It Up series and the spice in question was garlic.)

Murder by Design by Jade Falconer. ebook. Um. Well, this m/m romance about a cop investigating the murder of a slutty model's sugar daddy might've been better if half of it was cut out – I'd recommend the extremely repetitive scenes in which our two heroes gushed lovingly at each other over and over and over, ad nauseum.
---
So my friend CJ went to RT and all I got was… dang. A lot of goodies! Thank you, CJ! And thanks to all the authors who signed stuff for me. 🙂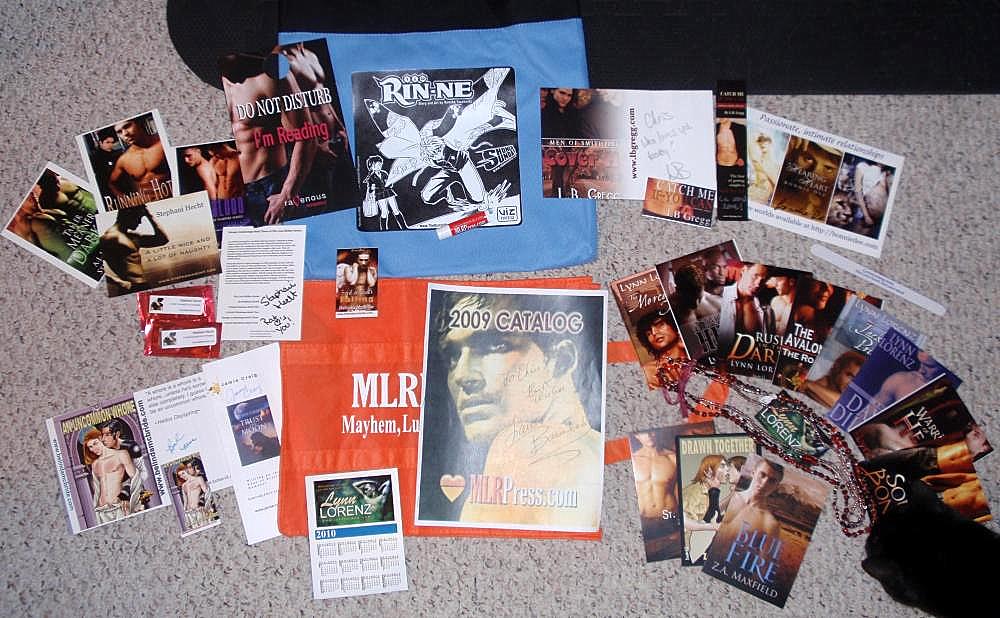 "Mom, I'm truly alarmed by the large number of naughty boys and utter lack of black kitties." -Mayhem