---
---
Make sure you enter the contest for The Working Elf Blues by Piper Vaughn! Closes 7 pm CST, December 16.
Stop by and enter the contest for Blood in the Water (An Act of Piracy #1) by Tami Veldura! Closes 7 pm CST, December 18.
---
Congrats to Missy1980, who won When Love Flue In (2nd ed) by Lillian Francis! When Love Flue In (2nd ed) is being released today by Totally Bound.
---
---
Randonymity
I'm ready for some nice quiet weeks! While I am feeling much better, this week's drama was Chaos rubbing his face so hard he scraped his cornea again – second time this year and third time ever. 🙁 Because he kept messing with it and making it worse, he ended up in The Cone of Shame.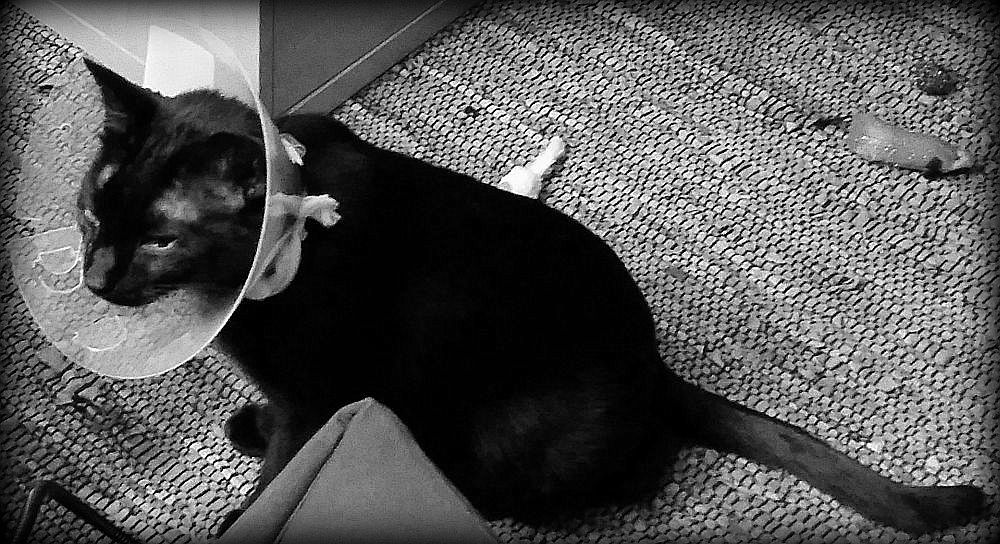 The hard plastic cone didn't go very well – he spent a lot of time walking backwards after running into things and getting stopped in his tracks. If he'd had it on more than a few hours, I would've had to repaint the lower two feet of my condo. Fortunately Jeanne stopped over with a soft cone – much better.
He's feeling pretty sorry for himself, especially because I put ointment in his eye four times each day… Mayhem is completely unfazed by his bizarre accoutrement.
I got tagged for the Tumblr Lockscreen Challenge.
Bookity
Think, Make, Do, Learn
More Gift Guides Than You'll Ever Need
Cookity
Gluten Free
Crafty
Cool
Cool or Wha…?
Wha…?
LOL
Teh Cute
Reading Update

Property of a Lady Faire (Secret Histories #8) by Simon R Green. Ok continuation of this series about supernatural enforcer Edwin Drood and his complicated relationship with his extremely large and secretive family. The next book in the series doesn't come out until sometime in 2015, by which point I won't remember anything in the ongoing story arc. 🙂